Last fall, I was chosen to be a #PGmom blogger.
In a nutshell, my impression was that I would get to try a lot of cool products and share those that I loved.
For those of you who have been following for awhile, you already know that I like to really give products a decent test run before I talk about them on the site.  Well this past year I have had the opportunity to try out a whole bunch of products and while there were many that I liked, some of them have really 'stuck' and I thought I'd share them with you:
(1) I now have a FAVOURITE Mascara
As I shared with you earlier last year, I have never been really good at applying mascara, and being in a risk hasn't helped me to develop that ability.  The CoverGirl Clump Crusher mascara was a breeze to put on!  You can read more in my post: Easy Breezy Mascara for this Time-Pressed Mom
(2) SMOOCHIES XOXOXOXO!
I LOVE my CoverGirl SMOOCHIES lip gloss!  With colours are right up my alley & a feel that I like on my lips plus the added benefit of feeling like they are actually doing the work of a lip balm (unlike my lip glosses with wands) – I am in love!  Additionally, I think they are a great 'starter makeup' item for young teens who are interested in dabbling in makeup but need to NOT be covering up all of that natural beauty they have!
(3) I now squeeze the CHARMIN!
So I'll be fully honest, when it comes to Toilet Paper, our family has been brand loyal…to another brand.  The reason is that we've tried cheaper varieties, more environmental varieties and the truth of the matter is we like soft toilet paper tissue.  That means that for years only one brand has entered our home.  Now, as part of the #PGmom program we received a few rolls to try, so I figured…ok we'll try.  It was seamless…and more importantly…Scratchless!  So now, while we may still buy the other brand if that is what's available or on special, CHARMIN is more than welcome in our home & I am actually wishing that my beloved Warehouse Store (Costco) would finally begin carrying it to make it easier for me to purchase when I do the rest of my groceries there!!
(4) I experienced the DAWN of a new era 😉
Last year, just prior to spring break, I received a package from P&G including, among other goodies, a bottle of Dawn dishwashing detergent.  We were going up north to a chalet rental for spring break, so I decided I'd bring it with.  I loved it- I loved the scent, it washed beautifully and felt fine on my hands (It's happened that dishwashing soap has made my hands itchy).
So we are just finishing up one more bottle of our previous brand that we had previously stocked up on and we will then be making the switch…especially since Dawn is available at my beloved Costco 😉
(5) I have a new BB (Best Bud!) and we have this little routine we do with my hair 😉
Simply put: I apply Pantene Ultimate 10 BB crème to my wet hair, pull back in a ponytail & allow to dry.  Once dry, I remove elastic & my hair is shiny & smooth on top with a little wave and bounce on the bottom. CAVEAT: Not fabulous in -20 to go out with wet hair, so you may want to save this style for slightly warmer weather!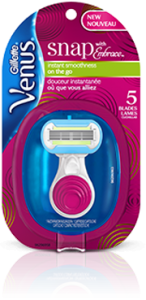 (6) I have a new travel companion 🙂
In the world of travelling with 4 children, I have had to find a balance between packing things "just in case" and making sure everything fits in the car (or is not overweight for the plane). I have learned that the little things add up.  One of my favourite new travel buddies is the Venus Snap by Gillette – It uses the same Venus blades that I use everyday but with a smaller body to the shaver that comes in a great little case with holes to breathe & drain out excess water.  I keep it in my travel cosmetics pouch and change the blade as needed!
(7) I switched dishwasher tablets!
I have been using the same dishwasher tablets for eons.
I never switched because I was afraid that my

flatware would begin to dull and truthfully, it was still shining after 17+ years! Honestly, people would compliment my flatware when hey came over…of all things! Well, I received some Cascade dishwasher tabs as a sample to try and not only did my flatware survive but it's still looking shiny!  I got over my fear and given that the tabs are available at my beloved Costco…I stocked up when they were on special and this is our new brand of choice!
(8) I still Swiffer…but now I also Swiffer Steam!

I have been a Swiffer fan for over 10 years now.  I used a Swiffer Wet Jet to get rid of all of the dust that kept settling on the floors when we moved in over 10 years ago.  I use the Swiffer on the kitchen floor & as needed on my wood floors as well. And then one day, I got a package containing a Swiffer Bissell SteamBoost.  I was hesitant to try it on my wood floors as they are of the pre-varnished varieties with open seams between the slats of wood.  My concern was that steam getting in between the slats of wood might somehow warp it.  BUT Let me tell you about the miracle of the Swiffer SteamBoost on kitchen tile!  Seriously – those sticky spots that usually take several back & forth scrubs with a traditional mop or Swiffer?  Gone right away with the Swiffer SteamBoost! If you use it, however, be careful around kids and teach them about the dangers of steam 🙂
(9) There's a new Bounty in town!

I am a die-hard Bounty fan.  I am also particular about my select-a-size.  Wasting large sheets for everything is a pet peeve. BUT then I met the Bounty Duratowel which came along with us to a chalet rental on Spring Break last year.  This is a Bounty that can double as a rag, it's so tough!  I could keep one around & re-use as a kitchen rag…I wouldn't do it too many times over but a few times?  No issue. This was particularly perfect for the chalet because we did not have as many rags and towels as we would have had at home. I have not switched my everyday Bounty, but this was a definite plus for a vacation home! ( I actually kept both kinds with me there- my usual PLUS the Duratowels!!)
(10) No more Stinky Car Smell!!
The Febreeze car clips are now a staple in my car and the stinky car complaints are a thing of the past!  You can read all about our family's trial of it: No More Stinky Car Smell!
******
With all that said, there are also a whole bunch of P&G products that I continue to use after all these years…but THAT is for another post!
Wishing you a day of discovering things that make life easier 🙂
Tanya
Disclosure: I am a P&Gmom/mamanP&G. As part of my affiliation with this group I receive products and special access to P&G events and opportunities. The opinions on this blog are my own.