Let me begin by saying that mascara is really not my thing.
I went years without using it and I was very happy that way.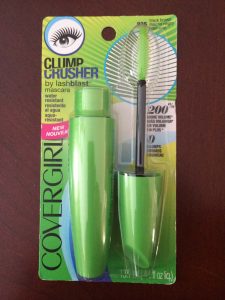 A few years ago, I realized that when I would applying a new powder-type foundation, my naturally dark lashes became light from the foundation. I also started using eyeshadow more frequently and noticed a similar effect.
I learned that I need to apply to the top of my upper lashes as well as to the underside – otherwise if I closed my eyes, or blinked, the top of my eyelashes would be skin-tone.  Seems obvious, but I was (and still am!) a work-in-progress 😉
I needed some makeup to get my lashes to the colour they were pre-foundation (or pre-shadow) application.
Mascara to the rescue.
I wasn't looking for extra volume or additional length, I was simply hoping to have my eyelashes be darker in colour than my foundation!
At the time, my friend was selling her own line of makeup and I used her brand of mascara. I loved it above all others because of one thing: the applicator was simple. It wasn't curly, didn't have extra long bristles, no bells & whistles – mascara on a brush.  Thank you.
At one point I tried to see how I would fare with another brand.  I ended up with some newfangled 'new & improved' applicator that required me to add Q-Tips to my routine for the purpose  of wiping mascara "oopsies" off of my face, adding more time to my makeup routine – time that I did not have.
I did not like the fancy brush.
A while later, I got another mascara sample from a swag bag and tried it out.  Suspicion confirmed: Fancy applicators were NOT for me.
The trouble was, if I wanted to buy mascara with a 'traditional' applicator at the pharmacy, I couldn't find one.
A few months ago, I became a #PGMom and as such, P&G sent me a bunch of products to try out.  Mascara was one of them.
My mascara had more or less run out so one morning I decided I would give theirs a whirl.
Upon opening the package, I knew instantaneously that this mascara would NOT be for me.  It had a curved brush…no doubt that meant more oopsies 🙁
I used it anyway.
O.M.G.
It went on smoothly & it all landed on my lashes… with nothing on my face!
Applying top & bottom to my upper lash was a cinch. The bottom as well.
I just held the applicator brush in the direction that had the brush following the curve of my lashes et voilà!  I was done!  No oopsies!
I was so excited that I emailed my contacts at P&G (who must have thought that I was nuts) to let them know that I NEVER thought I could get excited by MASCARA…but that now I was.
The next morning I approached my mirror with equal parts excitement & trepidation: Would it be that easy or had it been beginner's luck?
Whatever it was…it worked again. and again. and enough 'agains' over the last few months for me to bring it to you on the blog.
I love this mascara.
Have I had any slip ups since? A few. When I try to apply my mascara in such a hurry that I have one foot out the door…  But that's not quite an applicator problem 😉  That said, I almost always apply in a 'regular' hurry, and although it is not advisable to do so, I have to say that I still succeed and rarely have slip ups.
The only downside is that the mascara is not waterproof.  It hasn't been a problem except during one mega-cry, but it's something to keep in mind if waterproof is a 'must' for you.
You should know that P&G has since sent me at least 2 more brands of mascara to review, but I haven't wanted to stop using this one even for a day to try the next….but when I do, if I love it, I will let you know!
One final word on the matter: For my Costco shoppers: You'll be happy to know that I have spotted this mascara at Costco Pointe Claire on more than one occasion.  That said, you know that Costco can change what they carry on short notice, so I can't promise that you'll find it!
I guess it would be helpful if I told you the name of the mascara, LOL!
It's COVERGIRL's "CLUMP CRUSHER  by lash blast" and no doubt you'll recognize it from the sleek green container & packaging (shown above).
On that note, I wish you a wonderful & 'easy breezy' kind of day & weekend!
Tanya
Disclosure: I am a P&Gmom/mamanP&G. As part of my affiliation with this group I receive products and special access to P&G events and opportunities. The opinions on this blog are my own.