"Ugh, WHAT is that smell???"
"Maybe it's the apple core you left in the back seat last week, or that half-eaten cheese stick, or the blueberry muffin remnants…"
"It's gross"
"I agree!  That's why Daddy & I always ask you to throw out whatever is left of your car snacks.  Now we all get to suffer with the lovely aroma it has left behind."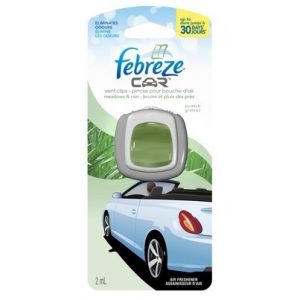 Sound familiar?
Our family spends a lot of time in our minivan.
It has been back & forth on camping trips, beach trips, business trips, family visits.  It has served as a mobile office, homework station, and an oasis for a quiet moment before walking into the chaos of our home.
It is most definitely Mom's Taxi service to & from school, playdates, activities, appointments & parties.
It shuttles home the clothing we wear as well as the groceries. And let's not forget the new gadgets to convert said groceries into healthy meals and the unassembled furniture to store all said items.
During all of this back and forth…we snack.
And every so often, we clean up the remnants of such snacking. But not nearly often enough, at least not in the back rows where the younger family citizens conduct their affairs.
The result?
*Insert pinched nose here*
YUCK.
I am embarrassed to say some of the things I have seen (growing!) in my car. And somehow it doesn't matter if I remind the kids…it's as though they don't hear it.
Of course we've gone through the "only Daddy & I get to eat in the car now" phase…but then we go on a road trip.  Let me tell you one of the best ways to keep kids happy on a road trip is to make sure they are not hungry and to keep them occupied with non-disruptive activities…like eating!
Since the kids were little, we keep a bottle of Febreeze in the trunk.  It can work wonders after an "accident" or "incident".
That said, the everyday 'smell' that is a result of years of children leaving their debris behind just doesn't go away that easily.
That's why I got excited when I received a Febreeze Car  Vent Clip Freshener to try out as part of the #PGMom program.
And try it out I did! On a day that the kids were complaining about the car smell…
All I had to do was clip it onto the vent in my car and once the car (and air) were on, it started working.
I'll be completely honest and tell you that initially the scent was a bit overwhelming. I even sneezed! That said, I may have put the air on full-blast in a hasty attempt to de-stinkify the car…
So what were the results?
The car smelled better.  At first some of the kids complained a bit that the scent was strong, but after a few days, these complaints stopped…and so did the complaints about the stinky smell!
And then a few weeks later, I started to see the liquid diminishing and wondered when it would be time to replace it.
I found out soon enough…as the complaints began again.
It's not like my kids have stopped snacking & leaving their leftovers in the car, so of course there was more stinky car smell.
I installed a new Febreze Car Vent Clip, sneezed again and we've been living happily stink-free ever after 🙂
Am I proud of my stinky car?  Nope.  But I know I'm not alone, and my mission with montrealmom.com has always been to share what works for us, the good the bad & the ugly.
And after months of testing, the Febreze Car Vent Clips have proven themselves worthy 🙂
Wishing you a stink-free day!
Tanya
Disclosure: I am a P&Gmom/mamanP&G. As part of my affiliation with this group I receive products and special access to P&G events and opportunities. The opinions on this blog are my own.