I am often asked if I do my own makeup when I do my segments on BT.
The answer is yes AND no.  I do my makeup at home before coming into studio, but they also have a talented makeup artist who 'fixes me up' prior to doing the segment.
This is the reason that I haven't ever stated in any of my posts about COVERGIRL that I wear it for my segments – because although I may be wearing COVERGIRL, it's been touched up by a makeup artist using the brand(s) she has in her supply.  In other words, I felt it would be misleading.
Well, yesterday was a little bit different.
I applied my makeup at home, which included my trusted THE DE-PUFFER eye concealer, TruBLEND Bronzer & Blush as well as TruNaked eyeshadow ( as well as shadow applied with a liner brush as my liner).  I also applied my all-time-favourite Clump Crusher mascara and my smoothies lip gloss. All COVERGIRL products.
The only non-COVERGIRL products I used were the powder I brushed lightly over my concealer to 'set' it and my powder foundation. (Edit: I realized when I applied my makeup the day after writing this post that I forgot to include that I also applied an eyebrow gel)
Here's where the "On TV" part gets to be different:
I went in for makeup in studio. As the makeup artist was about to start (with my lips), I lifted my phone and, to make a long story short, I knocked her hand and lipstick brush which resulted in a lipstick stain on my white chef's jacket! My own fault. Note to self: Tweeting & makeup don't mix!
Meanwhile, she was a sweetheart. Cool, calm  & collected, she said- "Ok – just take off your jacket, I can get it (the stain) out."  I was concerned that the jacket would be wet, she assured me that she would take care of it…and she did!  Stain gone. Jacket dry enough to wear 🙂  Can you say #Lifesaver?!?
Meanwhile, while she was at work on the stain, I started to use the brush to apply lipstick ( from her collection), but I truthfully didn't do a very good job.  When she was done, she fixed up my lips but gave me the seal of approval on the rest of the makeup:)  I needed to get back out to finish my prep, so I went out in my makeup exactly as I had applied it at home, except for my lips which she had done for me.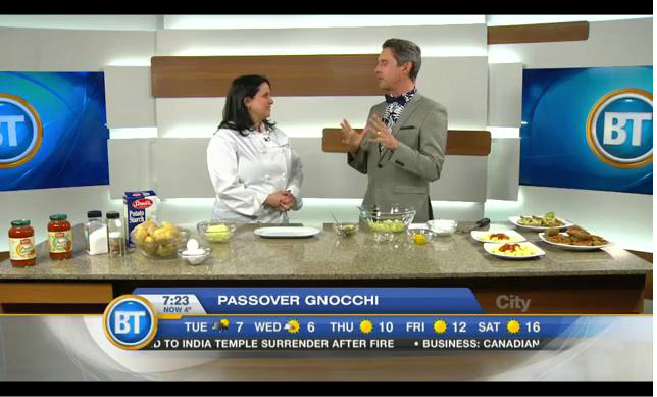 Segment aired and I went back to the office. All day people kept telling me how good I looked- some in person & some referencing the segment when I spoke to them by phone.
My answer was "Really?  You know that I slept for 1 hour and 5 minutes last night?"
Full story- I slept from 2AM-3:05AM and then after pre-heating my oven,  I snoozed on the sofa from 3:05 until about 3:15 or 3:20.  I got up to put the potatoes in the oven and then went for another catnap on the sofa until just before 4, waking up every 5 minutes to hit snooze on my phone ( but refusing to turn off the alarm, for fear of falling into a deep sleep).  So in all honesty maybe it counts as one and a half hours of sleep.
Each person was shocked when I told them…
"How are you functioning?"
"You don't LOOK like you slept for only an hour"
What does that tell you about my COVERGIRL makeup?  What does that say about The DE-PUFFER eye concealer????  ( fyi- I did officially switch from my previous brand)
This morning I felt like I needed to share the story because I can truly say I went on live TV yesterday wearing my COVERGIRL makeup, because nothing else was layered over it. ( Note – foundation, lipstick and a touch of under-eye powder, as mentioned, were other brands)
In this particular case, COVERGIRL literally had me covered for my TV segment and I felt completely confident in my appearance.
Do I trust COVERGIRL enough to wear it on TV?
You bet I do.
I actually have for quite some time, but this was the first time that I could say that I actually did it 🙂
You should also know that no one at P&G has a clue that I am writing this post or was planning to write this post since I woke up…I am writing it 'straight from the heart' because I felt that it is share-worthy.  That said, in the interest of full disclosure, I am including the following statement:
Disclosure: I am a P&Gmom/mamanP&G. As part of my affiliation with this group I receive products and special access to P&G events and opportunities. As always, the opinions on this blog are my own and can never be bought 🙂
FYI- to read more about which COVERGIRL products I love and why, read my Glammin' it Up in the Nudes post
Wishing you a fabulous day where you feel & look your best!
Tanya