My phone is my lifeline.
It's my business line.  It's what I use to respond to an email to keep a project going for one client as I'm about to sit down with another.

It's where the school calls me if something goes wrong.
It's where I keep my grocery list, my contact list, my task list and my food journal.
To say that I rely heavily on my phone would be an understatement.
That's one of the reasons I had remained with my previous provider for 7 years.  Reliable service, competitive price.  Don't mess with a good thing.
And then my phone got stolen.
It was right before the iPhone 5S was due to come out and I was due for an upgrade. I chose to equip an extra Android that I had so that I could use my upgrade to get a 5S as soon as it hit the market.
I did that.  When I got to my provider's store, they were sold out with no idea of when they'd be in.  I wasn't happy but at least I still had the Android.
The very next day I attended a press conference about WE Day and the Telus Give Where We Live campaign.  Members of the TELUS team were present as they are committed to a 5 year sponsorship of WE Day, and Give Where We Live is their own initiative.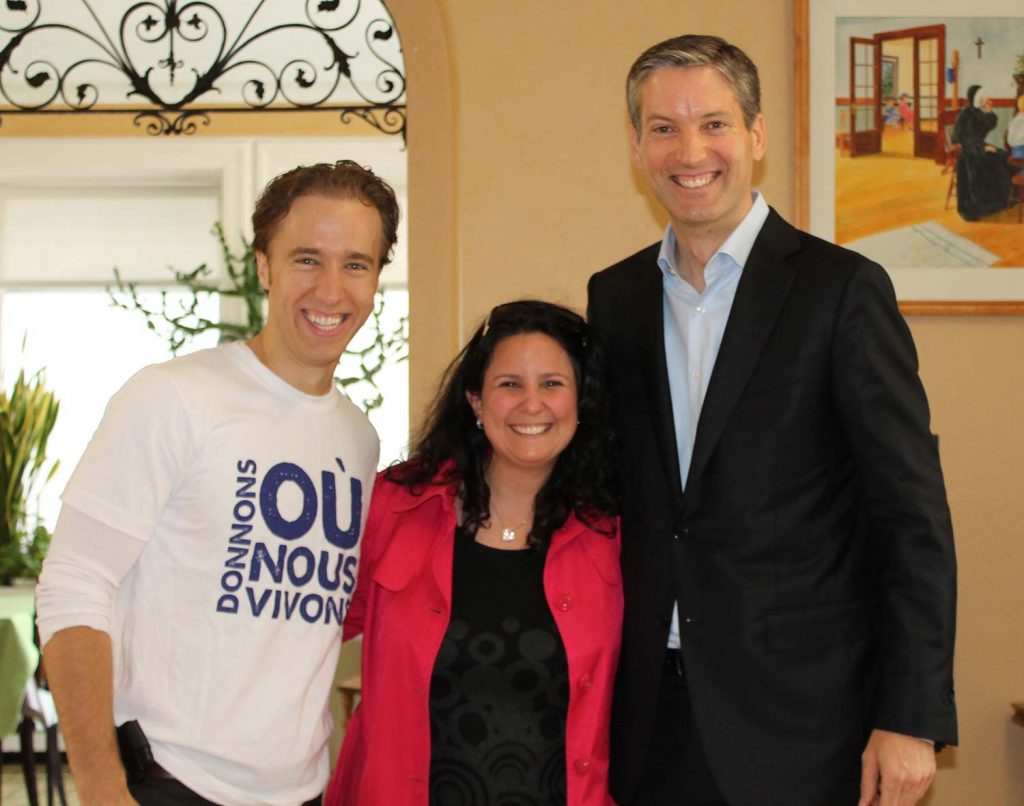 We chatted about the TELUS Give Where You Live program where TELUS supports philanthropic efforts spearheaded by its employees as well as the launch of  TELUS Wise in Quebec (an initiative designed to educate kids about the effects of  the digital footprint and to give them tools on how to manage their own.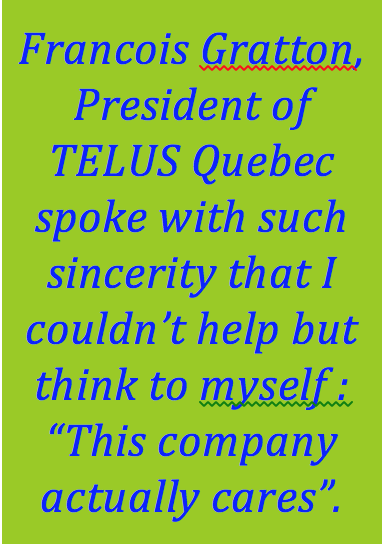 Francois Gratton, President of TELUS Quebec & Atlantic Provinces spoke with such sincerity that I couldn't help but think to myself : "This company actually cares".
After the media Q&A, some of us hung around to chat, and as a result of the conversation, the extent of TELUS' philanthropic efforts began to hit me.
I requested further data and if I were to share it all with you- you'd be reading a minimum of 10 pages.
The numbers are mind boggling.
In the last 3 years, TELUS' total giving to the community was over $125 MILLION!
$43 MILLION of that was  in 2012 alone.
Part of the giving is a result of programs where TELUS supports its employees in community efforts.  Since the year 2000, TELUS employees & retirees have collectively volunteered over 320,000 hours of their time and donated $40 MILLION. That's a lot of people doing a lot of good & leading by example 🙂
Each year, the company organizes the TELUS Day of Giving, with more than 13,000 participants across the country actively supporting a variety of local community initiatives. Here's a snap shot of the impact made last year:
5,309 bags of waste collected from river valleys, parks, and fields
31,891 meals prepared or served to the homeless and those in need
213,945 pounds of food sorted at food banks
9,171 trees and plants planted in parks and gardens
10,500 Kits for Kids assembled to provide school supplies to students in inner city schools
1,625 Comfort Kids assembled for the homeless
230,463 breast cancer ribbons tied for the Canadian Breast Cancer Foundation
The list goes on….You can read more by clicking here.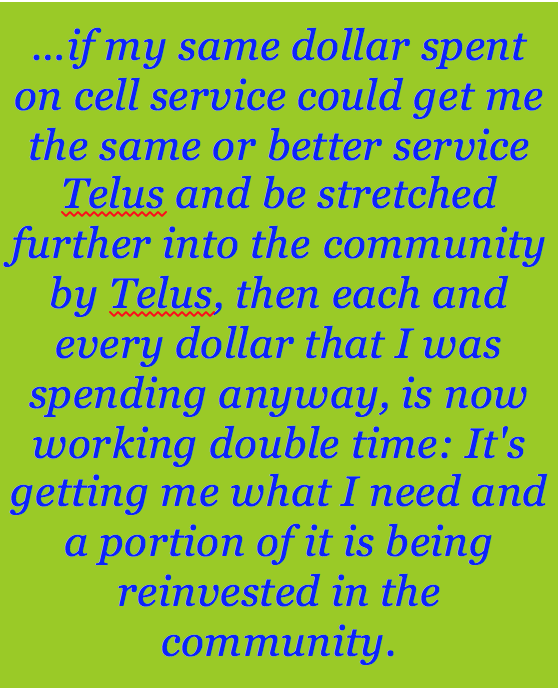 I could probably write a post every week about a different philanthropic effort in which Telus has participated in or to which they have contributed…and there wouldn't be enough weeks in a year to list them all.
It was when I realized the magnitude of TELUS' philanthropic involvement that I decided that it was time to make the switch.
I decided that if my same dollar spent on cell service could get me the same or better service and be stretched further into the community by TELUS, then each and every dollar that I was spending anyway, is now working double time: It's getting me what I need and a portion of it is being reinvested in the community.
Way to feel good about myself without having to do anything…except switching to TELUS.
So I did it.  I made the switch.
BONUS: I got my phone the next day.
And now, my same dollars that flow through TELUS make their way back into the community.
I will add that while my husband was understandably hesitant to make the switch from a provider he found reliable and had been using for over 10 years, he waited for me to be with TELUS for a month and observe my experience before he finally made the switch, too. And he's still happy, over a month later 🙂
I want to be incredibly clear: TELUS has not paid me to write this post. I was so blown away by the company that I decided to make the switch & make it my mission to tell the world why.  The reason? If I can convince you to make the switch for the same reason that I did, your dollars will work double-time as well. And that's another way that we can all contribute to the community.
You will see me blog throughout the year on various community initiatives in which TELUS is involved.
It's my way of helping TELUS to help the community 🙂
It's my way of playing my own little part to ensure that The Future is Friendly.
And that my friends is why I chose to #MakeTheSwitch to TELUS.
I encourage you to do the same.  It may be the first time you take a little pleasure in paying your cell phone bill 🙂
No joke: I smile when I get mine 🙂
Go ahead #MakeTheSwitch! And let me know how it makes you feel!
Wishing you a fulfilling day,
Tanya