That's a question I asked myself last year. Despite the enormous impact that We Day & Free The Children have had on the world, there are still so many people who don't know about it.
We Day is an event organized for kids by Free The Children featuring a variety of inspirational speakers – from celebrities & performers to political leaders.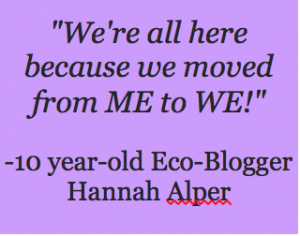 The idea behind We Day is to bring kids to thinking "from ME to WE" and to remind them that you are never to young to effect change. In fact, at We Day, the kids are continuously encouraged to BE THE CHANGE.
You can't buy tickets to We Day. Kids in participating schools earn their tickets by performing a "service" or volunteering for two causes – 1 local and 1 global.
We Day Montreal took place at Thêatre St-Denis on Monday, November 25 with 2,000 students & edicators in attendance.  Imagine how many acts of volunteerism it took to fill the Rogers Arena in Toronto with 20,000 such students & eductators.  This is just the beginning of the impact of We Day.
The amounts raised and number of hours contributed as a result of We Day & Free the Children are staggering.  Millions of dollars and millions of hours. You can find all of that info on the We Day website.
I would like to give you a taste of what We Day Montreal was like this year so that you may be inspired to get your school involved. Being at We Day is one of those experiences that will stay with your child for all of his or her life.  The acts that get your child to We Day will make your child realize that he or she has the power to effect change in the world and that is indeed priceless….just like the tickets to attend.  How apropos.
Free The Children is an organization that was started by Craig Kielburger in 1995, at the age of 12.  To read Craig's story, you can click here.
In fact, the main take away for kids at We Day is that you are never too young to make a difference.
I had the opportunity to interview 10 year-old blogger Hannah Alper. Here's the clip: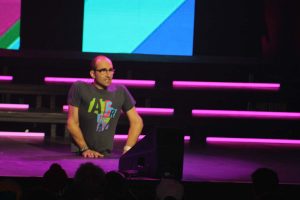 The kids had the chance to hear from Spencer West.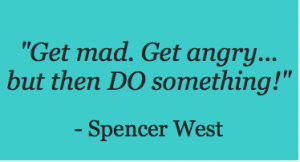 Spencer is a double amputee who climbed Mount Kilimanjaro on his hands and in his wheelchair in June 2012. If you have ever seen or heard Spencer West, then you have been inspired by Spencer West. The kids were wowed by him. The kids were inspired.
The speaker list also included, but was not limited to:
Martin Luther King III, Human rights advocate and eldest son of Dr. Martin Luther King Jr.;
Ashley Isheroff, Former Deputy Grand Chief, Grand Council of the Crees speak;
Elliot Milville Deschenes – 10 year old actor & singer (What an amazing presence this kid has!);
Mylène Paquette, the first Canadian woman to cross the Atlantic Ocean alone;
Donisha Prendergast – Filmmaker, actress, dancer, poet & granddaughter of Rita & Bob Marley;
LazyLegz Luca Patuelli – Bboy & motivational speaker;
Molly Burke, Visually impaired Me to We motivational speaker who speaks out against bullying.
The kids also had performances by the following acts:
Sam Roberts, Montreal native and JUNO Award-winning Canadian rock singer/songwriter;
Oducado Twins, 2013 Coca Cola COVERS MuchMusic Video Award winner;
Neverest, Chart-topping, MMVA  nominated Canadian rock band platform;
and there were still more…
Wondering who pays for all this? Some very serious sponsors who believe in what Free The Children is doing and who believe in our Youth and want to inspire them to build a brighter future. One of those sponsors is TELUS, and let me tell you that when you walk out of We Day, you indeed leave inspired and with the feeling that the future IS friendly 🙂 (In fact, I am planning to share how TELUS has inspired me to make some changes…but that's for another post…)
If We Day had to be described in five words, I think that those words would be:
Energy. Inspiration. Youth. Empowerment. Change.
So difficult to describe if you haven't been.  Life changing if you have.
Finally, I had a chance to chat backstage with Co-Founder Craig Kielburger and asked him for some words of inspiration for the kids. Here's what he had to say:
Are you inspired by this?  Read more on the We Day & Free The Children websites to understand about the number of schools built, the amount of fresh drinking water supplied, the number of children vaccinated and all of the additional ways that these amazing organizations have made a difference on our planet. Read more about how KIDS have been the ones to effect these changes and be further inspired.
If your child's school is not involved, you should consider forwarding the following link to the powers-that-be at the school: http://www.weday.com/what-is-we-day/faqs/#what-is-the-we-schools-in-action-program.
Wishing you a day of inspiration 🙂
BE THE CHANGE.
Tanya