Those of you who read on a regular basis know that I have been playing around with the Canon EOS Rebel SL-1.
I recently tried it out with guidance from the Photo Tips within the Canon Baby Moments App, available on the Canon Canada Facebook Page.
You can see the results in my earlier blog post Seizing the Season in Snapshots. 
Last week, I chose a different 'photo' on the app to photograph sweet little Sofia.
While I would have loved to do another outdoor 'photo session', the weather had other plans for us 🙂
I went over to Sofia's home as I figured she'd likely be more comfortable in her own environment.
I had been torn about which Photo Tip to go with. "Supported standing",  "Sitting in my own chair" & "First steps" were all appealing, but when we entered the den and I saw a very comfy looking spot for Sofia right in the corner, it seemed the perfect idea to 'adapt' the "Sitting in my own chair' pose.
As it turned out, she did some supported standing and first steps on the couch as well, LOL!
As per the app's suggestion of "Sitting in My Own Chair", I grabbed my Canon SL-1 with the 40mm lens and we set Sofia up on the couch (instead of a chair) which was placed next to a large window that offered plenty of natural light.
I then started snapping 🙂
Her sweetest smiles were when she was looking up at her Mommy 🙂
We decided to add a soft blanket to the mix 🙂
While I was switching lenses to my 18-55 mm, Mommy knew just which little toy friends to bring along to keep little Sofia's attention 🙂
And then we got the smile we were looking for!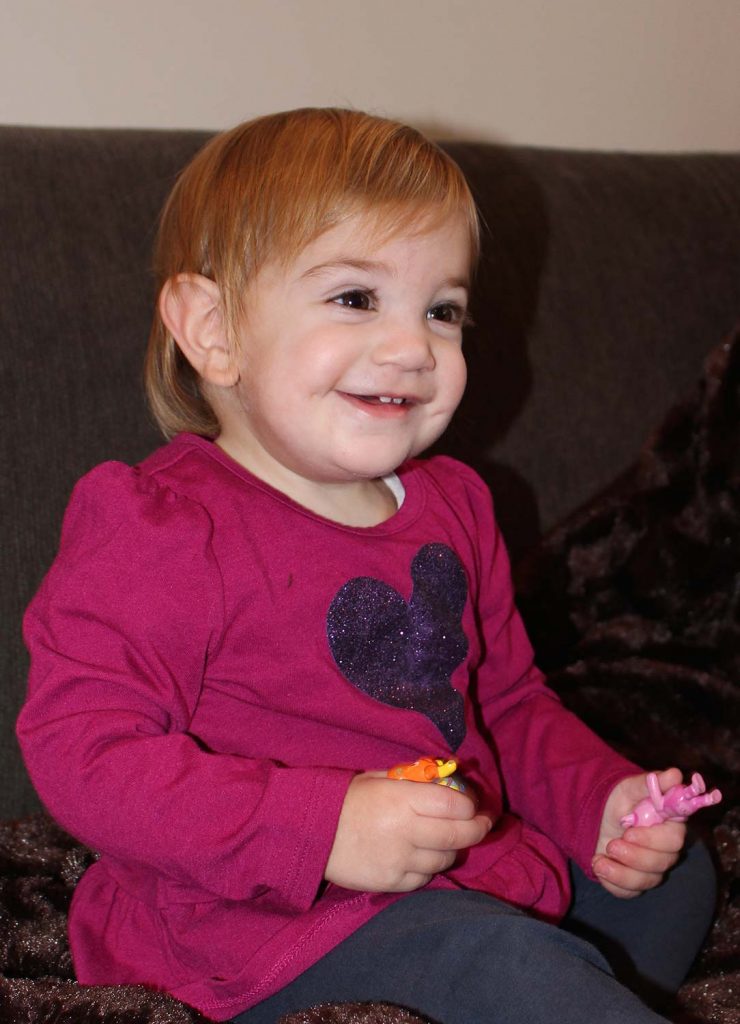 You can well imagine that Sofia did not sit still during this whole 'photo session'.  She was up & down and all around!
That said, we still captured moments and she was happy throughout.
I think it's important to remember that babies will be babies and kids will be kids and that going with the flow will almost always yield a better result than trying to make Baby do what you are hoping they will be doing.
The photos that seem to "come to life"  tend to be the 'unstructured' not 'perfectly posed' photos.
That's what I love about the Baby Moments App – it's a terrific guide to get beautiful shots, but it can serve as an inspiration for something similar and can also be adapted to older children as I did with Tristan in my earlier post.
I also discovered a new feature to the app: "Cover Model" where you can make your little one the star of a magazine cover with the templates provided- So much fun!  They're also an announcement feature if You'd like to create birth announcements!
Given that Little Sofia is already 15 months old, I figured the magazine cover would be the best way to go and in just minutes I created this: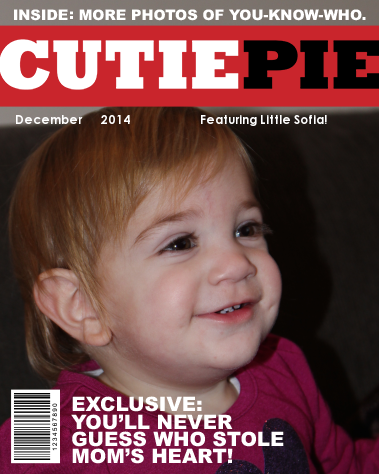 How fun is that???  (fyi – the app worked more smoothly for me in Google Chrome so if you're a Safari user, you may find the same thing.)
Cutie Pie is right 🙂
I encourage you to check out the Canon Baby Moments App on FB. It provides professional advice and inspiration to get you started on your very own "Professional Mom" photo shoot (and even provides these great templates within which you can share your cutie pie's pics!)
Have fun with it 🙂
Wishing you a day filled with captured moments,
Tanya
As with all sponsored posts, I will only ever share with you products and/or services I believe in. All opinions contained within are my own and cannot be bought