We are well into Crock Pot season & since people often ask me for recipes to use in their slow cookers, I decided to share one on BT Montreal this morning 🙂
I was first introduced to Filipino Chicken Adobo MANY years ago.  I was working in an office as a marketing coordinator and the company had a Filipino cook by the name of Marina who used to prepare lunch for the executives ( I was not one of them LOL!). One day, the smell emanating from the kitchen was so intoxicatingly delicious that I had to go find out what it was.
Marina told me that it was Chicken Adobo and gave men the recipe, which included some measurements and some less specific guidelines such as "a bit of…" or "to your taste".  Over the years I adjusted the recipe & realized it would be great for the slow cooker. I then began using boneless, skinless chicken thighs.  Given that my slow cooker recipes tend to yield fall-off-the-bone chicken, I prefer to use boneless so that no one finds bones in their dish.
I've lost touch with Marina over the years, but I hope she gets to see this somehow 🙂 Marina- if you do see this: Thank you for introducing me to Filipino Chicken Adobo!  You inspired me to make this into a slow cooker recipe that my family enjoys over & over again! 
Important CORRECTION: I mis-spoke in the video: Cooking time should be 5-6 hours on high or 7-8 hours on LOW or ( 8-10 hours on LOW for the double recipe)
* see note below re: cooking times
You can watch today's segment on BT by clicking here or on the image below: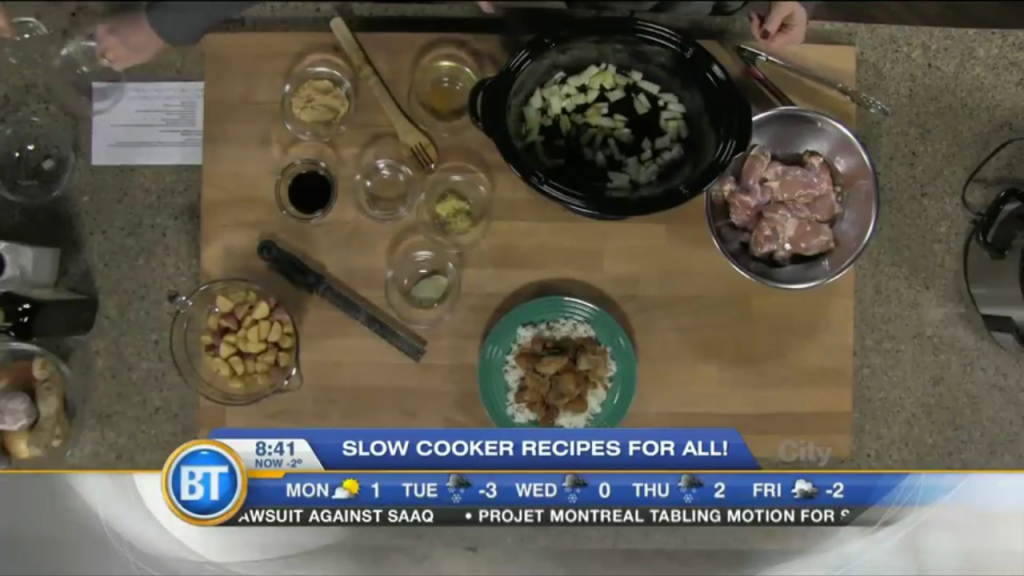 10-12  boneless, skinless chicken thighs
1-2 Tbsp grated or minced ginger
1 large clove garlic, minced
1 large onion, diced
1 bay leaf
3 Tbsp brown sugar
3 Tbsp soy sauce
3 Tbsp 7-Up
3 Tbsp vinegar
3 Tbsp Olive oil
S&P to taste
4 c. potatoes, diced / cubed
Place all ingredients in crock pot.
Cook for 5-6 hours on high OR 7-8 hours on LOW.  If doubling the recipe you may want/ need to cook longer on the low setting (8-10 hours on LOW)
Serve over rice & enjoy!
*Note: Cooking time can vary by slow cooker so, when trying a slow cooker recipe for the first time,  it is always a good idea  to monitor it closely towards the end of cooking time  to make sure the timing works with your slow cooker. 
By the way, the link to the
Slow Cooker Pulled Beef
recipe I was referring to can be found by
clicking here
.  It is insanely delicious and easy to make! I tried to find the BT video that I did back in 2015…but it seems to have disappeared 🙁
Happy Slow Cooking!
Tanya