When I arrived at the Segal Centre last night I admit I had NO IDEA what to expect from Once.  It has been a crazy week and I hadn't even had a chance to take a glance at the press release before arriving. What's crazier is that I had not even heard of Once before, especially given that it it had been an international success since opening on Broadway in 2012, where it won eight Tony Awards including Best Musical…Apparently I'd been living under a rock.
In any case, I was really excited to be back at the Segal to kick off the new season and to be honest, I sometimes actually prefer the experience of sitting down and being 'surprised' 🙂
I was definitely surprised when we received a beautiful musical performance in the lobby of the Segal prior to the show beginning. The cast of exceptionally talented musicians continued to perform for us once we entered the Sylvan Adams Theatre until the show began. I'll admit that during this time, while the performance was thoroughly enjoyable, my husband and I were wondering if we had 'missed something' – but we had not. The cast was just generously gifting us with some extra music, which was particularly apropos because the show centres around the love and the gift of music.
The story takes place in Dublin and follows an Irish musician and a Czech immigrant drawn together by their shared love of music. Their unexpected friendship quickly evolves into a powerful but complicated love story.
That said, I'm going to be honest in that it was NOT the story that moved me. My feeling is that the story was simply a thread that connected all of the songs together. The music was, hands down, the hero in this show. I really cannot convey in words what made it so, but the sheer number and variety of instruments being played in such harmony, combined with some incredible vocals made it amazingly special and moving. These were not musical 'numbers' – they were PERFORMANCES. Kudos to Musical Director David Terriault (Yes, that would be the same David Terriault who blew everybody away when Million Dollar Quartet hit the Segal a while back)  Disclosure: I think that over time I have also developed a 'thing' for string instruments, most especially the violin…so I may be biased 😉
I have to say that while the music is the hero, the lighting was actually the cherry-on-top that converted several of the musical performance from music to magic. Lighting is not something I notice often but I actually FELT the light move me in several of the performances and for that I tip my hat to Lighting Designer Martin Sirois.
Another thing that set this show apart from the 'usual':  It was extremely impressive how the cast performed using their own instruments onstage.  I even noticed that Sophie Paradis who played "Barushka' even managed to perform on both the accordion as well as the piano.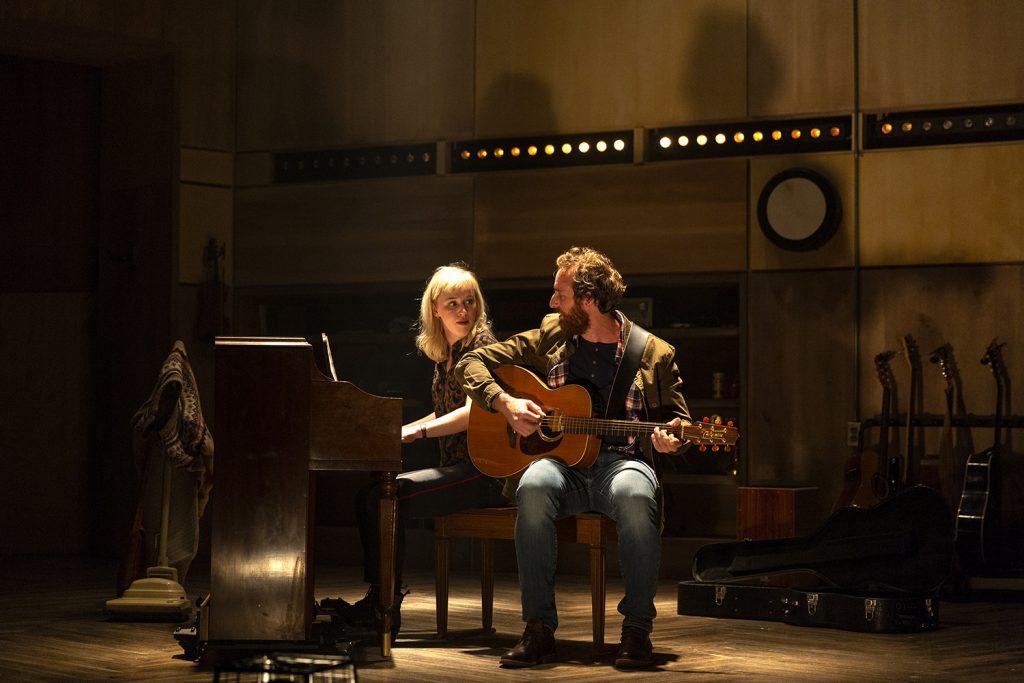 I was quite surprised to learn that this was the first professional performance for both Eva Foote ('Girl') and Greg Halpin ('Guy').  Both played beautifully well, but I have to say that on several occasions I whispered in my husband's ear (about Eva) 'She is SUCH a great actress'. She made us laugh from nearly her first line and at other times, she succeeded in bringing some audience members to tears.  It is said that "the eyes are the windows to the soul": Foote managed to turn her eyes into the windows of her character's soul – often while singing and / or playing an instrument at the same time. Let's just say that you don't see that everyday.
While Marie Mahabal ('Reza') may not have played a lead role, I feel her vocals need to be acknowledged- At times I mistook her voice for the addition of another musical instrument into the mix. Wow.
It's worthy of mention that there was a healthy dose of humour in this show and that the energy level of the cast members was incredible.  I will add that when Director Andrew Shaver came up at the end of the performance and gave double-high-fives to each of his cast members before taking the microphone, I was left with the impression that this high energy group was as 'in-sync' backstage as onstage.
Lisa Rubin, Artistic and Executive Director of the Segal Centre said it right: "We are opening the season with a musical unlike any other our audience has seen before. " I agree that Once is truly different and unlike any other musical I have seen at the Segal before. For me this show was all about the music and the music was beautiful enough to make it worth the trip.
Because I am often asked, I will add that that the show was pretty long with an intermission at about 1.5 hours. Make sure to visit the restroom prior to the show & during intermission!
For tickets you can click here to visit the Segal Centre website
Wishing you all a great weekend…and hope you enjoy the show!
Tanya