I remember watching the Tide commercials as a child…watching Moms get 'ground in dirt' out of kids' clothes using Tide.
Well, this week, I got to be THAT MOM, who was actually putting Tide Ultra Stain Release to the test after a little planting activity with the kids.
Disclosure: I am a P&Gmom/mamanP&G. As part of my affiliation with this group I have received products and have been compensated to put Tide to the Test. As always, the opinions on this blog are my own and can never be bought 🙂
OPERATION INDOOR PLANTING (Starting Seeds)
I gathered the necessary items to begin planting our seeds:
We gathered in the kitchen sporting our brand new, sparkling white tees.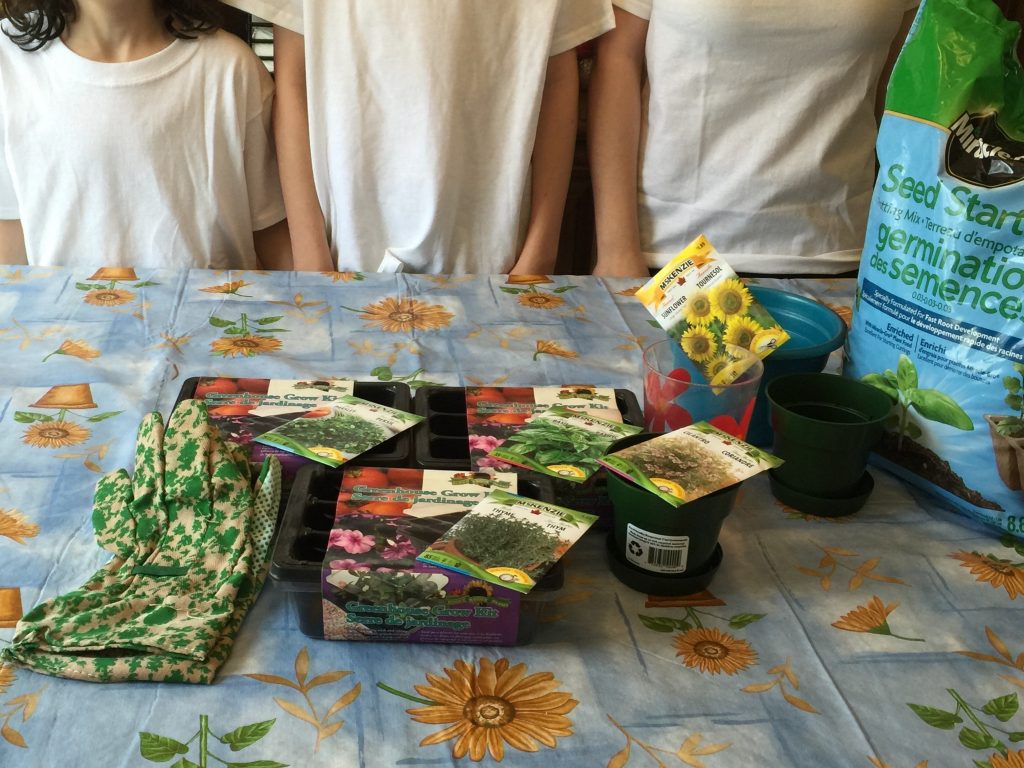 We began by putting potting mix into the various pots & mini 'greenhouses'.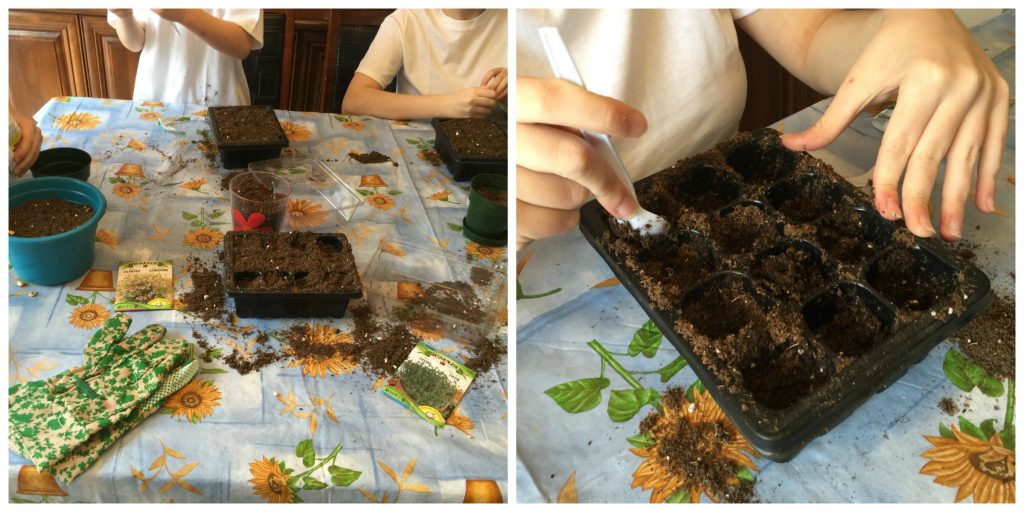 We added seeds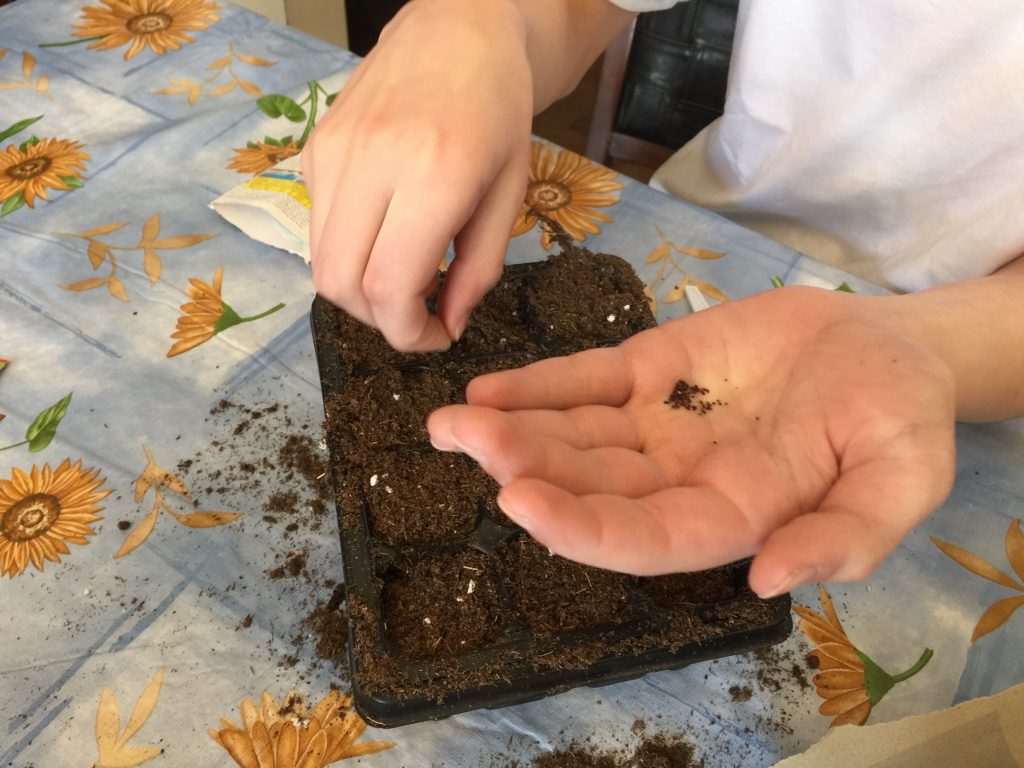 In some cases we added some more potting mix.  We watered.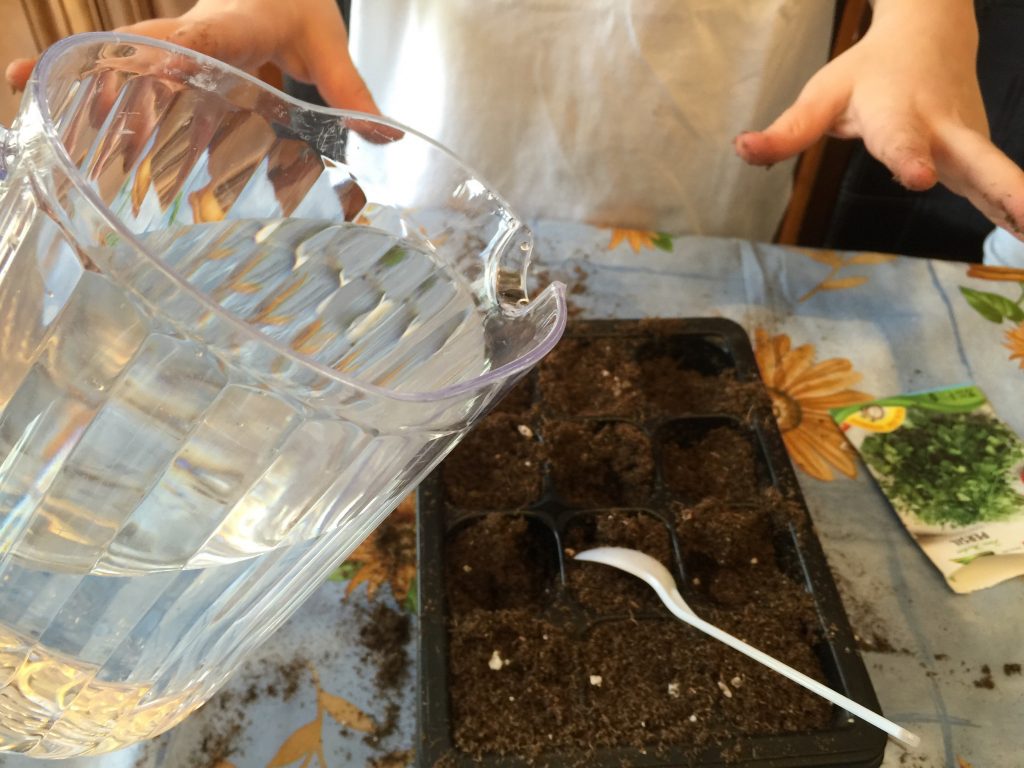 Although we were done, the kids weren't convinced we were dirty enough, and since they felt that they really wanted to HELP me with my challenge, they decided to literally rub dirt into their shirts.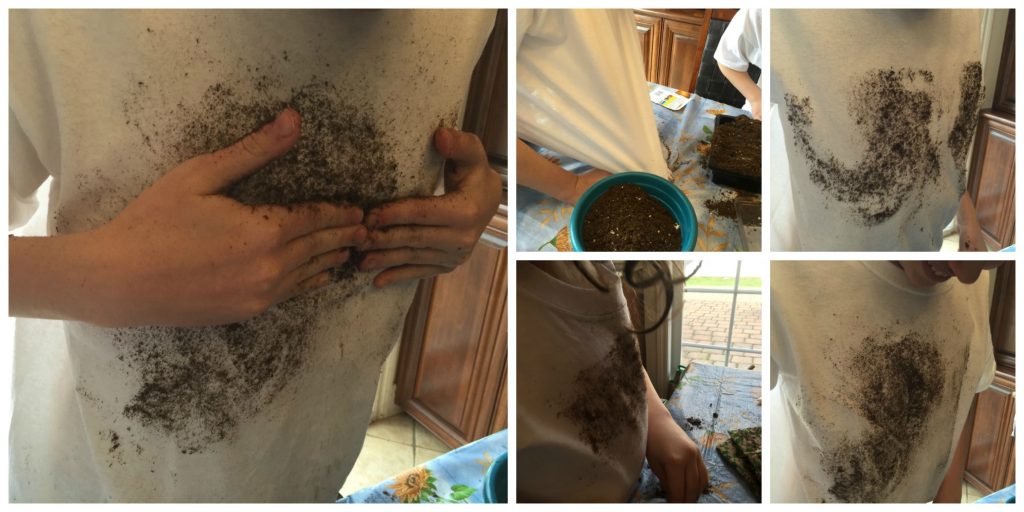 This was much better…
Now came the fun part:
I brought the shirts up to the laundry room where I paid close attention to the directions I was given:
(1) Before you start the cleaning process, remove any excess stain debris from the garment. I shook off & gently brushed off any excess dirt from each of the 5 shirts.
(2) Rinse in cold water to dilute the stain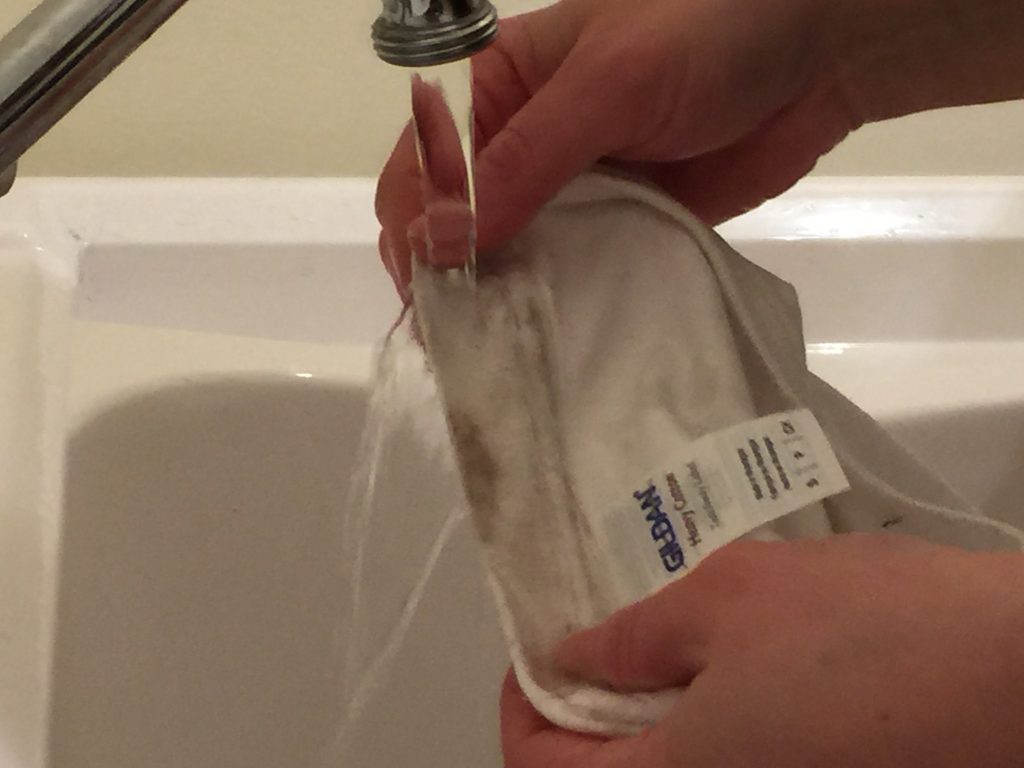 (3) Using a plastic bucket, create a soak solution by adding 1/2 use (approx. 25 mls)Tide per gallon of cold water  I used 1 gallon to soak the 1st shirt, and 2 gallons ( & a full dose of Tide Ultra Stain Release) to soak the other 4.  To be honest, I was nervous that maybe I should only do one at a time for it to work, so I tried 1 alone and then 4 together.
(4)Allow the garment to soak for up to 30 minutes, weighting the item with a white towel to keep it totally submerged . I did this for both 'batches'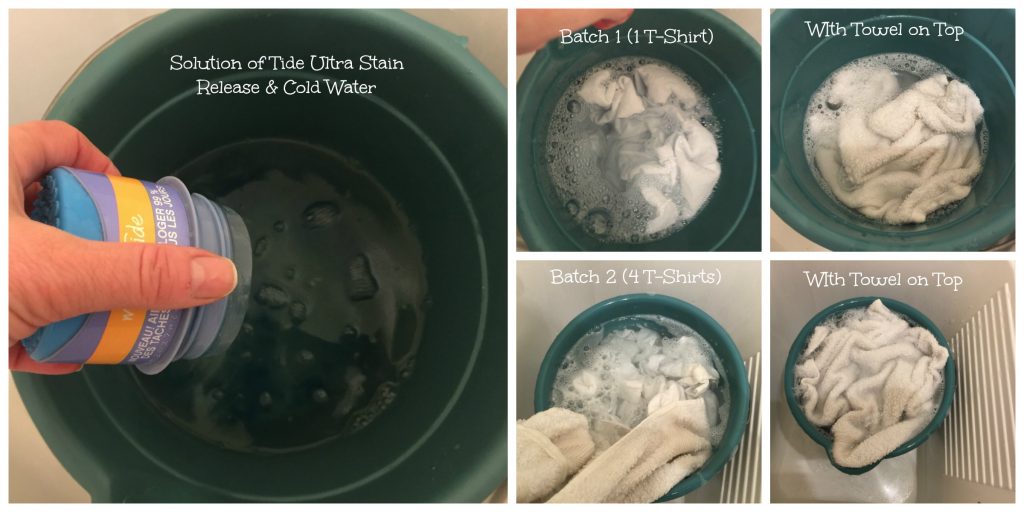 (5) Wash garment in warm water  I washed all 5 together in warm water, using a full dose of Tide Ultra Stain Release.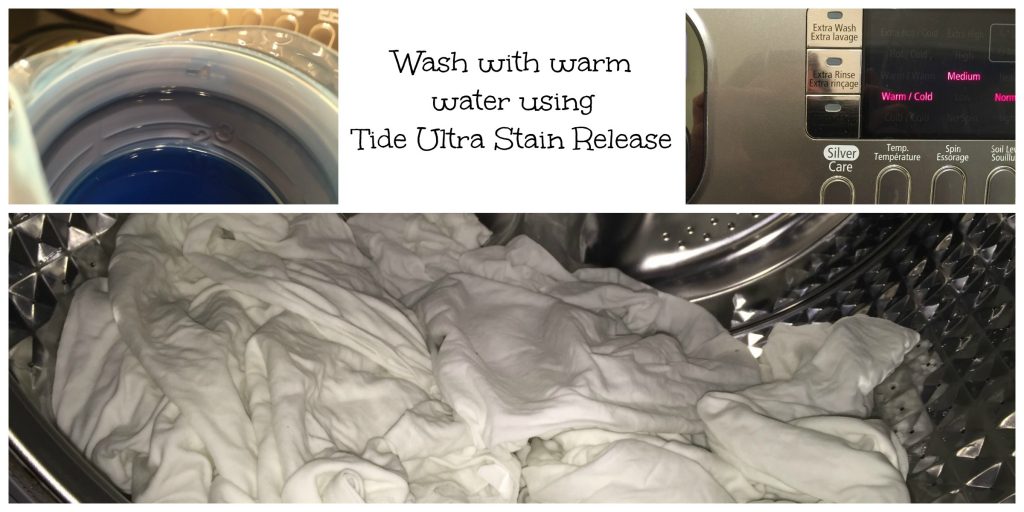 The Moment of Truth: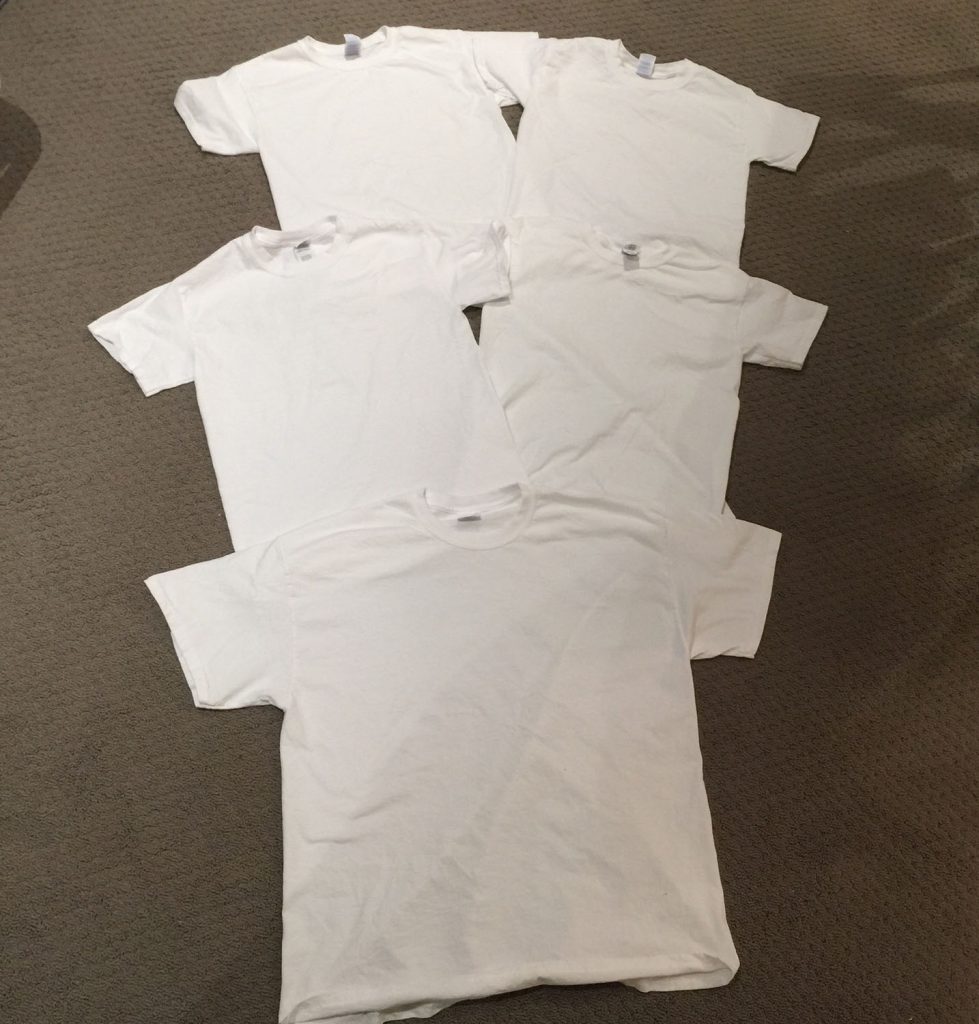 Sparkling White Tees!  ( I apologize for the lousy lighting) 
Not only did Tide Ultra Stain Release lived up to the challenge in getting out the dirt, but I was kind of nervous about a makeup stain on my own white collar (see below).
Guess what?  GONE.
I am definitely impressed, but I think I'm going to have to toughen up on the stains…Tide removes over 100 stains in one wash so I think that the next test has to include different kinds of stains…all at the same time. Stay tuned for our next test…
Wishing you a sparkling day!
Tanya