I was thrilled to attend the Premiere event for BAD MOMS last night.  My hubby was actually excited to be my date and my personal FB status on the way to the event seemed to have made a few people laugh: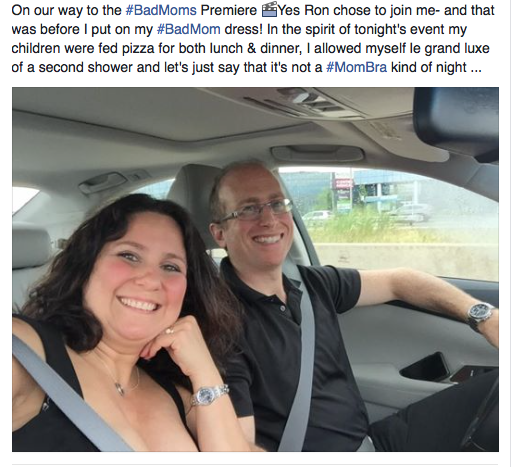 We arrived and surprisingly, he was actually NOT the only guy in the room…although admittedly, this was a very female-centric event!
We had a few noshes and chatted with a few others at the cocktail party and then proceeded into the theatre.
WOW.  Let me just tell you that the Cineplex Odeon VIP in Brossard gets the DOUBLE THUMBS UP.  It's 18+ only,  as alcohol is served at the bar and permitted in the theatre. Wide leather seats, side trays to hold whatever treats you may bear…Truthfully, you're screening in style & comfort 🙂
As for the movie?  Here are a few good reasons to go see BAD MOMS:
(1) To LAUGH. We laughed and laughed and laughed.  We laughed so hard at one point of the movie that I felt I was losing my breath. And you know what?  Laughing feels GOOD.  If there were no other reason to go see this movie- the Laughter is reason enough!  You can actually stop reading here and just GO! ( PS Consider yourselves warned about the sweatshirt scene…)
(2) To remind yourself to LIVE more, that you are a person, too.  To remind yourself that your role as a mom is not all-encompassing ( even though it sort-of is…).  We end up on the hamster wheel of kids and work and errands and responsibilities and rarely take any time to LIVE as opposed to just existing.
There is a scene in the movie (no spoilers) where Amy (Mila Kunis) gets accused of being selfish. I will leave it to you to watch that scene and feel whatever it is that you may feel. But I then challenge you to ask yourself this: When do Moms get a chance to worry about ourselves?  To deal with our own hardships and challenges? Being a Mom is a 24/7 job… So while the movie may seem a little extreme…it illustrates a point:
Moms are people too.
Do you remember how you used to be BEFORE you were a mom? Just because we are moms doesn't mean that we stop being everything else that we have become…except sometimes we do stop… But guess what?  You are still that person.  Perhaps you've grown and changed,  but you are still that same person.  And something I've learned: If you nurture even a small bit of that person you once were, you will be happier, and your kids will get a glimpse into the real you…and they will love it 🙂 So let yourself LIVE, if only a bit, by enjoying an experience you haven't enjoyed in a while – it can be a bike ride, a movie, breakfast alone or a trip to NYC….Do something just.for.you.
(3) To LEARN, even though intuitively you already know it, that there is NO PERFECT PARENT.  No perfect Mom, no perfect Dad. We are all "Bad Moms", because we are all REAL, living, human beings. And even the most perfect among us, have their own 'lives' going on in the background. So give yourself permission to let go of the Mommy-guilt and embrace the imperfection. Chances are you'll spend less time focused on getting everything right, you'll have a better chance at getting to LIVE in the moment and more chances to LAUGH.
I wrote a post a long time ago.  It was International Women's Day and I was also having a particularly crummy morning.  I was somehow inspired to write the following post, which was quite well-received over social media. I feel like it ties in SO well with this that I just have to share it with you again: It's called: It's OK. and you can read it by clicking HERE.
(4) You need a NIGHT OUT. So grab a friend (or a few),  or your significant other, and go see BAD MOMS!  It's perfect for Mommies Night Out, and evening with your own Mom and depending on your hubby's view, even for Date Night ( fyi my hubby loved it and could not stop laughing!)
(5) It's the perfect addition to your #61DaysOfSummer  😉
For those of you who missed the trailer in my first post, I'm including it again 🙂
So whoever you choose to go with, just go…GUILT FREE and let yourself be BAD MOM…at least for one night 😉
FYI Bad Moms hits theatres on July 29 2016
Tanya