Chances are that if you know Joseph Ribkoff, you LOVE Joseph Ribkoff.
I do.
His styles are:
Original, yet wearable.
Flattering, yet comfortable.
And while they may not be cheap, they are definitely worth it.
And now…they're available at a fraction of the cost!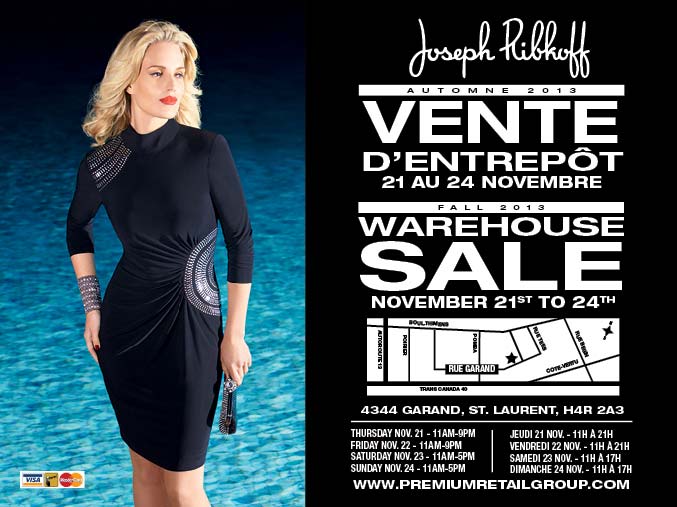 The folks over at Premium Retail Group (the same group that brought us warehouse sales for The North Face & LaCoste) have their Joseph Ribkoff event starting Thursday, November 21st (tomorrow).
That said, IF you've already signed up to be a Premium Retail Group VIP, then you've probably received notification of times you can go in today 🙂
They will have loads of Ribkoff from tops to bottoms, dresses & more! It's also worthy of note that this is mostly from the fall 2013 collection…
I will DEFINITELY be shopping at this event.
WHERE:
Premium Retail Group Warehouse
4344 rue Garand
Ville St. Laurent – H4W 2A3
WHEN:
Thu. Nov 21 11AM-9PM
Fri. Nov 22 11AM-9PM
Sat. Nov 23 11AM-5PM
Sun. Nov 24 11AM-5PM
For further details and to stay up to date on any future events you can:
Check out their website at http://www.premiumretailgroup.com
Like their Facebook Page
Follow them on Twitter 🙂
Happy Shopping!
Tanya