Have you heard about Premium Retail Group???
Well, if you haven't, you should.
They have fabulous winter wear for MEN, WOMEN & CHILDREN at reduced prices, including the much sought-after brand THE NORTH FACE!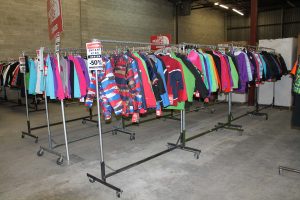 They also have shoes (including Converse All-Stars!) & boots. LOTS of shoes…OVER 9000 PAIRS!
They have the stock from Athlete's World's closing sale…Over $1.5 million of stuff to liquidate and they're doing it at prices that are 60-90% off of retail!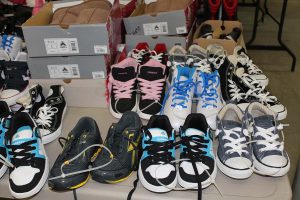 I had the opportunity to pass by just before they opened their doors to get a sneak peek at what's inside before the crowds hit, Take a look:
Now you may be thinking that after two days worth of sales, there can't be much left, but you see, that's just not the case.  They will keep replenishing the supply on the floor daily until the end of the sale.
The doors open at 11 AM but you may want to get there early…there may be a line-up…for good reason!
Eveything THE NORTH FACE is 50% off retail.  For these rest, there are set prices…Take a look!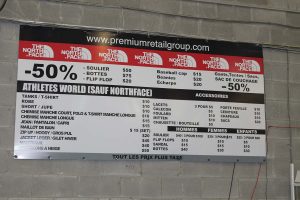 If you've been pining after a NORTH FACE jacket, or if shopping for running shoes is on your to-do list, make your way to the the Premium Retail Group Warehouse at 4344 rue Garand in Ville St. Laurent  – H4W 2A3!
For further details, you can: check out the website at http://www.premiumretailgroup.com, Like their Facebook Page, or follow them on Twitter 🙂
You should also know that there will be more sales coming up every few weeks…with DIFFERENT brands, so following their social media channels is a great way to know what's coming up…and when 😉
So set some time to get to the sale & tweet me a pic of your purchase when you leave!
Until then, I wish you: Happy Shopping!
Tanya