Have you heard about Community Day?
On Saturday, October 24th, 2015 families and movie-lovers across Quebec can join in a morning of free movies at their local Cineplex theatre – all for a good cause. Now in its fifth year, Cineplex's 'Community Day' treats guests to a selection of great family-friendly movies with all proceeds from donations and concession sales supporting Free The Children, its national charity partner.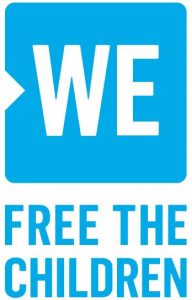 You've all heard me speak about my love for Free The Children in my blog posts and social media shares referring to #WeDay …Well what a great way to benefit an incredible cause- show up at the movies (FOR FREE), make sure to snack it up at the concession stand so that more proceeds can benefit Free The Children. Should you wish, you can even make a donation to Free The Children on site and you will still come out ahead!  It's a WIN-WIN!
This year's Community Day film line-up includes Despicable Me 2, Fast & Furious 6, Dr. Seuss' The Lorax, Pitch Perfect, Hop and Dumb and Dumber To. Movie-lovers in attendance can enjoy a morning of free movies and select concessions like coffee, popcorn, soft drinks and select candy items will be priced at $2.00 each.
Cineplex will also be selling exclusive mini-Rafiki friendship bracelets for $2.00 each, with all proceeds from the day benefiting Free The Children.  FYI my kids (and I!) are crazy about the Free The Children Rafiki bracelets.I haven't seen the minis yet but they are sure to be a hit- be sure to stock up on them for stocking stuffers & loot bags!
Last year the 125,000 Canadians that came to Cineplex theatres on Community Day helped to raise over $530,000 in one morning.
On the morning of October 24, all 20 theatres across Quebec will open their doors to guests, but seating is limited and available on a first-come, first-serve basis only. Movies will begin at 9:00 AM, with all locations returning to regular programming in the afternoon. Films are being shown in French and English depending upon the market, so guests are encouraged to visit Cineplex.com/CommunityDay for a list of participating theatres, showtimes and available languages.
Participating theatres in Quebec:
Cineplex Odeon Beauport Cinemas (Beauport)
Cineplex Odeon Brossard Cinemas and VIP (Brossard)
Cineplex Odeon Boucherville Cinemas (Boucherville)
Cineplex Odeon Delson Cinemas (Delson)
Cineplex Odeon Carrefour Dorion Cinemas (Dorion)
Starcité Gatineau Cinemas (Gatineau)
Cineplex Cinemas Kirkland (Kirkland)
Cineplex Odeon Place La Salle Cinemas (La Salle)
Famous Players Carrefour Angrignon Cinemas (La Salle)
Cineplex Cinemas Laval(Laval)
Cineplex Odeon Cavendish Mall Cinemas (Montreal)
Cineplex Cinemas Forum(Montreal)
Cineplex Odeon Latin Quarter Cinemas(Montreal)
Scotiabank Theatre Montreal(Montreal)
Starcité Montreal Cinemas (Montreal)
Galaxy Cinemas Sherbrooke (Sherbrooke)
Capitol St. Jean Cinemas (St. Jean sur Richelieu)
Cineplex Odeon St. Bruno Cinemas (St. Bruno)
Cineplex Odeon Ste. Foy Cinemas(Ste. Foy)
Galaxy Cinemas Victoriaville(Victoriaville)
The money raised at Community Day will support Free The Children's domestic programs including leadership opportunities and WE Schools, a yearlong program that challenges young people to identify issues that spark their passion and then empowers them to take action. It will also support WE Day, a celebration of youth making a difference in their local and global communities.
Supporters can also join the #CommunityDay conversation online with Cineplex Entertainment on Facebook (Facebook.com/Cineplex), Twitter (@CineplexMovies) or Instagram (@CineplexMovies).
Wishing you a day where you have the opportunity to do an #actofgood 🙂
Tanya