I definitely don't believe in airing out your dirty laundry on the internet…but what about the clean stuff??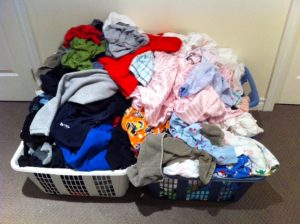 So for all of you who think I've always got it all under control: Take note. That is clearly not always the case.  Despite all the organizing and plans, sometimes something's gotta give, and this week, it's been the laundry…I mean it's washed and clean, it's just in need of folding… and being put away.
An excellent after dinner & after homework activity for this evening 🙂
Ever feel like your laundry is out-of-control?  Anything else?
Happy folding!
Tanya