Have you been spotting some oddly coloured TEAL pumpkins and wondered what the meaning is behind them? Maybe you have seen them and have already heard about the Teal Pumpkin Project™ or, as it is known in Quebec, as Ma Citrouille Turquoise.
When I learned about this initiative, I was eager to share it with my readers 🙂
The idea behind Ma Citrouille Turquoise is that homes with a teal pumpkin on their doorsteps offer non-allergen or non-food treats for Halloween. I love this initiative as it provides an easy way for kids living with allergies (and their parents) to enjoy the trick-or-treating experience with greater peace-of-mind.
With this in mind, I encourage all those who will be distributing treats this Halloween to support this initiative:
Be a beacon to kids with food allergies by painting a pumpkin teal and by offering non-food or non-allergen treats:)
You may choose to add your home's location to the interactive map, highlighting your participation for others in the community
Help generate awareness about this awesome initiative by sharing images of your teal pumpkins on social using #MaCitrouilleTurquoise ( if you want, tag @montreal_mom and I will like and /or RT! )
Painting your pumpkin teal is not that complicated…All you need is:
a pumpkin
teal paint
A paint brush or sponge
some paper or fabrics to protect your work surface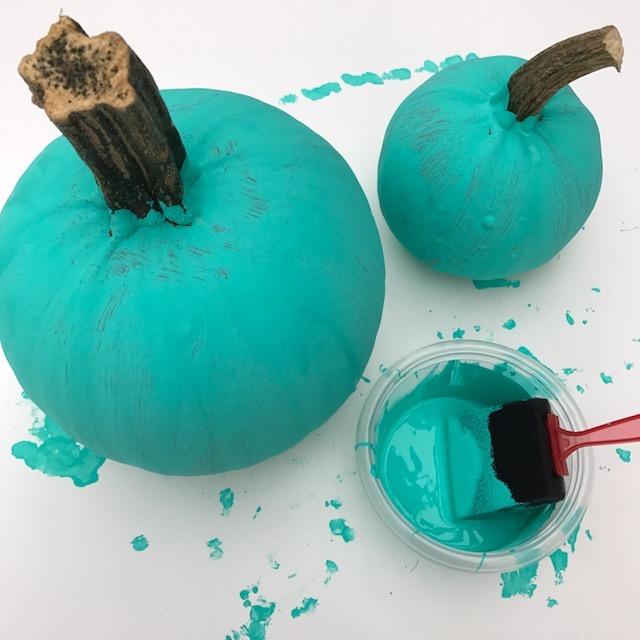 No time to actually paint a pumpkin? You can still offer non-food or non-allergen snacks and visit allergiesquebec.ca and print out a poster that you can put up on your door J
Don't you just love this whole initiative???
I'm going to add a little bit of history here, because if you're like me, you might be wondering how this whole thing got started. The initiative was originally inspired by a local awareness activity run by the Food Allergy Community of East Tennessee (FACET) and launched as a national campaign by Food Allergy Research & Education (FARE) in 2014. Last year, Allergies Québec began supporting this project by offering resources, information and tools to integrate the Teal Pumpkin Project™ in Quebec as Ma Citrouille Turquoise 🙂
One last thought: Even if you won't be participating in the project by offering non-food or non-allergen snacks for trick-or-treaters, you can still support the project by snapping photos of teal pumpkins on Halloween night and sharing them on social using #MaCitrouilleTurquoise which will help to generate awareness so that even more people know about the initiative and can choose to participate next year! (If you choose to tag @montreal_mom, I'll do my best to like and share ;))
I love this idea and I hope that you are inspired to join the #MaCitrouilleTurquoise movement to enhance the trick-or-treating experience for families living with food allergies 🙂
Tanya
Disclosure: This post is sponsored by Pfizer (EpiPen). All views and opinions are my own