If you watch Food Network Canada, then chances are that you know Greta & Janet Podleski of Eat, Shrink & Be Merry. They find creative ways to 'healthify' fabulous dishes while retaining (and usually augmenting) the YUM factor.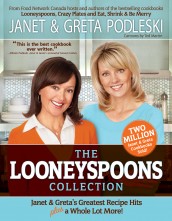 You can imagine that when I got an email from Greta asking if I'd like to review their latest cookbook "The Looneyspoons Collection", I was all-in. I'll admit that these sisters are a little on the wacky side but I love what they do, and for those of you who've checked out the recipes section on montrealmom.com, you already know that I'm also into 'healthifying'. I was definitely interested.  I was also curious about how the kids would react because moms are always asking me to recommend kid-approved recipes.
Now this was no business to take lightly, for when I check something out, I REALLY check it out. The first order of business was to pick a few recipes that I wanted to try out. I encountered my first challenge.  Everything looked so delicious I couldn't choose.  I had post-it-tabbed 29 different recipes.  If I tried one a day, it would still take me a month!
So I narrowed it to an ambitious list of 14 recipes to test over a 2-week period. I succeeded in testing 9 and will be testing 3 or 4 more this weekend.
I went through the recipes and made a shopping list.  Although I keep many of the ingredients at home, I have to admit I don't buy everything 'low-sodium' as they recommend.  In order to stay true to the sisters, I went out & bought low-sodium chickpeas and vegetable broth and some other new ingredients to get started.
And the cooking began.
Day 1: Wowie Maui (aka Pineapple Chicken)
Verdict: Outstanding
Hubby: the morning after said, verbatim: "Tweet Greta and tell her I say thanks for last night"
Kids: LOVED it.  All 4 of them.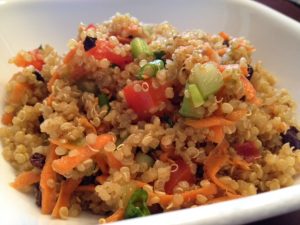 Day 2: Morrocan & Rollin' Quinoa Salad &
Fullafel (Falafel) for dinner

Salad Verdict: Excellent. Remember to expect a bit of sweetness.
Hubby: Loved.
Kids: Loved it.
Full disclosure: I was so excited to taste that forgot to add the chickpeas!  They would have only enhanced it further!
Fullafel Verdict: DELICOUS! Even my mom loved them and let me tell you…she's no pushover when it comes to Middle Eastern Food.  Raised in Lebanon, she's not only an excellent cook but all about everything being "authentic".  She was VERY skeptical about this version of falafel…until she tasted them.  She was SOLD.  I was certain that the patty-shape wouldn't be authentic enough for her.  Her words "Who cares?  They're delicious!!!"
Hubby: Loved
Kids: Loved.  Some pushback from our 5-year old (a notoriously picky eater) but in the end she ate it 🙂
Day 3: Bagels & Cream Cheese (I was giving my Social Media Workshop that night so I needed effortless eats with easy cleanup!)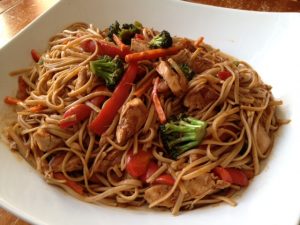 Day 4: Orient Express (aka Chicken with Linguine & Veggies)
Verdict: OMG!!!!
Hubby: WOW!
Kids: This is SOOOOOO Good!
Need I say more?
Day 5: Nutcrocker (aka Peanut Butter Chicken Thighs in the crockpot)
Verdict: Yummy.
Hubby: Loved.
Kids: Divided.  2 loved it, 1 liked it and the little one was fussy…but still ate it 🙂
Day 6: Rice Capades (aka Brown Rice Salad with Veggies, Cantaloupe & Cilantro)
Verdict: Good but on the sweet side.
Hubby: Never tried
Kids: Never tried
Note: I didn't leave them any 🙂
Weekend Treat: You're Pudding me On! (aka Warm Banana Bread Pudding with Chocolate Chips & Pecans)
Verdict: MMMMMMM!
Hubby: Good but on the sweet side (note: I didn't love the chocolate chips we used & believe them to be responsible for this…)
Kids: Loved
Day 7: Scentilentil Journey (aka Lentil & Quinoa 'Potage' with Veggies)
Verdict: Delicious.  Texture was a bit 'mushy', but I think I left it on a bit too long
Hubby: Loved
Kids: Loved. All 4 of them. When I commented that it came out a bit mushy, my (pickier) son said I wouldn't say that- it's delicious!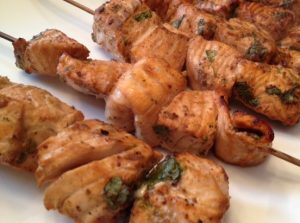 Day 8: Skewer Always on my Mind (aka Yummy Salmon Brochettes)
Verdict: AMAZING!
Hubby: This is Delicious!
Kids: This is SOOOO Good! (except for the littlest one who, although she needed some prodding, ate hers as well 🙂 )
I still want to try, among others:
Grainman colourful bulgur salad;
Feast from the East , and
Yellow Bowl of Texas
Most of all…I can't wait to try the Italian Dream Cake.  Ingredients are in the fridge. I'll be sure to tweet and/or post about that baby when I make it!!!
Overall, you can see that the recipes are family friendly AND delicious.
In addition I will add the following:
The recipes do NOT take a long time to prepare, however, there are a lot of spices to measure out (thus a lot of flavour). I recommend that busy moms measure out spices & dry ingredients the night before and keep in covered containers ready to go next day (I did!). Make sure to keep note of what you measured out so you don't double up next day!
I could not use chicken stock for all the recipes and so I substituted low-sodium vegetable broth. They results were excellent.
The cookbook is filled with great little tips about healthy living…I'm a sucker for that kid of stuff and so I love it!
Note: Food photos are my own- if I can do it, you can, too!
The meals are filling- I was always satisfied with one portion.  Caveat: So Yummy you want to keep eating even when you're full!
I didn't embark on this to drop pounds, but did fit into my too-tight jeans after week one 🙂
MOTHER'S DAY is coming up…this is a GREAT gift idea!
I LOVE The LOONEYSPOONS Collection by Janet & Greta Podleski.  I highly recommend it. I am officially a Looneyspoons fan, and you can become one, too! You can start off by 'liking' their Facebook Page or following them on Twitter!
WHERE to buy: The LOONEYSPOONS Collection is available at my beloved Costco for $19.99!!! If you can't make it to Costco, click here to see where to buy.
********************THIS GIVEAWAY IS NOW CLOSED********************************
Congratulations to our lucky winner Adina!
Thanks to all who participated!
Tanya
***************************************************************************************
How to WIN A COPY: Greta & Janet have generously offered to GIVEAWAY a signed copy to one lucky reader!
The giveaway will close on  Thursday, May 3rd at 11:59 PM and the winner will be announced on Friday May 4. The Giveaway Rules are posted below:
In order to ENTER THE GIVEAWAY you must:
Leave a comment in the comments section of this post
Correctly enter your email address as the winner will notified via email.
Once you have entered by answering the question above in the comments section, Here's how you can get additional entries:
Follow @montreal_mom on Twitter (leave your Twitter handle in the comments section of this post)
Follow @GretaPodleski on Twitter (leave your Twitter handle in the comments section of this post)
Follow @JanetPodleski on Twitter (leave your Twitter handle in the comments section of this post)
Tweet this giveaway by retweeting this post (1 entry for every RT, you can tweet up to 2 times daily- please leave a link to each tweet in the comments section of this post)
Add montrealmom.com/blog to your RSS Feed (leave note in comments that you have done so, use same email address for both comment & RSS Feed)
Write about this giveaway on your blog/website and leave me a link to your post in the comments section (counts as 4 entries!)
Read any other post on the montrealmom.com blog and comment on it (please leave a comment on this post as to which post you read & commented on)
The giveaway ends at 11:59 PM on Thursday, May 3rd, 2012.  Winner will be chosen at random and will be contacted via email on Friday, May 4th, 2012. Please make sure your email address is correctly entered in the comments section as the winner will notified via email. Winner must answer a skill-testing question before claiming prize. Open to Canadian Residents only.
I'll leave you with that and wish you a fabulous weekend.  Apologies for the long post…there was just SO MUCH to share!!!
Tanya