Honestly, I'm very lucky because my husband often handles the car-maintenance related stuff. Once in a while, I am the one who takes the car in and WAITS for the job to be done. When the kids were younger, my friend & I used to pick each other up when one of us was getting our tires changed, so that we could still get something done with our day!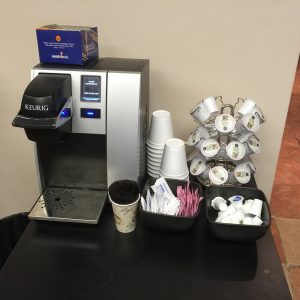 This year, I had my tires changed at La Cie. Canada Tire on Mountain Sights, which is about 30 seconds away from the corner of  Jean Talon at Decarie. When I arrived for my appointment, I simply gave my name & my keys and was invited to have a seat in the waiting area ( there are actually 2 waiting areas).  I was impressed by the set-up with counter-height tables and stools and, of course Free WIFI 🙂 There is a second waiting area just a few steps away which also offers coffee, tea and a water cooler.
Given that I was considering writing about this on my blog, I used my time to meet with their General Manager, Chris Moody.  Had that not been the case, I'd have had no qualms about whipping out my laptop & working in this great space until my car was ready!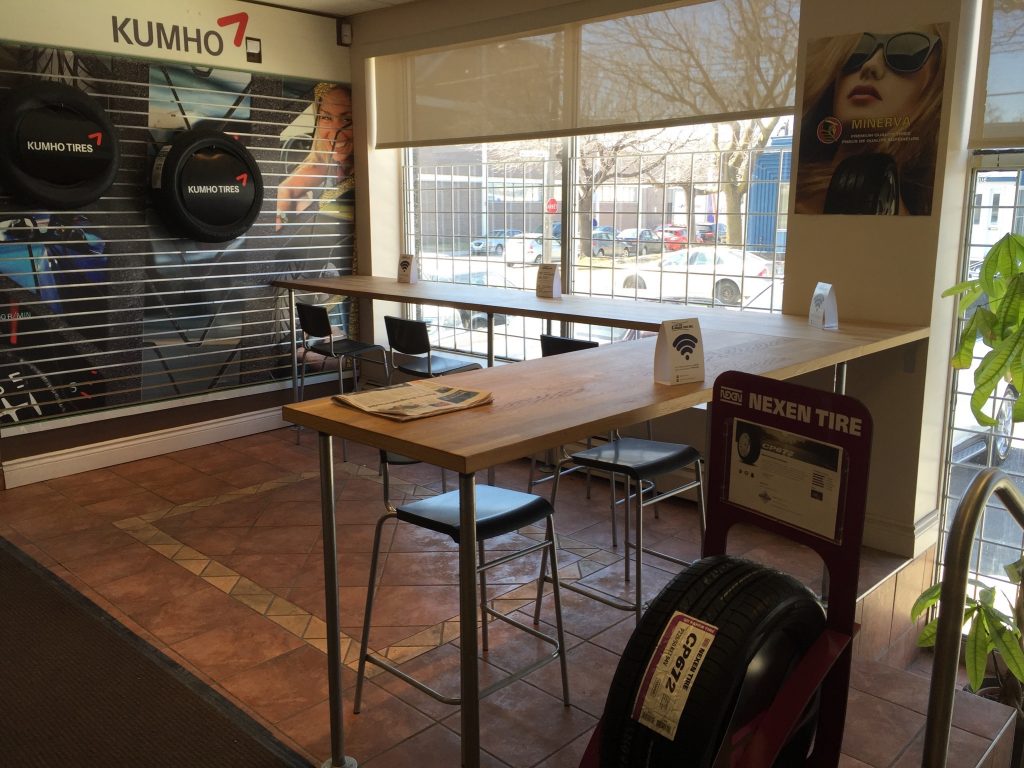 Chris started off by telling me, with genuine pride, how the company is a family-run business that has been serving Montrealers since 1928. The company was founded by Louis Wiseman, who was later joined by his two sons, Sam and Phillip Wiseman, as well as his son-in-law, Jack Granatstein. The business then passed on to Jack's son, Billy. Today, Billy is joined by his son Gabriel, his son-in-law Chris and all of the other employees. Jack & Sam continue to be involved in an advisory capacity. It can't just be me…I love when companies have 'history' 🙂
Chris explained how many of the clients are also the children and grandchildren of prior generations of clients. When speaking about the history of the company, he told me that they even used to see luggage from their retail location because when people came in to have their cars checked before a trip, they needed luggage.  Although they don't do that today, this particular fact sat with me, as it suggests that one of the reasons that they are still in business today is likely because they have been able to understand and respond to the needs of their clients through the years.
Chris went on to talk about equipment. He spoke about their top-of-the line alignment machine and the fact that it aligns your wheels 100% properly, in the same way that I might describe my KitchenAid stand mixer…with a visible enthusiasm that can only be explained by a true passion for what he does.  By the way, did you know that a proper wheel alignment can mean less wear on your tires and greater fuel economy?  I didn't…But Chris did 🙂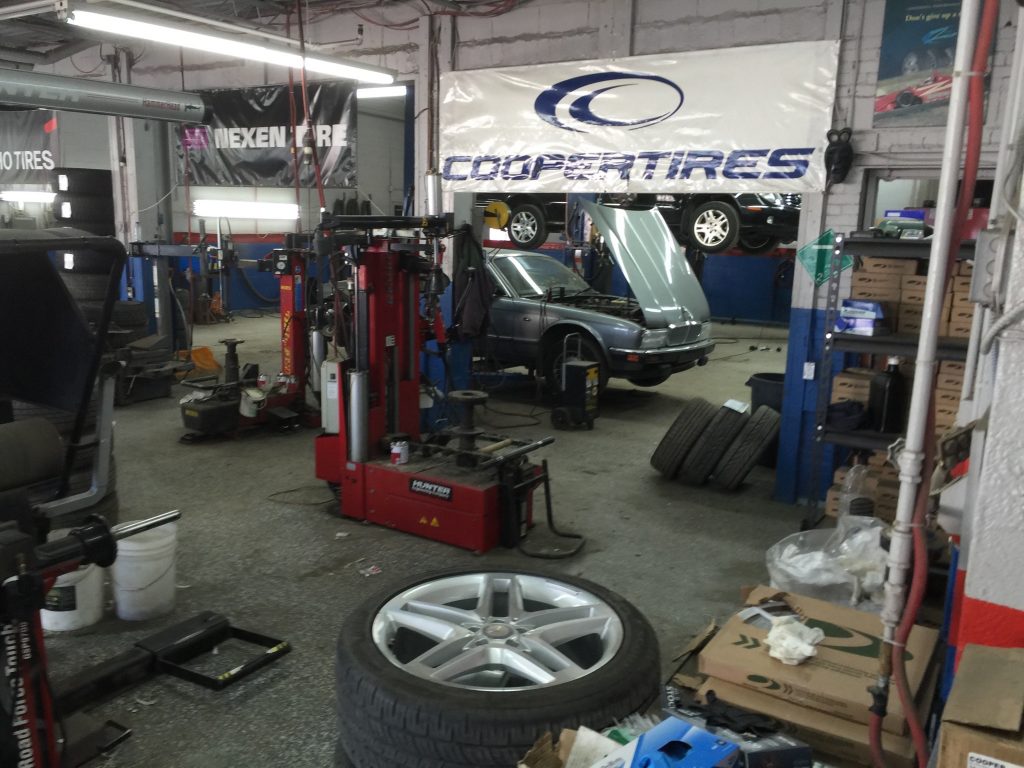 Not only is Chris proud of his equipment but he's proud of his people.  He spoke about his mechanical team and their diagnostic skills. Although they are fully equipped with top-of-the-line diagnostic computers that will explain what's wrong when you plug in your car, Chris and his team know that there is no replacement for actual experience. As he put it:
We're not the garage that tells you that the problem is either this, that, or the other thing, and then makes a repair for each of those things, one at a time, until the problem is solved. We try to diagnose it properly and get it right the first time"
In addition to selling & changing tires, Canada Tire offers many other services to repair and maintain your car, including, among other things:
AIR CONDITIONING ( Put their number in your SmartPhone NOW…BEFORE summer hits: 514-731-7817)
Brakes
Engine repairs
Flat tires
Damaged wheel rims
Oil changes
and more 😉
It's good to know that when you get your oil changed at La Cie Canada Tire, they also conduct 15-point visual inspection of brakes, suspension, fluids, etc.  As you may know, this isn't uncommon for other shops to do as well.
That said, here's where the difference comes in: At La Cie Canada Tire, when they find things that may need fixing, their experts will explain to you what is priority and MUST be done ( i.e. for safety reasons or for your car to continue functioning). They will also let you know what should be done (and when it should be done by) as well as the things that would be "nice to do". This beats the laundry list we are used to getting from the local garage (and the bill that comes with it). As consumers, we aren't experts and are not entirely sure what really NEEDS to be done vs. what could be done but is in no way dangerous, we need an expert we can trust & rely on. At Canada Tire, such experts exist 🙂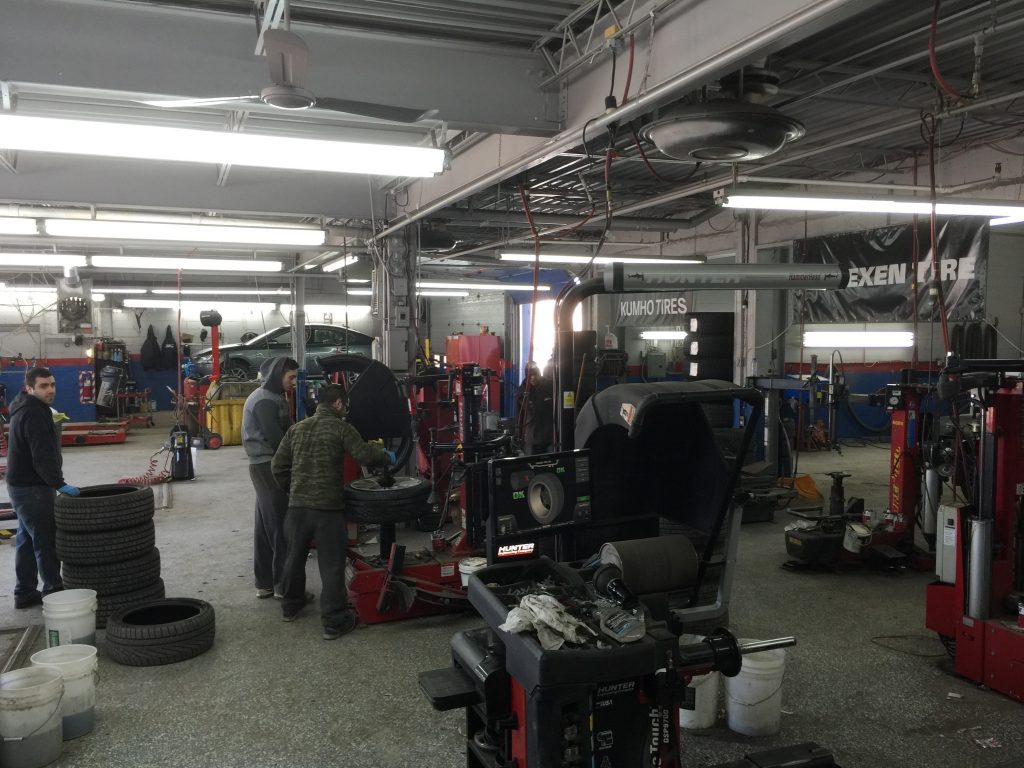 When it comes to BUYING TIRES, you can expect the same honest advice. Chris explained that their experts will check your tires and let you know which need replacing.  I actually interrupted him mid-sentence as I thought tires are always bought in sets of 4! (except in a 'flat' situation, of course). Chris explained that if your wheels have been out of alignment, one tire may wear unevenly, so you may need only one tire. Sometimes the front tires wear more quickly than the back (or vice versa) and they will check this for you and let you know what is needed. They can sometimes switch the front tires & back tires on a FWD vehicle, as an example. Note: Chris did mention that with AWD vehicles, the 4 tires are often changed together….
All in all, I got the distinct impression that the idea isn't to sell you more , the idea is to sell you what you need.
Along those lines, Chris also explained that the most expensive tire is not necessarily the best tire for your vehicle or for the way you use your vehicle.  The experts at Canada Tire know what to look for, for your particular car. They understand that safety comes first, and in reality, the most expensive tire is not necessarily the right tire for your car. For example, even though they aren't the most expensive brand, Cooper Tires happen to be an excellent choice.
Just in case you're wondering about their knowledge and expertise in tires, it's worthy of mention that the company has two sides: The retail location where I was having my tires changed, as well as the distribution side of the company which serves thousands of dealers throughout Quebec, Ontario and Eastern Canada.  Both parts of the company have been in existence since 1928…this company knows tires.
They also service ALL kinds of vehicles and whether it's my mini van or a Bentley, everyone will get that same 'old-fashioned' service combined with modern-day tech. It's no wonder there are third-generation clients that keep coming back. By the way, for those of you who are into 'cool cars', Chris suggested I take a look at the La Cie Canada Tire instagram or Facebook  profiles to see some of the really cool cars they get to work on 🙂
It's worthy of note that my chat with Chris took longer than it took to change my tires. They were done in 30 minutes, but Chris said that tire changes usually range from 30 – 45 minutes (there's that honesty again!).  After Chris took me around to get some photos of the shop & waiting area, I got my keys, paid my bill & was on my way!
Would I go back?  Yes. Although it's only been one experience, I feel like I have found a garage that I can trust. It's especially a great solution when the warranty on your car is up and you no longer have to service your car at the dealer.
I really liked that the wait time was less than I am used to waiting for a tire change, plus the fact that the waiting area is a pleasant one, made the whole thing a better overall experience.
On that note, as we finally approach our warmer weather, I am thrilled that I got the tire change over & done with.  Have you?  If not, you know where to call!   For more information feel free to visit their website: cdatiredecarie.com
Wishing you all sunshine & summer…SOON!  Drive Safe!
Tanya
Disclosure:  As with all sponsored posts, I will only ever share with you products and/or services I believe in. All opinions contained within are my own and cannot be bought