A few weeks ago, had someone asked me how many families in Canada consist of grandchildren being raised solely by their grandparents, I might have guessed a few hundred at most.
I would be wrong.
Census Canada tells us that in 2011 there were 40,125 grandchildren aged under-18 who were living with a grandparent with no parent present in the household. In the United States 5.5 million children under-18 were living with a grandparent in 2011. Nearly half (2.6 million) were under age six.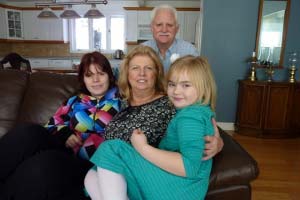 I recently had the opportunity to watch GrandParenting, a documentary by Peabody award-winning Canadian filmmaker Karen Shopsowitz.
In the documentary, Betty Cornelius, who is (Grand) mother to 20-year-old Asheleigh and founder of CanGrands, a national internet support group for kinship families raising other people's children, suggests that there are close to 70,000 families in Canada that consist of grandchildren being raised solely by their grandparents, 20,000 of which are in Ontario alone.
The numbers are staggering.
While our initial reaction may be that this is a beautiful thing and that the grandparents must love it, a closer look reveals that while these grandparenst undoubtedly love their grandchildren and are just about the most dedicated people that you can find, Grandparenting in the role of a parent is exhausting, especially given the fact that so many of these kids have developmental issues. Some suffer from fetal alcohol syndrome, others fall on the autism spectrum and others are faced with different challenges.
Grandparents can be kept quite busy just taking care of themselves and caring for growing children is not an easy task.  In addition, many are faced with financial hardship as they attempt to raise their grandchildren to the best of their abilities.  The love and dedication these grandparents show is second-to-none.
Karen Shopsowitz captures slices of life from various 'kinship' families, including that of Betty Cornelius who founded the CanGrands internet support group mentioned above. It is an awareness-generating piece worth watching.  Warning – there are a few tear-inducing segments.
GrandParenting premiered on TVO on October 16th but is available for national audiences via streaming at: http://ww3.tvo.org/video/196353/grandparenting.
Do you know any "kinship" families?  How do they cope?  What, if anything do you do anything to help them out when you can?
I'd love to hear from you.
Tanya