This week I had the opportunity to see What to Expect When You're Expecting.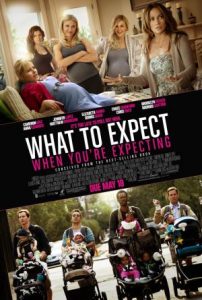 It was cute.  I think that's about it.  It just wasn't as funny as I was expecting.
It doesn't have much of anything to do with the book aside from sharing the title, which is just as well, as I don't think the book would have made for a very funny movie 🙂
We watch several couples on their respective journeys into pregnancy and parenthood. We also get to see the perspective of the dads' group members who are already well-into their journeys as parents.
Although some of the situations are comical, I find that generally speaking, as viewers we often laugh hardest when we can relate to what's being exaggerated on screen.  This is particularly the case with movies or shows about parenthood.  I think the writers and producers could have done a better job at this.
I wouldn't say that you should not go see the movie, but I might call this one a "wait for it to come out on DVD" (or the movie channel as the case may be).
It's not a bad movie, it's just that if you do go to see it, don't go in expecting too much or you may find yourself disappointed.
Have you seen the movie?  What did you think?
Wishing you a wonderful long-weekend (and enjoy the weather!)
Tanya