No, I am not referring to my child's latest math quiz.
I am talking about a company that I am crazy about.
A company that delivers as promised and then some.
A company that has a 95% customer-service satisfaction rate…and decided that this wasn't good enough.
Rather than uncorking the bubbly with high-fives all around the board room table to celebrate this 95% satisfaction rate, this company decided to ask:
What about the other 5%?
What could we be doing better?
Of course we put our customers first, but this is coming from somewhere…How can we improve?
Rather than chalking up the 5% to customers with unrealistic expectations, this company decided that its customers ought to #ExpectMore.
What company?
TELUS.
Not only do they have a 95% satisfaction rate but get this:
The Commissioner Complaints for Telecommunications Services (aka CCTS) received 11,340 complaints from Telco customers in 2014. Of these complaints, only 4.4% (or 243) were about TELUS.
And so this GINORMIC corporation decided to focus efforts based on the say-so of 243 customers?
Many a business "guru" might advise them otherwise.
"There are bigger fish to fry" 
"Some people will never be satisfied…Such a small percentage…Focus on the positive" 
"Resources allocated to resolving this tiny issue would be better applied to growing the business"
….The list goes on…
But the business minds behind TELUS see it differently.
THE CUSTOMER COMES FIRST.
We are doing our best but sometimes we mess up…and when you, our customer, are on the other end of the line when we mess up, it doesn't help you one bit that 95% of customers are satisfied.  At that moment you're not, and we get that. You should #ExpectMore.
Check out this ad – entitled "SCREAM". I think it illustrates that, as a company, TELUS "gets it"  Check it out on FB by clicking HERE
I don't know about you, but as a customer, I want to deal with a company that is constantly striving for perfection, not only in the product it develops or the service it provides, but in its CUSTOMER SERVICE.
My husband and I constantly comment about how customer service has been all-but-forgotten by so many companies.
In our world of online purchasing,  computer customer service reps and web-based "Submit a complaint" forms, there are a lot of frustrated customers who "…JUST WANT TO SPEAK TO A HUMAN BEING!!
I think TELUS has it right…and it just makes me all the happier to be a TELUS customer.
So what is TELUS doing to encourage its customers to #ExpectMore?
For one:
They are opening themselves WAAAAAAAAAY UP by addressing customer service issues not only via phone (call centres) or in-store, they are also listening to feedback online, including via social media! In other words:  When customers are complaining via twitter, TELUS is attempting to find a solution right out there in the Twitterverse.
Do I think it's wise?  I think it's crazy! Who puts themselves at risk of having negative customer feedback go viral?
I can think of only two answers:
A company who doesn't understand or respect the power of social media,
-OR-
A company that is so committed to getting to a point where there are no complaints left, that they are willing to be as transparent as transparent can be, because they are not trying to hide behind anything. A company that is willing to own its mistakes and work towards satisfying their customer.  (Odd that I say customer in the singular? It's not by accident. It's because TELUS is focusing on addressing each issue, with each individual customer, as if each individual customer is the centre of the universe.)
We know that it's not the former, so it must therefore be the latter…Way to Go TELUS. WOW.
It's also worthy of note that should you wish to have some live in-store assistance, TELUS has launched its Appointments Tool enabling customers to schedule in-store appointments with sales representatives regarding activations, renewals and repairs in advance of coming in-store.
They're also having fun with it, as they engage online with customers. Check out this cute interaction between TELUS & "Colton":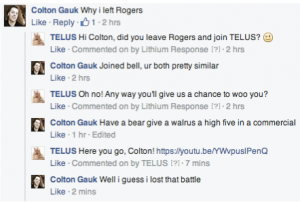 Kitchy?  For sure. But they're definitely LISTENING 🙂
Yes, I am a #TeamTELUS Advocate, so if you're thinking that's the only reason I am singing TELUS' praises…don't forget the reason that I agreed to be a TELUS Advocate...It's because I am truly. madly. deeply.  IN LOVE with this company! 🙂
Want to learn more about the Expect More Campaign? Visit the TELUS website at www.telus.com/expectmore or check out their blog for the latest stories on how they're putting Customers First 🙂
Until then I invite you to #ExpectMore….
Have a wonderful day where your expectations are exceeded 🙂
Tanya