TOYS – HOUSEWARES – FURNITURE- CLOTHING…
YOU NAME IT. They've got it.
I have been to liquidation outlets but NONE like this.
They've got 1 MILLION DOLLARS worth of inventory that they are selling at 40%, 50% & up to 75% off!
Rather than put it all into words, I just figured I'd show you: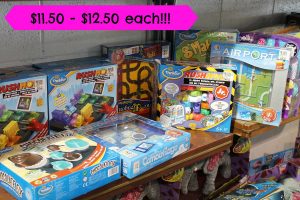 TOYS: V-Tech, Little Tikes, ThinkFun, Smart Games & MORE:
All at 50% off!!!  And that would be a REAL 50% off, folks…
I paid $11.50 & $12.50 for games like Rush Hour & Chocolate Fix: Easily $22-$25 at any retailer.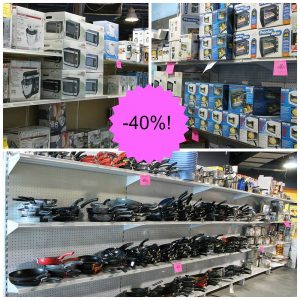 HOUSEWARES: From pots & pans to toasters & microwaves. Dishes & whisks to Vileda Mops..They've got it!
All at 40% off the ticketed price!
Let me tell you – I found things here that were CHEAPER THAN AT THE DOLLAR STORE!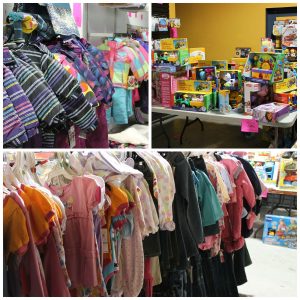 CLOTHING: Men's, Women's, Children's, Babies'.
Snowsuits, Jeans & everything in between.
SHOES?  Yup.
BOOTS? You bet.
FURNITURE? Mais OUI, mes amis
Seriously- It's worth the trip.
5 (OK, 6) REASONS to go:
Stock up on birthday gifts.
Some of this stuff would make great (and affordable) Loot Bags
Find great hostess gifts for the upcoming holidays
If you celebrate Passover & change your dishes…This is PASSOVER PARADISE!
Get your Random Act of Kindness on & spend a few bucks to buy something fabulous to donate to someone in NEED
June will be here sooner than you think… TEACHERS' GIFTS
There are so many more…but I don't want to keep you reading…The sooner you get there, the better!  The inventory is always changing as they have got 1 MILLION DOLLARS of it to sell…
WHERE is it you ask?
It's the NH Salvage Liquidation Outlet at 7155 Trans Canada (service road going west), just west of Cavendish.
(You know- the old Paintball place! ).
You'll recognize it by the huge orange & yellow signs:
Looking for more information?
You can check out their website at nhinc.ca, Like NH Salvage on Facebook , Follow @NHSalvage on Twitter
Feel free to come back & post your finds!
Don't forget to tell them that montrealmom.com sent you 😉
Happy Shopping!!!
Tanya
As with all sponsored posts, I will only ever share with you products and/or services I believe in. All opinions contained within are my own and cannot be bought 🙂