PLEASE NOTE THIS IS AN OLD VERSION OF THIS POST-DISCOUNT CODE IS NO LONGER VALID.
Please CLICK HERE for the NEW POST.
Imagine this:
You shop for your groceries online at Walmart.ca, at your convenience. You choose a time that makes sense for you to pick up your order.  You arrive at the specially designated area at Walmart and call the number prominently displayed in your parking spot. Within a few minutes your groceries are delivered to, and unloaded into, your car.
THIS IS REALITY with Walmart's new grocery pickup service and my first thought when I heard about it was  how this service would have made my life so much easier when my kids were small- especially in the winter!  What a pleasure it would have been not to have to haul them all out of the car unbundle them in the store, only to re-bundle them up to get back to the car with all of the groceries in tow.  Instead, they would have napped in the car while I went to the store, had everything delivered right into my car and driven back home. WOW.
Well, I had the pleasure of trying out the service for the very first time last week and everything about the experience was fantastic – from the online ordering process through to unpacking my groceries and that BEAUTIFUL PRODUCE!!!
Let's face it: It's no secret that I have a Type-A control-freak personality ESPECIALLY when it comes to selecting my produce. After many years of teaching my husband how to choose produce at the store, I have learned to trust his choices in the produce section. That said, let's just say that ordering produce online was definitely stepping out of my comfort zone….but am I ever happy that I did!  My cauliflower was white and crisp, my kale was spectacular, the herbs were hearty and the strawberries were perfection, not mottled or soft. Everything was just right!
I'm going to take this opportunity to add that we ate the honeydew for dessert after supper the same day that I brought it home and it was DELICIOUS!
The staff at Walmart have officially been added to my circle of produce-selection trust and I am officially a fan of this service 🙂
So, even though my kids are older and I can't benefit from them napping while I getting the groceries done, I can absolutely benefit from saving both time and money by using this service. Walmart's Grocery Pickup means more convenience and free time for me and great quality food for my family at everyday low prices – Oh yeah…I'm in!
In case that's not enough to convince you to try it, let me tell you the various parts of the experience and what I loved about each one of them (also stay tuned for a $10 PROMO CODE further down 😉 )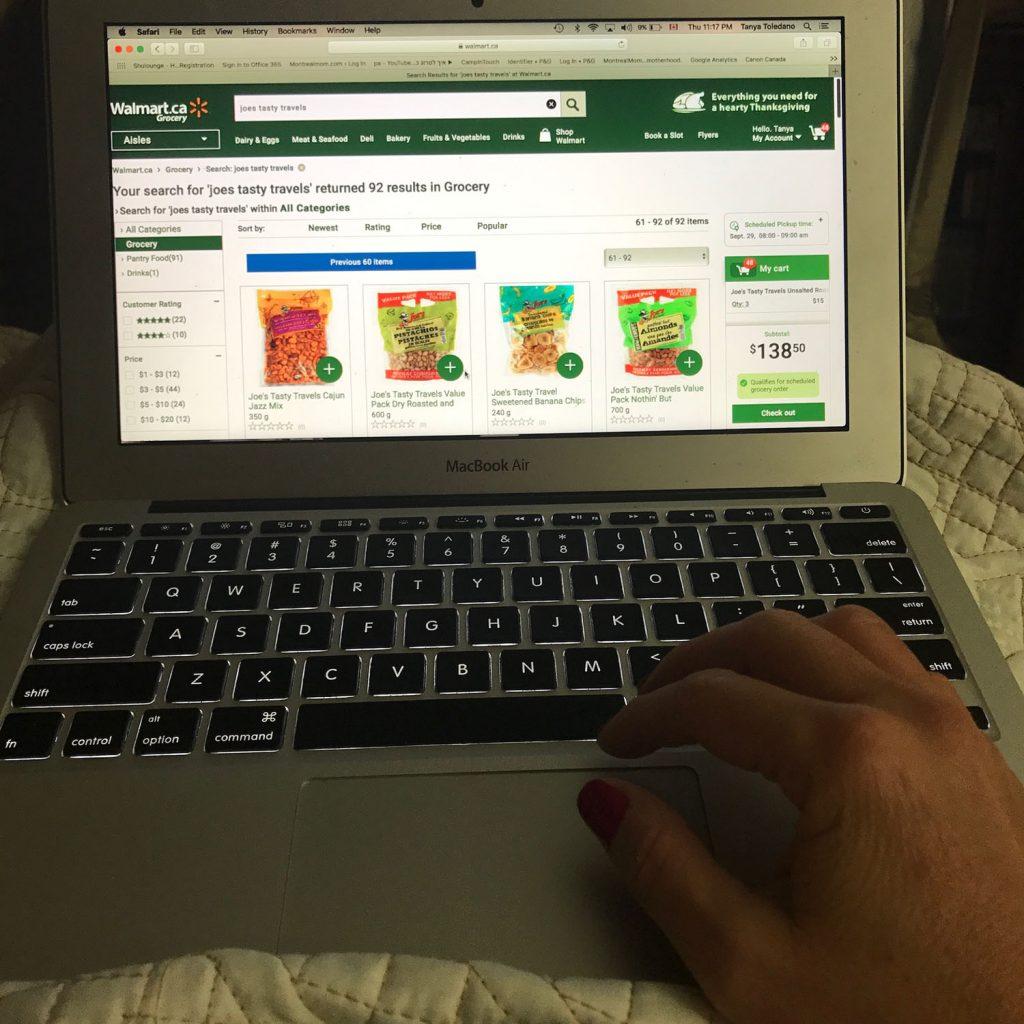 Online Ordering:
It is important to note that you can order online at Walmart.ca or via the Walmart Canada App on your mobile device 🙂
I used the site which I found is easy to use and navigates beautifully
The store selection function is easy and so is setting your pickup time.  Remember that your order must be completed by 1:00 AM if you plan to pickup the following day.  You can see how to do this at https://www.walmart.ca/en/scheduled-shopping
You can shop by aisle, but also by keyword. As an example, I specifically wanted to search up "Joe's Tasty Travels" as there were several items by that brand that I wanted to purchase.)
Searching by aisle is also great as there are times when you notice an item you may have forgotten on your list, but still wanted to buy (much like what happens in the grocery store!)
I began my order when I had some extra time at the office, but did not have time to complete it. No problem!  I continued the process in my kitchen late that night and completed it just before midnight – literally while in bed:) "Shopping at your convenience" really means – anytime, anywhere, and even stopping part-way to continue later.  Perfect for busy Moms who are constantly getting interrupted!!!!
I loved seeing that you can choose to get your groceries bagged or to bring your own bags- LOVE THIS!!!  Confession: I chose plastic bags for this particular order as I was afraid to forget my bags ( I was ordering as I was nodding off in bed, you know…) but I would definitely bring my own bags next time:)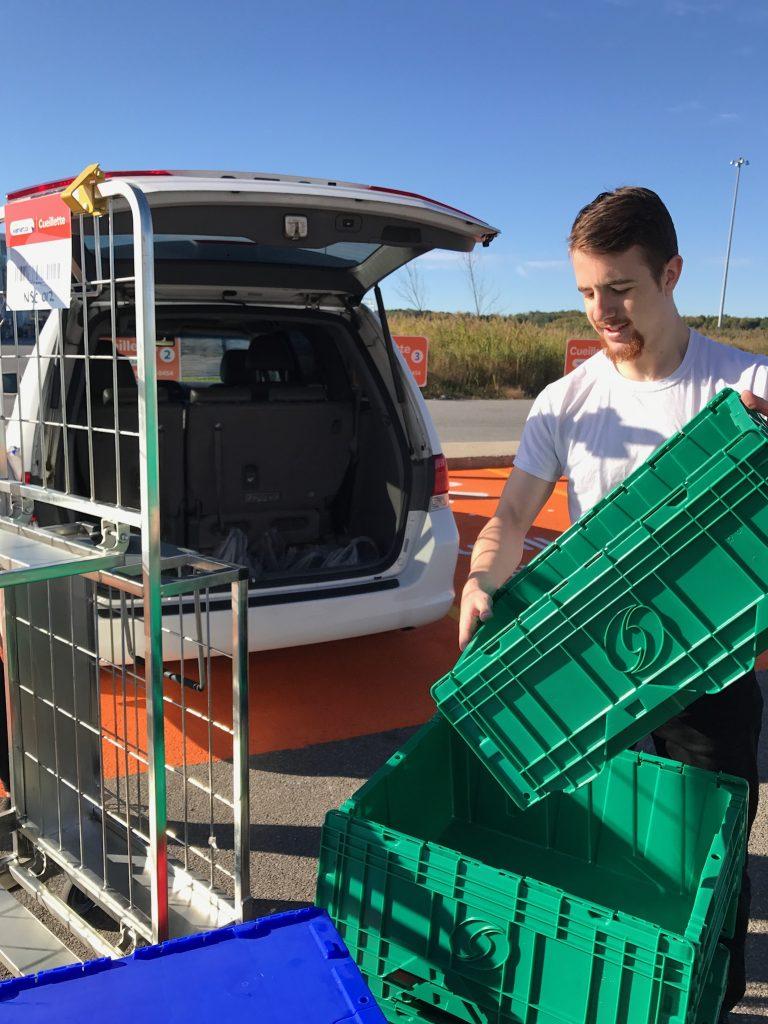 The Pickup:
Drive to the designated pickup area with its bright orange parking spots.
Park in a designated spot and call the number clearly displayed in front of you.
Wait for a few minutes for the staff to bring out your order and place it for you in your car.
In case you are wondering (like I was) : Frozen stuff is kept frozen and refrigerated stuff is kept refrigerated until the order is brought to your car.  The plastic bins that everything comes out in are colour coded for exactly this purpose 🙂
A little touch that impressed me: I was asked if it would be Ok to place the bathroom tissue on my back seat (as opposed to having it crush my beautiful produce in the trunk!). <3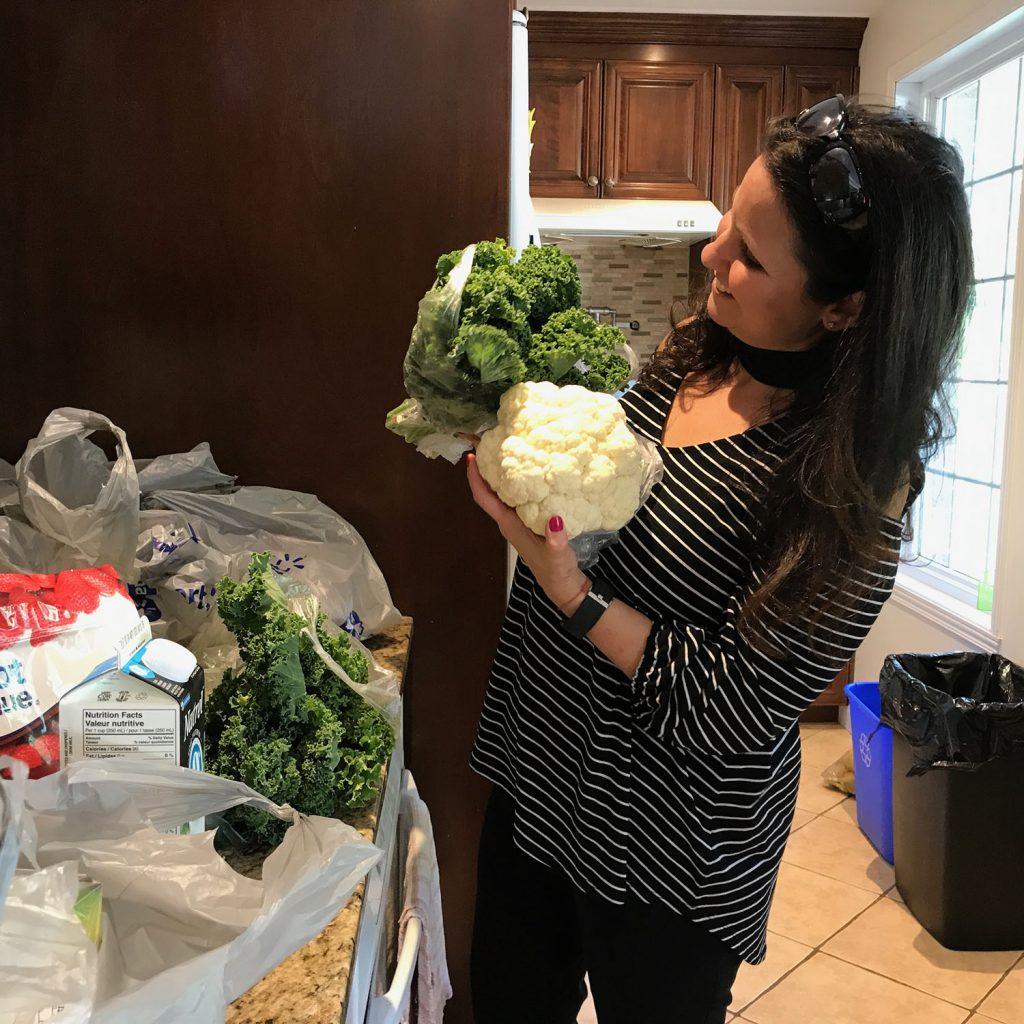 Unpacking at Home:
As mentioned earlier, I was a bit apprehensive about what the produce might look like…but I was very pleasantly surprised…It was gorgeous!
We obviously consumed much of it over the weekend and truthfully – everything held up perfectly, with the exception of a few of the nectarines that went a little soft (but which I still happily added to my salad!) Special mention goes to the Granny Smith Apples: My son ate 3 of them after school! My husband declared "Finally- A Granny Smith apple with taste!  We haven't seen one of these yet this year!"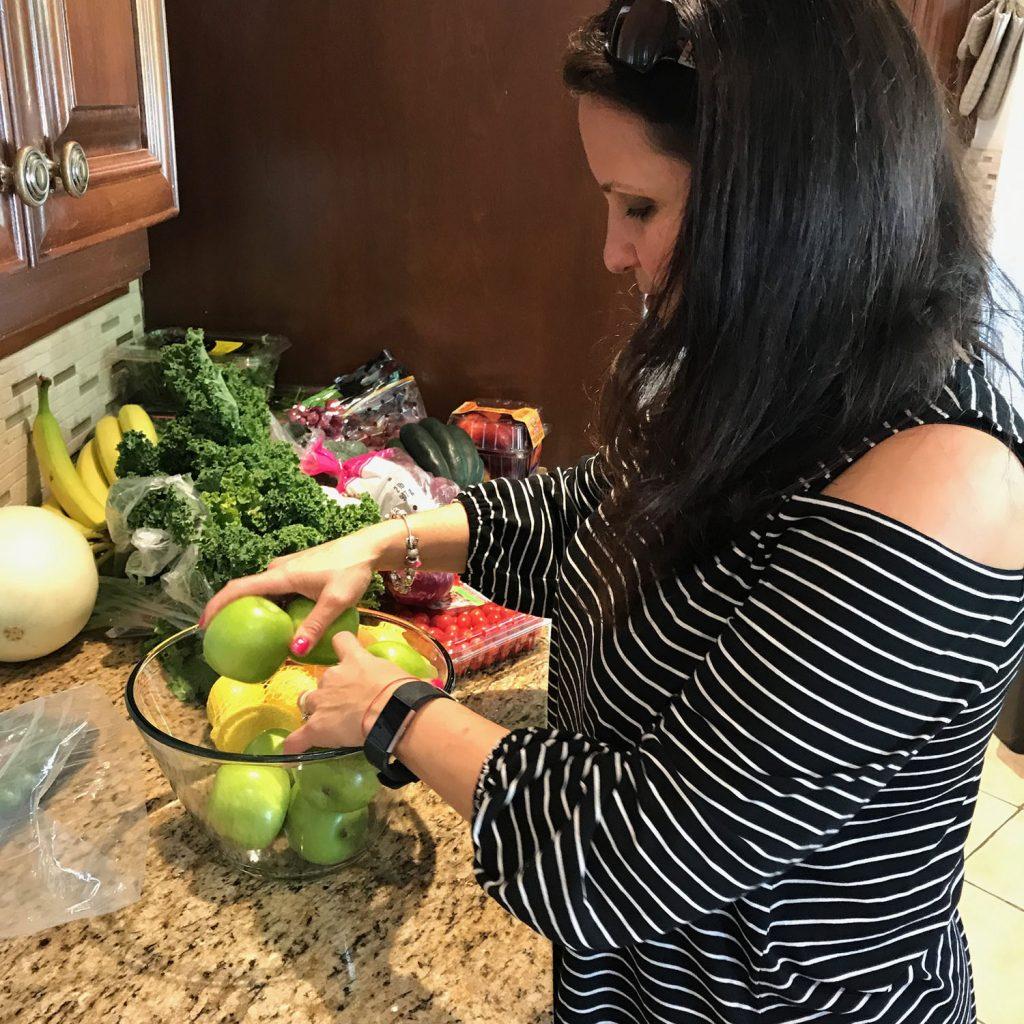 The system is beautiful and I am excited to offer YOU, my readers a $10 promo code to try the service for yourselves!  You'll be happy you did 🙂 Just activate the promo code ' CUEILLETTE ' when you CLICK HERE. Please note that
offer expires October 31, 2017
you will need a Walmart.ca account in order to redeem the promo code
the $10 coupon is only valid for online grocery orders
A few things you should also know before you try the service:
There is a minimum order of $50 to use this service. This is a non-issue for me as with 4 kids, my grocery orders rarely come to less than that.  Also- remember that groceries can include not only produce and pantry items but also dairy products, fish, meats, and even household products like detergent or dishwasher tablets!
The service is available at select locations. Check online to find the location offering the service nearest you.  Note for my West Island Moms: I chose to pickup at the Vaudreuil location and have evaluated that it still took me less time to get there, pick up and get back home than had I driven to a closer location, shopped, waited in line, brought everything to the car and then gone home. If I factor in the time it took me to shop online, I believe I still saved time, especially given the fact that I was able to do this part during pockets of 'free time' as opposed to during peak hours when I needed to be working or with the family.
There is always a chance that an item will not be in stock when the staff go to bundle your order.  At checkout you can 'accept substitutions' or not.  In my case, I had accepted 'No substitutions' so items that were not available (very few) still appeared on my bill at no charge ( but visible at $0.00 so that I would know the I would still need to purchase them elsewhere.).  The 0% Greek Yogurt that I had ordered was unavailable and substituted with a 5% Greek Yogurt – I was about to object, but before I had a chance was told that it was substituted at no charge. Nice touch:)
A few more answers to what I anticipate will be some FAQ:
There is NO additional charge to shop online (but as noted, there is a $50 minimum order)
Online prices are THE SAME as in-store prices
The Grocery Pickup service is currently only available for groceries which can include household items like detergents but does not include clothing, home furnishings, etc.
The Grocery Pickup service is FREE and you can order up to 21 days in advance!
On that note, I am going to let you log in to Walmart.ca so that you can shop and let Walmart take care of you;)
Don't forget to redeem that promo code!
I'd love to hear how you enjoyed your experience;)
Happy Shopping!
Tanya
Disclosure: This post is sponsored by Walmart Canada as part of the Walmart.ca Grocery Pickup Service program. In exchange for this post, I have received perks in the form of products and/or compensation. All opinions on this blog are my own.