You may or may not be aware that so many arenas across our country are in a serious state of disrepair.
Kraft Hockeyville is an annual competition where communities around the country compete against one another and demonstrate their community spirit and passion for Hockey in Canada. Prizing varies depending on the level attained & starts at $25,000 in arena upgrades going all the way up to the Grand Prize which is the honour of hosting an NHL pre-season game in your hometown, including a visit from CBC – in addition to $100,000 in arena upgrades.
Once the revenue for hosting the pre-season game is factored in, an estimated $1 million will be granted for the purpose of improving arenas in communities across the country.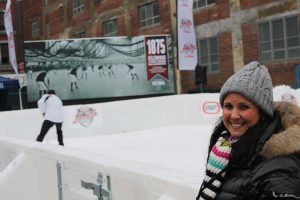 I was invited to the launch of Kraft Hockeyville 2014 which took place at the site that once held Victoria Rink- where the Stanley cup was awarded for the very first time. The folks over at Kraft built an outdoor rink for the day on site but soon condos will be built on the property. 🙁
When I asked Jack Hewitt, Kraft's Vice President of Marketing Insight & Services why Kraft became involved with this initiative, he replied that it began eight years ago when their marketing research showed that "For Hockey Moms and Kraft consumers, the community arena was the centerpiece of their life, so we wanted to support that."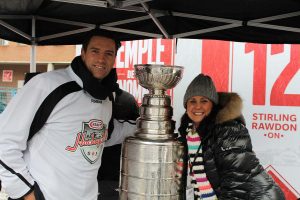 I also had the privilege of chatting with former HAB Patrice Brisebois about the importance of local arenas to families around the country, as well as how many of those arenas are in need of renovation.
Finally, I asked Patrice to offer some words of inspiration for young hockey players.  His answer applies not only for kids making efforts in hockey, but as he put it "in anything in life".   A nice clip that you may want to play for your kids 🙂
Here's a video of the interview:
Thank you, Patrice, for those inspiring words which continue to apply throughout life – not only for our kids, but for our adult selves as well 🙂
For more information on Kraft Hockeyville, you can visit: krafthockeyville.cbc.ca.
Wishing you all an inspiring day,
Tanya