Day 18 started off with my segment on BT and continued on to a Press Conference at Super Aqua Club in Point Calumet which is basically 1/2 hour out of Montreal. ( We arrived in under 1/2 hour from leaving the West Island!)
The Press Conference was for the launch of TSUNAMI- which is North America's 1st ever Aquatic Rollercoaster. The only other one of its kind is the prototype which can be found at SIAM Park in Tenerife, Canary Islands (apparently one of the leading waterparks in the world.)
The Press Conference was followed by the inaugural "Slide" and Ribbon Cutting Ceremony: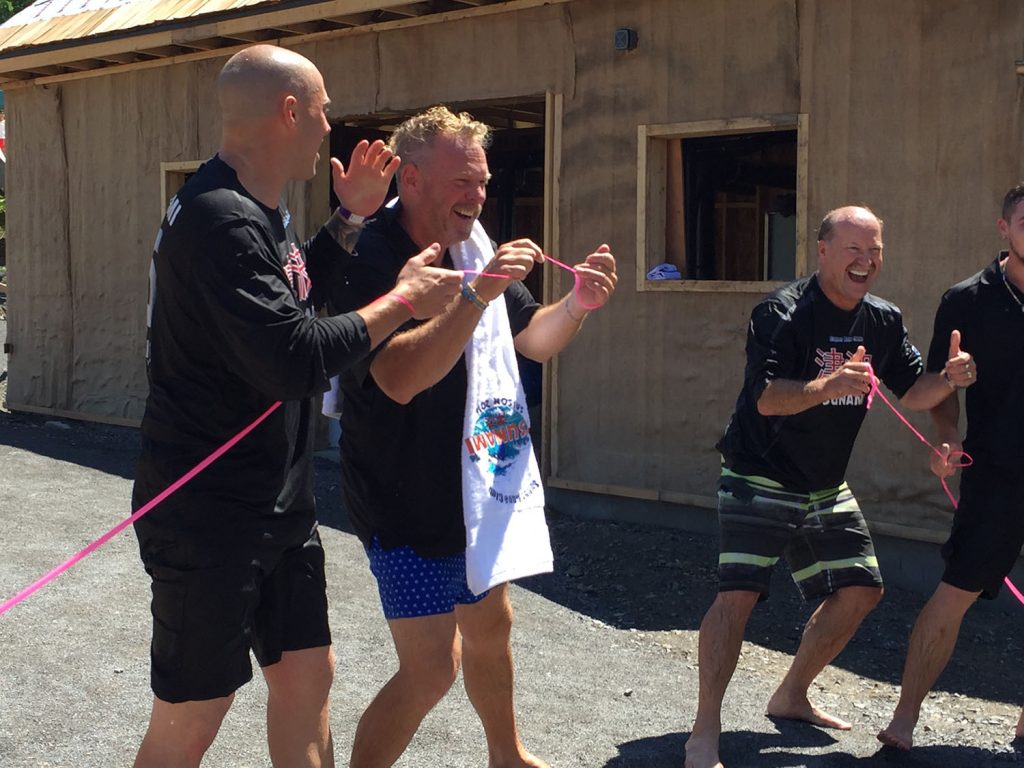 There's a lot of info to share about the slide as well as the park, so I'm going to get right to it.
First of all, I know that you are all wondering: How is an Aquatic Rollercoaster different from a regular waterslide?
On a regular waterslide you slide downwards or sometimes across, or in a circular motion. On an aquatic rollercoaster, you go down, across & around, but you are also propelled upwards.  TSUNAMI uses 'blaster technology' which, just as it sounds, propels you upward by blasting water. TSUNAMI is also unique in that it combines blast technology with 'flying saucer' turns, which can be reminiscent of slalom ski racing.
Check out this short video clip:
Next, I MUST share with you: Did you know that the TSUNAMI was built by a CANADIAN COMPANY?!?!?
I know, right?!?.  TSUNAMI was build by ProSlide Technologies Inc., a company headquartered in Ontario but that originated right here is Saint-Sauveur, Quebec! I had a chance to interview ProSlide Founder & President Rick Hunter, but the background noise from the slide & park won't make for a pleasant viewing experience…so I will summarize the key points here: Rick Hunter is a former ski racer (thus excited by that 'slalom' feel) and founded ProSlide 30 years ago. In addition to the awesomeness that they have created for Super Aqua Club, ProSlide has also built slides for the best waterparks around- including Disney's Typhoon Lagoon!  Pretty incredible that a history and love of skiing has influenced the creation of the world's best waterslides…manufactured in a country whose weather permits the use of those slides for 3-4 months each year if you're lucky! WOOT WOOT!  Go Rick!  Go ProSlide! Go CANADA!!!!
I had to take a photo with Rick after the interview:
I know you're wondering…So how was it?
AWESOME!!! 
The whole family was able to go ( Note min. height 48″) and we all LOVED it!
It's also worthy of mention that with TSUNAMI, there is no need to drag your raft up the stairs- it will arrive via conveyor!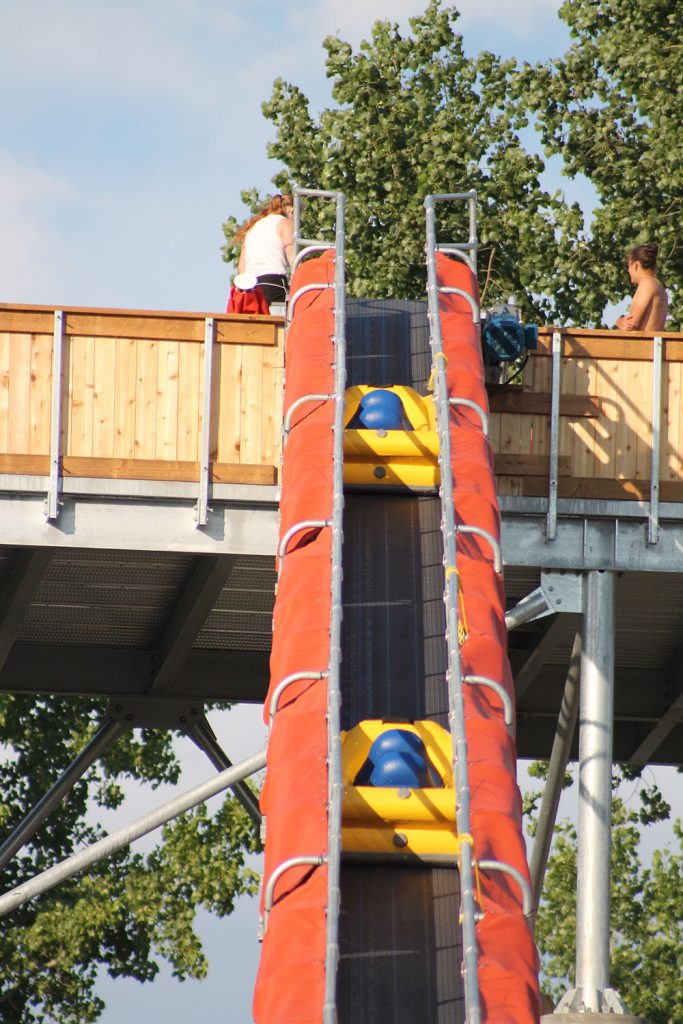 So now you're wondering – OK, but that's just one ride …
What about the rest of the park?
I don't even know where to begin…
There is something for EVERY AGE. From the tiny tots to the daredevil teens & adults.  ( Please note the park was not empty- but I took most of my photos late in the day so that I could capture more of the actual attractions and less people 🙂 )
The littlest ones can hang in the "Swim Diapers Only" area of the Castle, slide at Myriam the Turtle and get splashed at Pirate Island.  They can also use up their energy at the Dry Park on the Beach.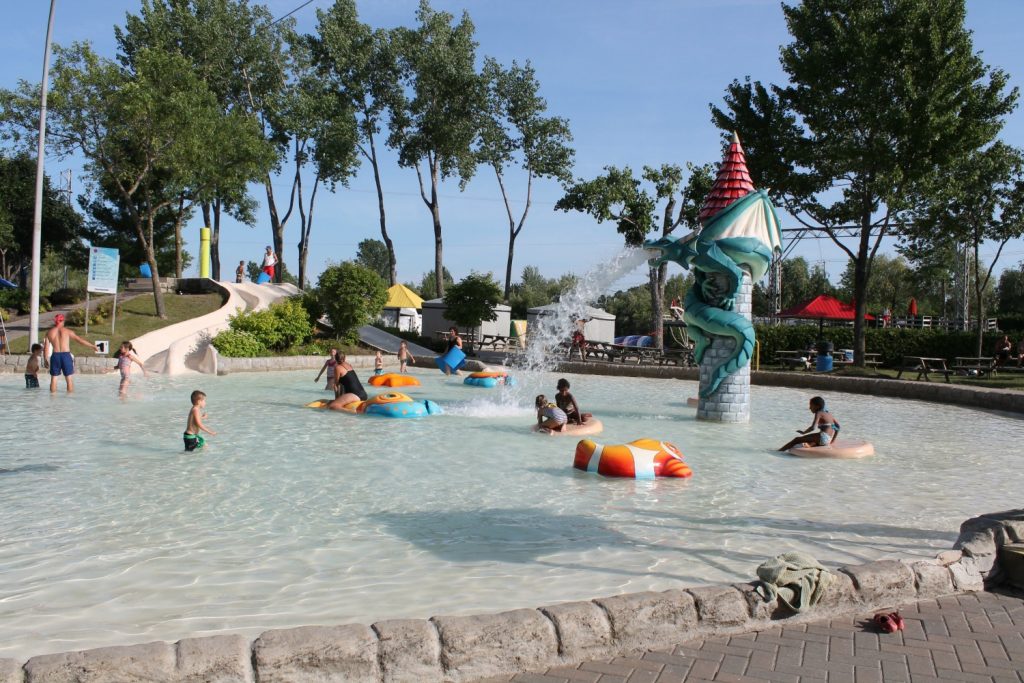 The whole family can enjoy:
The Wave Pool. There is actually a small pool right by the wave pool that is reserved for the little ones 🙂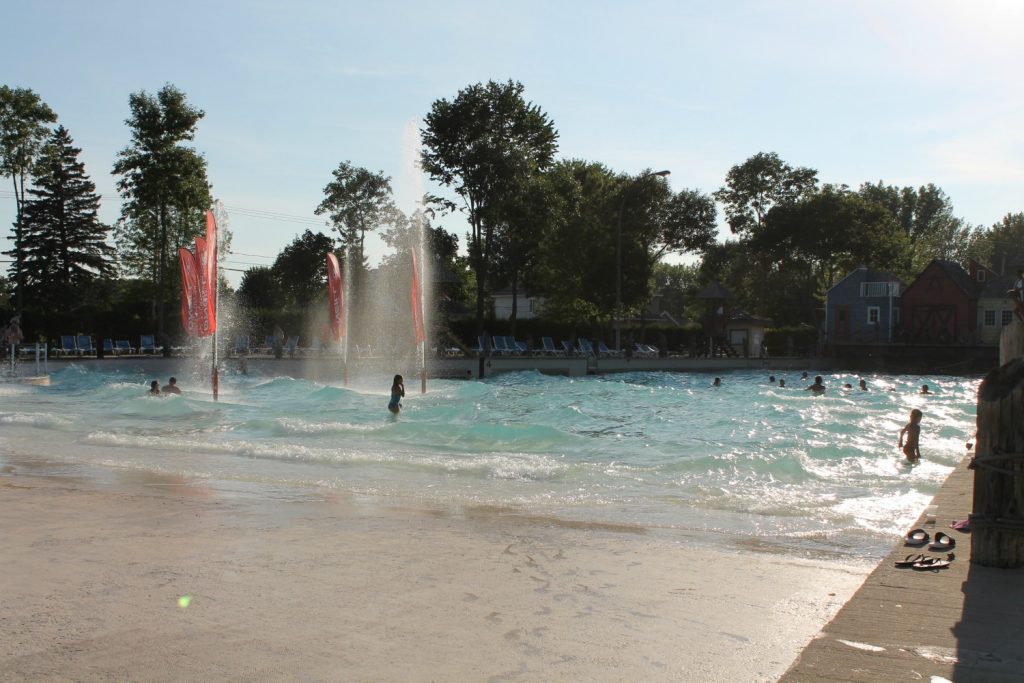 The Beach.  Yes I said BEACH!  It's a beautiful beach & honestly, my pics do not even do it justice….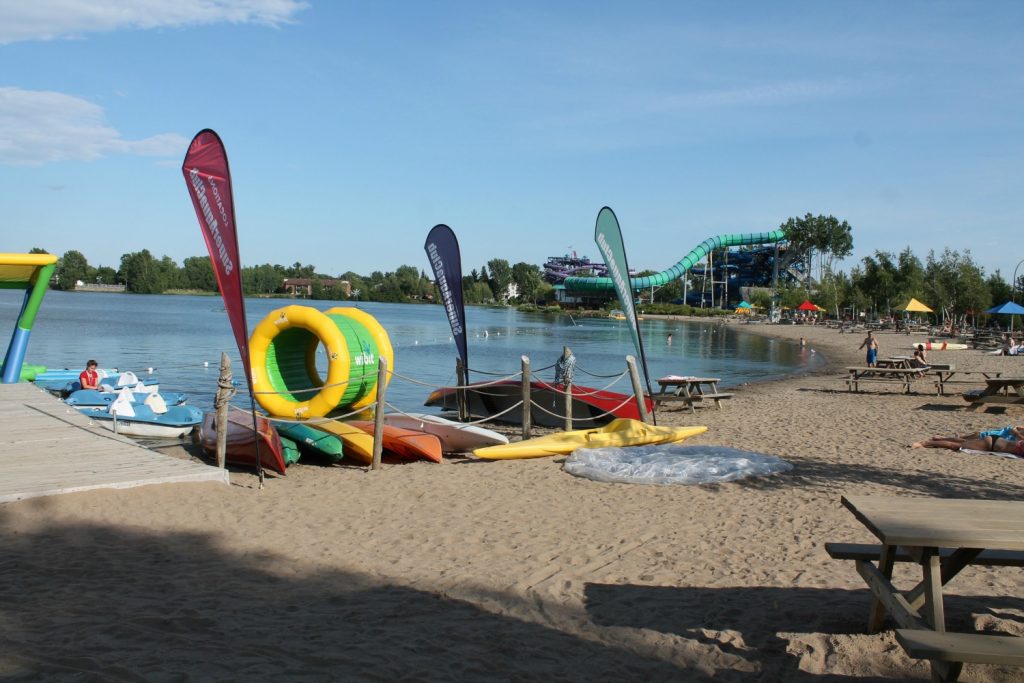 The Lazy River…which is not so lazy!  Spoiler alert: There are actual WAVES in this Lazy river which made it absolutely awesome!!!
The Storm-With slides & buckets of water that dump on your head 🙂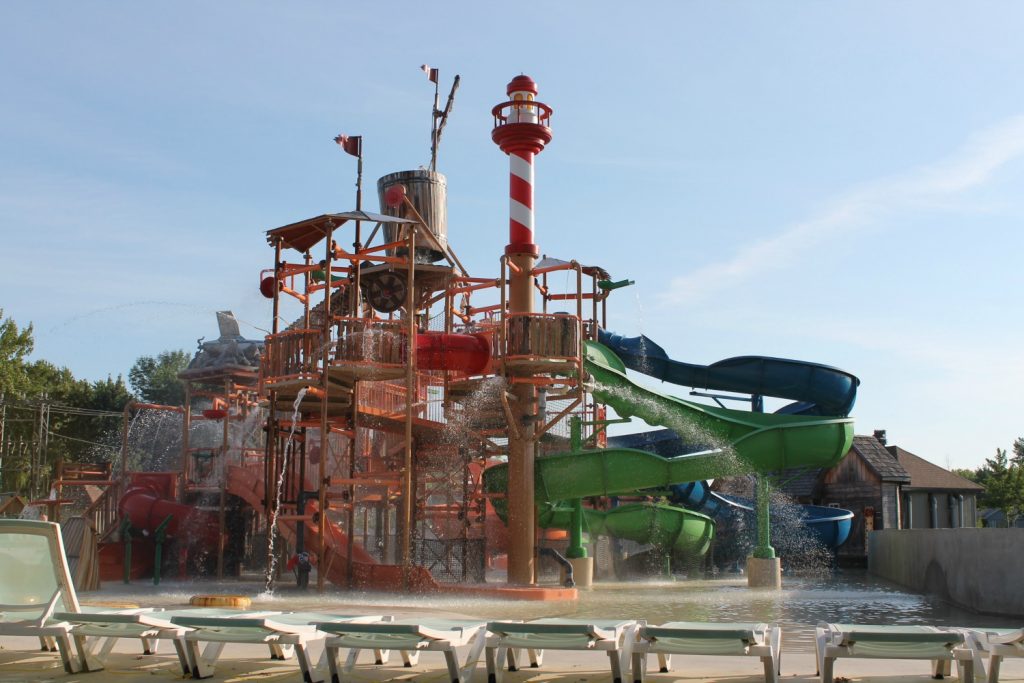 There's also Water Volleyball & the Playhouse. And if that's not enough…there are the SLIDES….(48″ & up) :
TSUNAMI (of course) The 1st aquatic rollercoaster in North America- Star of the Day 🙂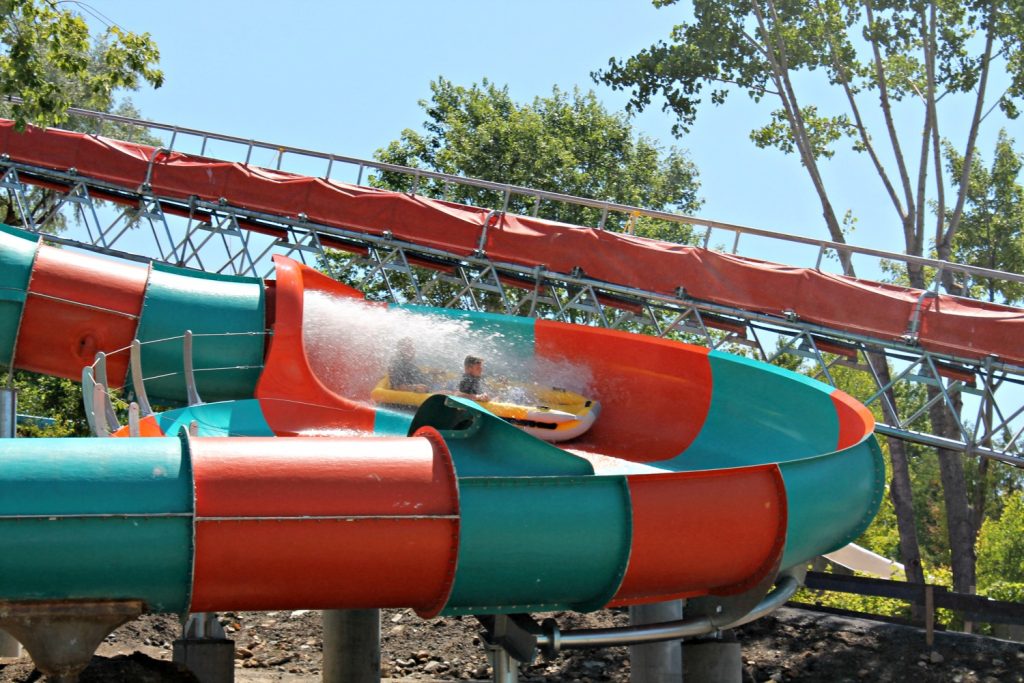 TORNADO– which is actually a little beyond INSANE.  It's a ginormous funnel into which you slide at a not-quite 90-degree angle but not so far-off either and are then swooshed up the side of the funnel to be almost perpendicular to it….I did it, but one word: CRAZY. ( Apologies for the poor focus & colour on the pic. I wanted to give you an idea of how HUGE the funnel is…)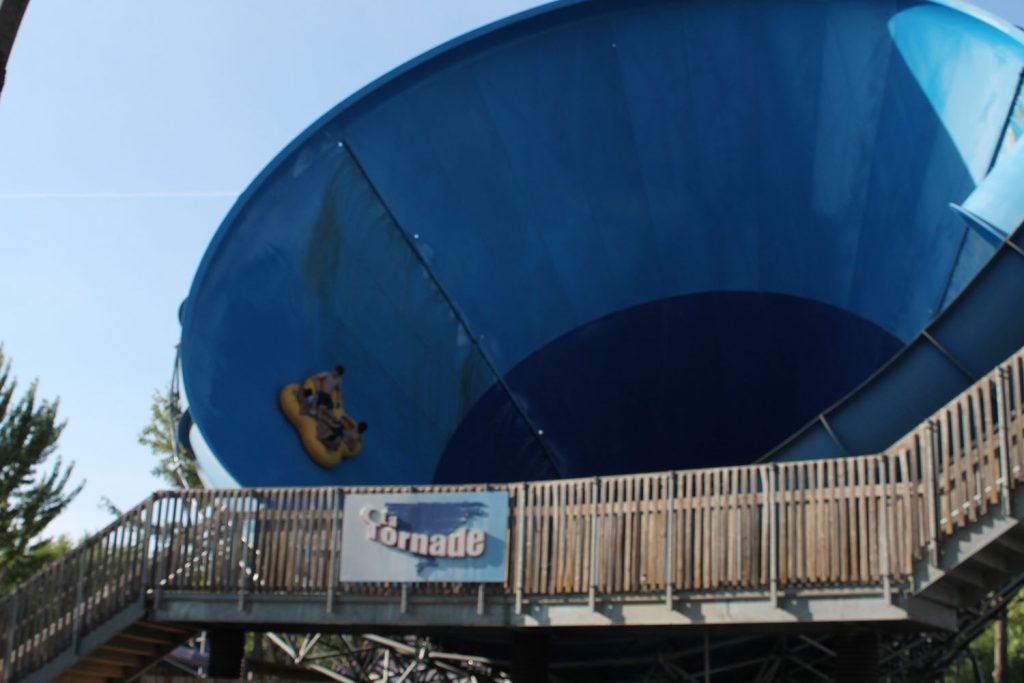 TYPHOON: was closed so we didn't try
DIABLO: Best way to describe it?  You swirl around and then fall down a hole / the drain through a sort-of-waterfall into a pool of water…kind of like being flushed down a toilet, maybe?  Kids liked it.  I didn't go there 😉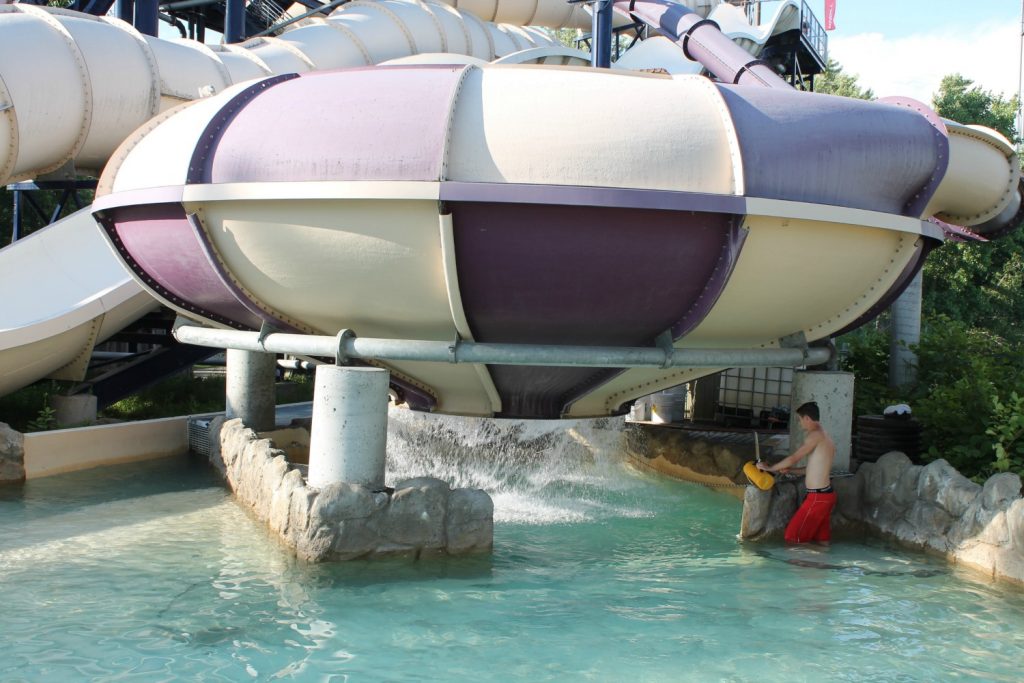 You then have a whole bunch of other slides to choose from:
Wild Rivers, New Wild River, The Twisters & Turbo, Mistral, Sirocco, Sonora, Squalls ( where you just drop right down – either open or closed – we did NOT do either!)
Kids loved all that they did as did my hubby & I.
Did you think that would be enough for one park?  but we haven't even gotten to the Beach/Lake activities….( fyi – we didn't get to them..we could have used more time!)
The Drops-off are two slides that literally slide into the lake.
The Wipe Zone is a fabulous creation by Wibit ( and seems to be be similar to the Aquazilla in Parc Jean Drapeau)
The Tarzan Ropes ( sort of like a zipline but you drop off into the water)
Super Aqua Club is absolutely PHENOMENAL and I honestly can't bel;eve that our family never went there before nor that everyone I know doesn't speak about it. As my hubby says it's like this hidden gem in our own backyard!
There's even more to tell…There are SO MANY picnic tables & sun shelters throughout the park.  There was no issue finding a place to sit & eat or to sit & get out of the sun.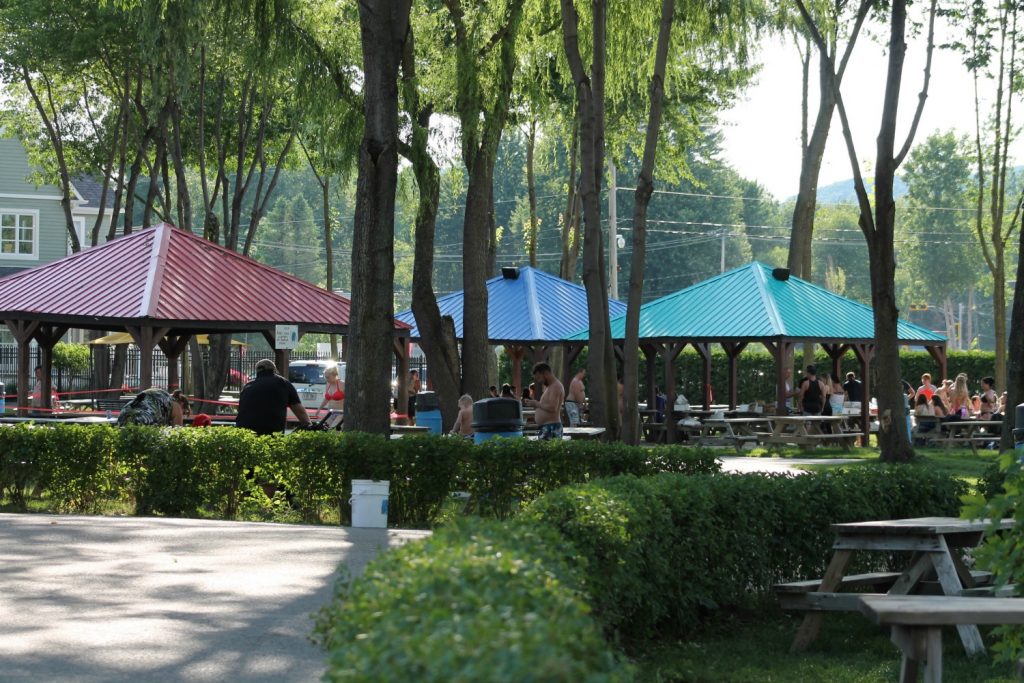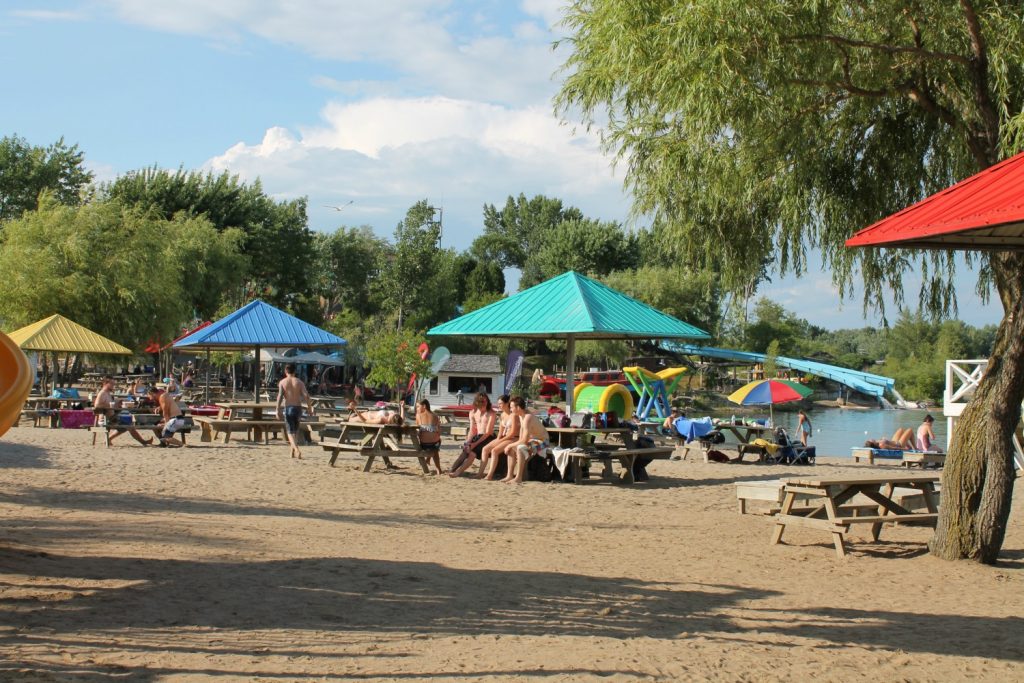 Have an infant with you?  No problem!  There is plenty of place to sit or lie down while baby naps 🙂  For example: You can sit by the The Storm while your kids slide & get soaked.  If your kids are smaller- Then you may choose to sit by Pirate Island.  There is also plenty of seating around the wave pool.  My hubby & I sat here for a few moments of bliss but after that- I got up to keep an eye on the kids when they were in…Wave pools are incredible but somehow still make me jumpy! #overprotectivemama
Just in case I haven't given you enough reasons to visit Super Aqua Club- here are a few more:
Parking is FREE
You are welcome to bring your own food, which makes it more-budget friendly and also allows you to bring healthy snacks along ( On that note…I literally did show up with my Sabra Hummus & veggies in the cooler just as I said on BT that AM!!).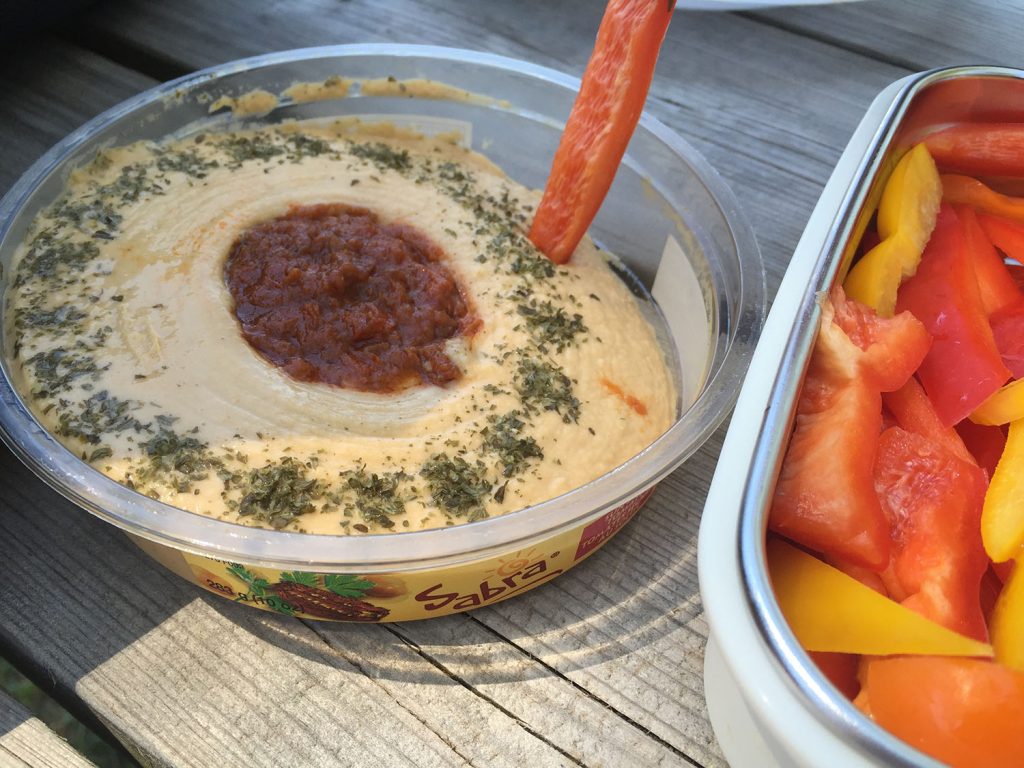 As noted above, picnic tables & sun shelters are abundant throughout the park, making it easy to find a comfortable spot in the shade to eat.
Forget Something?  There are shops that have you covered from bathing suits, to swim shirts, to towels and, of course straps for your sunglasses.  And the prices are REASONABLE!  For example -a beach towel was $11.99 – They are not taking advantage of the fact that you may be stuck without one.  Gotta love that. The straps we bought for our sunglasses were $3!!! ( and worth every penny- if you go, buy them!)
Lockers: You can rent as a one-time use for $1 or $2 ( depending on locker size) or you can get one for the full day where you can go in & out as much as needed for $5.  Again- Reasonable!
Clean washrooms.
Some TIPS:
We brought bottle water and kept it with our towels in our beach cart which was easy to push around.  ( If you have a stroller, that will accomplish the same thing.
Wear your flip flops and take them off right before embarking on the slides.  Pavement can get hot.
Note that the pavement going up to Tsunami is not yet complete (but will be!) so if you go soon, wear your flip flops until the point where you see everyone else leaving theirs 🙂
Swim shirts must be swim shirt material and tightly fitted.  They will ask you to remove even a 'real' swim shirt if it is loosely fitted.
Check out the rules & regulations before visiting to find out about policies such as no glass in the park.
It's not always clear which slide you are approaching, so keep the map with you and you'll be able to tell 🙂
If you are going to check out the Park on the web, click on each of the attractions on the map page to get a better insight into the park. The park offers so much and it's not necessarily visible at a glance on the web.
SO, Have I convinced you that this a Montreal Summer MUST-DO??? Well,,we're going to try to make it even easier for one family to get to Super Aqua Club by hosting a GIVEAWAY!  Yes, You can WIN a Family Pass for 4 people valid for one day at the park!  Click HERE to find out how you can ENTER to WIN!
Our day was phenomenal. The kids did not stop asking if and when we can go back and if there are season passes " because season passes to this place would DEFINITELY be worth it!" ( Their words.)  Well, as far as I know Season Passes are not available, but that may be something we can hope for 🙂
As Rick from ProSlide said: Réjean Julien Proulx, the owner & CEO of Super Aqua Club is a visionary who is equipping his park with world-class slides.
As we see it- people travel to visit waterparks with slides like these, and I cannot even begin to tell you how many times my husband and I said throughout the day how ridiculous we feel that we never realized the treasure that we have in our own backyard.
Super Aqua Club is officially on our MUST-DO IN SUMMER list, and I suggest you put it on yours, too 🙂
Now GO! ENTER the GIVEAWAY!!!!
Tanya