Last Thursday night, I was invited to see TRIBES at the Segal Center.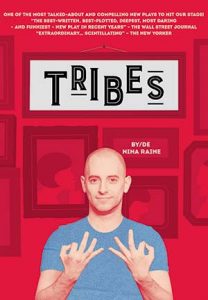 The play centers around Billy and his family.
Billy is the only deaf member of an eccentric, intellectual family. When he strikes up a romance with a woman who introduces him to sign language, it opens up a whole new world of self-expression for him.
Given the topic, I decided to invite my eldest daughter as my date, as she has recently taught herself sign language and she was thrilled to go.
I will warn you right now – There is A LOT of coarse and mature language in the play. I would NOT recommend it for younger children.
Most of that language arises out of the family arguments that begin almost the instant the play begins…and I have to say, they were amusing and we laughed A LOT.
Its worth of note that Billy is played by Jack Volpe, a native Montrealer who was born Deaf and raised in a hearing family. He played Billy beautifully in his professional acting debut.  Jack is also a theatre director.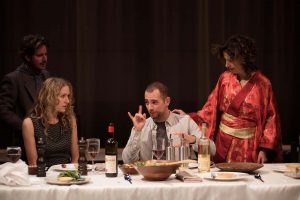 The characters were quite well-developed and you got a sense of WHO each one of them was, almost from the every beginning.  They were engaging which made the play fun to watch.  Not everything is about Billy, it's about the way the family members interact with one another as well as some of their own personal struggles.
That said, the play brings up issues that many of us don't event think about, especially those of us who don't have any real connection with the deaf and / or ASL communities.
I can't speak as to how someone from the deaf community would feel about the play, but I enjoyed being enlightened, I found the characters enjoyable to watch and who doesn't love a good laugh?
If you are not the type to be offended by coarse language, you like to laugh as well as to gain a little insight into a world that may not be yours, give TRIBES a try 🙂
As for my daughter, she loved it as well, especially given her personal excitement given that she has recently learned how to sign.  She was eager to teach me about how you applaud in sign, which fellow cast members (and some members of the audience) did when the cast came up to take their bow at the end of the show.
Her only issue seemed to be that she found the British accents did not make sense – She felt that if the family was British , then it may have made more sense to have been using British Sign Language.  Valid point my dear daughter 🙂
I was since informed by the Segal Centre that the play was, indeed, written and performed in BSL. The Segal's production followed what most productions in North America do and used ASL as a way to make it more accessible to our audiences (and actors). Makes perfect sense to me!
It was at that time that I actually started to think about about the challenges that must have been faced in producing a play with a Deaf cast-member.
Both my daughter and I appreciated seeing an entertaining play that also sensitizes those who are outside of a particular community to the thoughts and feelings of those within that particular community.
TRIBES is not just fun to see, but it's a play with a purpose 🙂 Check it out!
TRIBES is showing tonight through Dec 20th. For tickets you can visit the Segal Center Website by clicking here .
There will be 2 productions PRESENTED WITH ASL INTERPRETATION: DECEMBER 7 AT 7:00 P.M.  and DECEMBER 13 AT 2:00 P.M.
Finally – I HAVE to share that the Segal Center is actually holding the #SegalASLChallenge where you can post a video of yourself finger-spelling your name in ASL using #SegalASLChallenge by December 7, 2015 for your chance to win tickets to see TRIBES!
Check it out:
Wishing you a day when you gain a little insight into someone else's world 🙂
Tanya