Whether you grow your own or buy them at the market, tomatoes are everywhere. If you do grow your own, you may be offering them up to friends and neighbours because they're coming in faster than you can eat them.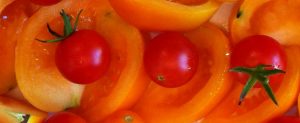 I thought I'd share a couple of simple ideas on serving up your fresh tomatoes while they are in abundance.
So here are some simple & fab ways o serve up your tomatoes.  You can use red, orange, yellow, heirloom, cherry or grape.  If you use cherry or grape tomatoes, then you may prefer to leave them whole or halved rather than quartering or dicing them. I like to halve them as it allows the delicious juice from the tomatoes to combine with the other ingredients.
1) Simple is best: Slice in wedges & sprinkle with salt or salt, fresh basil & olive oil
2) Tomato Bocconcini Salad: Quarter or cube tomatoes, do the same with the Bocconcini (unless you have the mini sizes).  Add in some torn basil leaves.  Drizzle with olive oil, sprinkle with coarse salt and some freshly ground pepper.  Toss gently & serve.  Optional: a drizzle of balsamic vinegar adds additional tang.  Variation: Slice tomatoes & Bocconcini and arrange on plate, sprinkle with fresh basil, drizzle with olive oil & balsamic.  Beautiful presentation.
3) Bruschetta: Dice tomatoes very small.  Add in some fresh chopped or torn basil leaves. Add salt & pepper to taste & toss with olive oil.   Balsamic Vinegar is optional (if you use, don't overdo it or the tomatoes will get "lost". Serve with dried or toasted rounds of baguette & whole, peeled garlic cloves.  Rub the garlic on the bread and top with tomato mixture.  Heaven.
4) Greek Salad: Chop cucumbers & tomatoes into bite size pieces.  Add sliced red onion (if desired). Add pitted & halved black olives (Kalamata, if available). Sprinkle with crumbled feta. Drizzle with olive oil, Add S&P to taste (careful as the olives & feta are very salty).  If desired, add fresh or dried oregano. Toss gently.
5) Fresh Salsa: In a food processor, mince red onion (1/2 large or 1 small) until very fine.  Add 1-2 lbs tomatoes & purée. Add handful of chopped cilantro and salt & pepper to taste.  Serve with Tortilla chips- Yum!
These are just a few ideas…I have more but am sticking today with the "simple is best" theme :).
How do you prepare your tomatoes?  I'd love to hear your favourite ideas & recipes- Please share!
Wishing you a day filled with abundance,
Tanya