As bloggers, we often get asked to try out new products in the hopes that a positive review will help spread the word.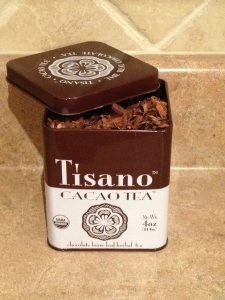 The truth is, there are SO many wonderful products, books, apps & services out there that we can't possibly try everything that comes our way. Once in awhile, however, there's something about the request, or about the product itself that just peaks our interest. And so it was when I was asked if I might be interested in reviewing Tisano Chocolate Tea.
I'll admit that I'm not much of a tea-drinker. I usually reserve it for when I'm not feeling so hot. Masala Chai for a sore throat or Chamomile for cramps. My one exception is fresh mint tea with a touch of stevia – I LOVE it! Otherwise, I prefer coffee. It just seems to have more "body" to it. (Oddly enough I only started drinking coffee regularly about 3 years ago…but that's a story for another post).
I've actually tried  a "chocolate tea" before. It was tea with what was supposed to be a chocolate mint flavour to it. I didn't like it…at all.
But when I read about Tisano, I was intrigued. It is the world's first tea made from the shell of the cacao bean. As such it puts to good use a part of the bean that was previously unused. the shells are taken from 100% organic cacao beans grown in Venezuela with better than fair trade practices. How could I not try this stuff? And so I did.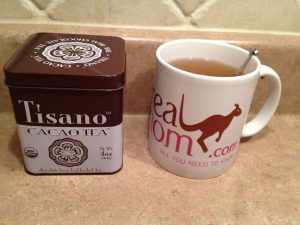 I pulled out my unused tea ball (any tea I use comes in packets and my fresh mint goes straight into the cup or pot stems & all).  I measured the 3 teaspoons it takes to brew a cup and allowed it to steep for the 5 minutes as recommended. The smell was divine. I added a touch of sugar (we were out of Stevia) and I tried it. YUM. Not only did I like the taste but it felt 'thicker' than regular tea. It had more 'body'. It also actually tastes like chocolate (Did you ever notice how tisane is more of an experience of aroma vs. one of taste?)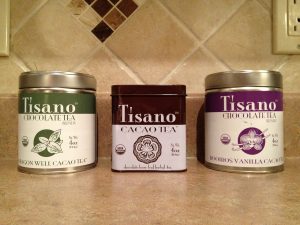 I was pretty excited, but skeptical. Would I still like it the next day? Affirmative. Still skeptical. Is it just me? Insisted that 2 of my best blogger buds try it: YES & YES!. Ok. It's not just me. I tried one of the flavoured versions: the Vanilla Roibos. Excellent. I tried the version that combines "Dragon Leaf" with chocolate tea. Apparently the Dragon Leaf is well-known, but don't ask me, like I said: I am not a tea connoisseur. Honestlty, I didn't really love that one. That said, with Chocolate Tea in 1st place & Vanilla Roibos in 2nd, I felt confident to write a positive review, and this is it.
I LOVE my Tisano chocolate tea. It's an indulgence that's not really an indulgence. It's low in fat, low in sugar (unless you add some) and it tastes just divine.  It's my treat to myself when I brew a cup & go up to my office to blog.  (That said, I have learned from experience to keep a fair distance between beverage & laptop and I recommend you do the same!)
Should you be interested in trying out the Tisano Chocolate Tea, you can check them out online at tisano.com.
I really love this product and will be sad when the free samples I got run out…but you can be sure I'll be ordering some more!!!
On the topic of ordering…it occurred to me that this would make an excellent end-of-year teacher's gift that works equally as well for male & female teachers!  It's affordable and if you buy 4 you get 2 free which makes it even more affordable! Just a thought 😉
Have you tried Tisano chocolate Tea? What did you think?
Wishing you a day of guilt-free indulgence,
Tanya