I recently had the opportunity to attend a special evening dedicated to holiday decor & lighting ideas with Debbie Travis and the folks from Canadian Tire. I wanted to share some of her tips, thoughts and ideas as well as some of what was showcased that evening that may just serve as that little bit of inspiration that you're looking for. Best of all, these ideas are easily attainable with a visit to your local Canadian Tire store. 🙂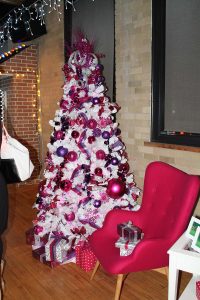 #1 THINK PINK because that is the colour of the season… BERRY PINK…and it's gorgeous!!! (…at the same time WHITE is Wonderful – Check out the contrast of the Berry Pink on the white tree! Warm & wintery…all at the same time!)
#2 OVERSIZE everything.  The massive ornaments shown are all the rage this year- use them!
#3 Frustrated by stringing lights?  An artificial tree may be especially great for you, particularly because many of them come pre-lit!
#4 It's about breaking all the rules: When decorating for the holidays, it's about what speaks to you.  There are no hard & fast rules – so do what inspires you, even if it means breaking what may have been considered a holiday decor "rule" in the past.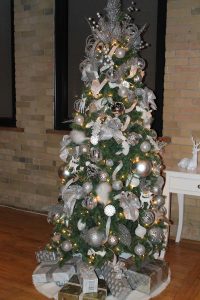 #5 Silver & Gold – Mix it up! Debbie says that gone are the days of only silver or only gold – Mix them all up! ( Case in point of a classic rule: BROKEN 🙂  )
#6 Who said you can only have one tree??? One of the common issues is feeling so attached to the ornaments and decorations that have accumulated over the years.  Then the new fun stuff comes out in magazines, catalogs & blogs yet doesn't 'marry' very well with all the pieces that we'd like to keep using. Debbie suggests adding a tree or two…Where?  Try a mini-tree in the powder room as an example!  New tree – different look- embrace the possibilities!
#7 Dot lights are brilliant: Don't you just love the idea of filling a jar with teeny tiny lights?
#8 LED Candles: They are FABULOUS! As centerpieces, along the mantle, they lend such ambience and are completely safe.  You can even find them with timers!  montrealmom tip: I put one in each of the kids' rooms as well as in the washroom & hallway. They serve as that tiny bit of light in the night and no more leaving the light on in the washroom all night!
#9 Step back.  When decorating your tree, wreath or creating a centrepiece, step back and take a look.  You will get a sense of whether or not your decorations are balanced and where to "fill in the blanks".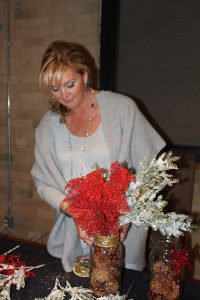 #10 Add a little sparkle: Spray the inside of a mason jar with hairspray and then shake some glitter in the jar.  The hairspray will act as a 'glue' and the glitter will cover all sides of the jar (from the inside).  Add marshmallows for a 'snowy' look.  Place three of these on a tray, instant centrepiece 🙂
#11 Tie it together with a tray.  Just as in the example above, a tray ties it all together.  I particularly love sets of 3 on a tray – 3 LED candles is also beautiful.
#12  It's all about simplicity.  Things don't have to be "over the top".  Filling a few mason jars as noted above, or even just with pine cones and maybe a few branches, can be placed on the mantle or together on a tray on the mantle or as a centrepiece is simple yet beautiful. Choosing just one or two colours with which to decorate your tree may be simple yet incredibly elegant.
Perhaps one of the greatest tips of all would be to visit your local Canadian Tire store after checking out the weekly flyer for loads of holiday inspiration and great deals on holiday essentials – whether for lighting, decor or otherwise.
It was lovely meeting you Debbie!  Thanks for the tips 🙂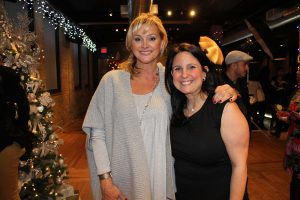 Wishing you a BERRY inspiring day 🙂
Tanya