It's hard to believe that the summer is coming to a close and that the kids will soon be back in school.
For me, the best part about Back-to-School is that sense of getting re-organized, taking on new challenges & responsibilities and making space for the year ahead.
It also tends to be a time of spending and as such is a great time to teach the kids a little about money and a few other 'choice' life lessons 😉
Finally, it's a crazy time and thus a great time to share tips for #BackToSchool survival.
I thought I'd use this post to cover a little bit of all of the above 🙂
(1) Spend less…save more :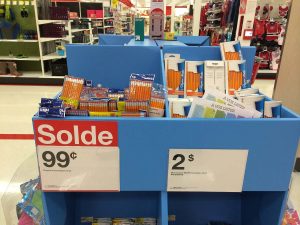 We love to shop for school supplies.  That said, we also use the opportunity to teach the kids that taking care of their stuff means that they are able to re-use it, which helps the environment and also allows them to save money. As parents, we are the ones who pay for their school supplies, but we also have an 'incentive plan' for our kids to care for their school supplies and to keep them reusable for the following year.
Certain items like pencil cases, rulers, and even crayons & coloured pencils can be kept on from one year to the next.
We verify the price we would have paid for any item kept in reusable condition and we give that amount of money to the child who kept the item that way. We go by the best value price that we would be paying if we had to buy the item. There are certain items that we do not allow in the 'program' because of experience, like markers that tend to dry out and mean a trip for Mommy to the store mid-year when the price is double.  That said, a set of coloured pencils that are still nice and tall can yield them about $1.14! The Crayola pack of 24 are $0.99 at Target and we like to include tax as it's a great way to teach the kids to appreciate how tax plays a role in our spending.
(2) Sometimes a little splurge is in order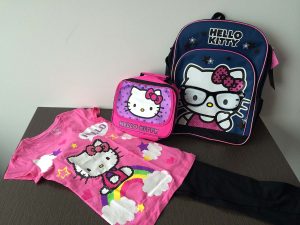 As the ever-practical mom, I bought most of my eldest daughter's baby sleepers in yellow or green so that they might be passed down to a future sibling of either gender (a good call as we had 2 more boys and another girl!). I believe in getting long-term value out of my purchases.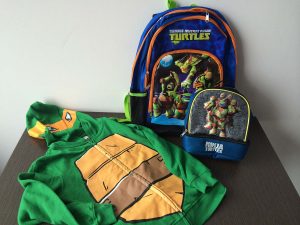 That said, kids only get to be kids once and every year when they were little, I would allow my kids to choose their own backpack and lunchbox with their favourite character on it. I knew full-well that by the following year, Dora, Hello Kitty, Bob the Builder or Blues Clues just wouldn't be their 'thing' anymore which gave these items a lifespan of 1 year in my children's hands.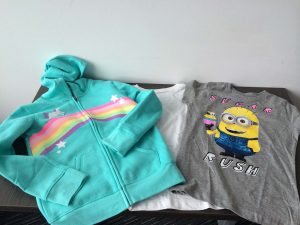 BUT – what it did do was get them excited to go to preschool and to kindergarten and I knew that by the time they hit grade 1 or 2, the weight being carried back and forth every day between homework & lunches would require more 'serious' backpacks, so I wanted them to enjoy that fun and excitement while they still could.
With backpacks needing to be more sturdy for my older kids, I will still indulge in a few pieces of clothing featuring their latest 'thing'- IF I can get them at a good price.  They outgrow them so quickly anyway that it doesn't matter if they don't like them next year!
I actually spoke about some of the fun trends for this year that are all available at Target. You can watch it by clicking here.
(3) Empower the kids within healthy boundaries
Both (1) & (2) above offer my kids the power to choose…within limits.  Some items may be too expensive and so choices are within a certain price range.  If they had wanted a superhero backpack, but the school had a no superhero policy (as they did), then they had to choose something else.  This is a life lesson : Understanding that you have the power to choose but also realizing that in life there are often limits and rules that must be respected (in this case family budget and school policy). You may think that it is too early to impart these lessons, but in my opinion, it's not.
(4) Clean up your Act!
Back-To-School is a great time to re-organize our spaces: bedrooms, desks, kitchen drawers, and more 🙂
This year, we are shaking things up a little so that each of the kids is getting their own room. My eldest is 13 years old, so it's time 🙂 Furniture will shift around and some of the bedding will move to the new rooms as well, but we have also allowed them to choose new paint colours, a couple of quilts and a few fun accent items for their rooms. A super -'fresh' start 🙂
Of course we went shopping at Target for these items (as mentioned in one of my previous posts).  The boys got gorgeous plaid quilts – one in a red, blue & tan theme, and the other in the muted oranges, blues & greens. For those who feel they can never find anything great for their boys, let me assure you, my boys chose & LOVE these quilts and the matching bedside rugs that we found for them!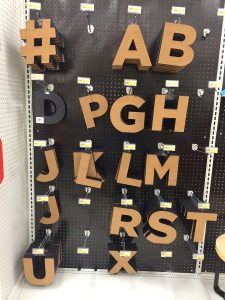 Although we didn't buy them yet, we fell in love with these AWESOME cork board letters! Great to just put an initial or two on the wall or get creative & hashtag something like #LOL !
(5) Remember the Basics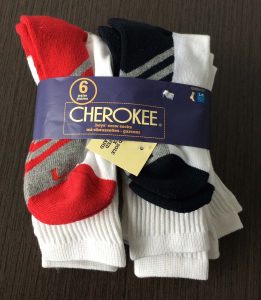 Like socks & underwear!  My boys are especially fussy about their sports socks.  They like them to stay up and feel right. Over the years, we have tried many brands and the ONLY ones they like come from Target. In addition – they have different coloured bottoms so my boys know whose socks belong to whom, but the tops are still white, respecting the school uniform. Every year we have made a summertime trip to the US and included a shop at Target with "Cherokee socks" on the list. This year we were able to get them in Canada 🙂
(6) Spend Wisely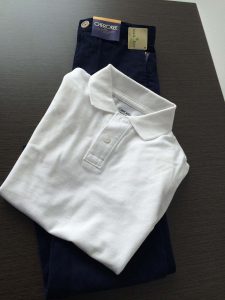 Depending on your school's uniform policy, it is possible that not all pieces need to be purchased from a pricey uniform provider.  We are fortunate that for my younger kids' school, the uniform is simple navy blue bottoms or tunics and white tops.  This gives us the ability to purchase at any retailer offering good value in these items.  This year Target has navy blue pants – both the chino & the cargo styles for boys.  They also have the white polos by Cherokee – which I bought for my boys for back-to school.
(7) Prepare in advance to avoid last year's repeat-mistakes…and avoid the GUILT!

Being Mom to 4 school-aged children means that I can miss things, including giving the kids money for dress down day, (or worse-yet forgetting that it is dress-down day!), and notes to school that one of the kids is leaving early for an appointment…and a few others.
And when it happens, not only do I feel disorganized, I also feel guilty 🙁
As a result, I've learned to create tools to avoid prior years' guilt…
Pre-print a sheet of paper that says "Please note that _________ Toledano, Grade ___ Room ____ will be picked up early today _________at _________ for an appointment.  Thank You." (Leave room for signature). I repeat this about 5-6 times per page, leaving room to cut off and still yield a note size that won't get lost. I keep a sheet or two like this in the kitchen so that I can just fill in the blanks quickly & cut the note off.  This is especially convenient when I have to write notes for several kids on the same day.
Speaking of classroom numbers…I keep the ones for my kids listed in my smartphone and on my fridge. It's usually around April or May by the time I can remember who's in which room by heart!
Keep a few photos of each of your kids on hand for when the teacher asks for pictures.  (Not a bad idea to order extra wallet sizes of their school photos to keep for the following year for exactly this reason.  Also good for camp applications and pool memberships, etc….)
Buy a few inexpensive white T-shirts to keep on hand (for those days when your child needs a tshirt for tye-dye or some other creative project!)
Keep a jar of loonies & toonies on the kitchen counter for dress-down day (Confession: I only started doing it this summer for the kids "Canteen days" at camp…but decided to continue for this year).  Make this part fun & pick up a fun-looking jar…no doubt you'll find something to suit your style.
No doubt you can find the last two mentioned items to suit your style at Target 😉
What are your #BackToSchool tips & tricks?  I'd love to hear from you!
In the meantime I wish you Happy Shopping, Happy Organizing and Best of Luck staying on Target for #BackToSchool 🙂
Tanya
As with all sponsored posts, I will only ever share with you products and/or services I believe in. All opinions contained within are my own and cannot be bought