When I was approached by to ask if I'd be interested in trying out and reviewing Tide purclean, I was IN!
Disclosure: I have received products and have been compensated to put Tide purclean to the Test. As always, the opinions on this blog are my own and can never be bought
When I learned that  Tide purclean  is 65% bio-based, as certified by the USDA BioPreferred Program. I was thrilled to see Tide taking this awesome first step towards a more sustainable future!
Now, if you're wondering exactly what bio-based means, here's the idea: Bio-based products contain ingredients from plants, marine forestry other agricultural sources and provide a renewable alternative to traditional, petroleum-based ingredients.
You'll want to know that Tide purclean is free of dyes, chlorine, phosphates, ethanol amine and optical brighteners…but also that it is produced in a facility that uses 100% renewable wind power electricity and is zero manufacturing waste to landfill!!!  Bravo Tide purclean!!!!
Tide purclean is also he compatible ( meaning it works on all machines) and it happens to smell GREAT ( at least the honey lavender, which I have been trying out.  I'll be honest that I was a bit sceptical when I saw the name of the scent, but let me tell you that it smells awesome both out of the bottle & out of the dryer!
Now I'm guessing that you can understand why I was so excited to try this awesome new product ….
I started off  doing several different loads – brights, uniforms, towels, more towels, darks.  Other than the beautiful scent, I could see no difference.  My family's clothes were coming out as clean as always.
So today I decided to push the envelope…what if I crushed a tomato over a white T-shirt and then washed it with Tide purclean? I'm going to admit it…I was nervous & wondering if I will have just ruined a perfectly good T-shirt.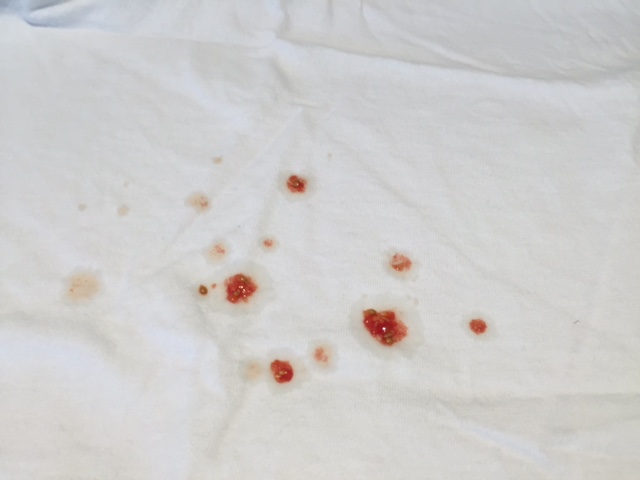 I scraped the actual tomato seeds off…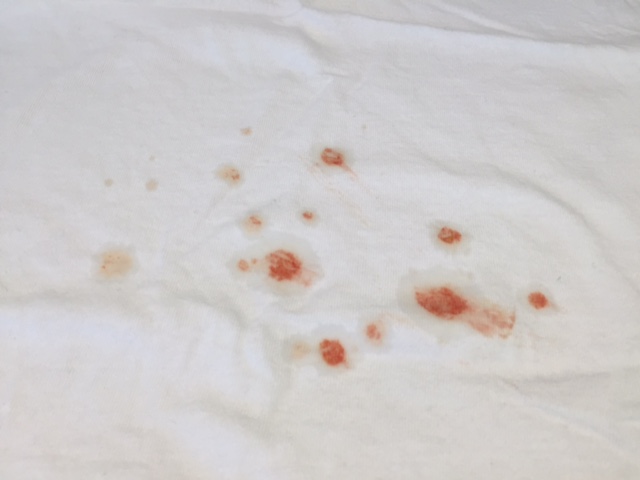 And in it went…just like that…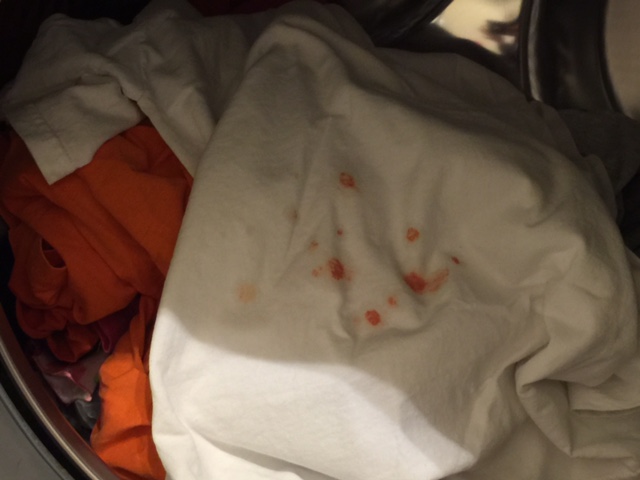 I added a dose of Tide purclean: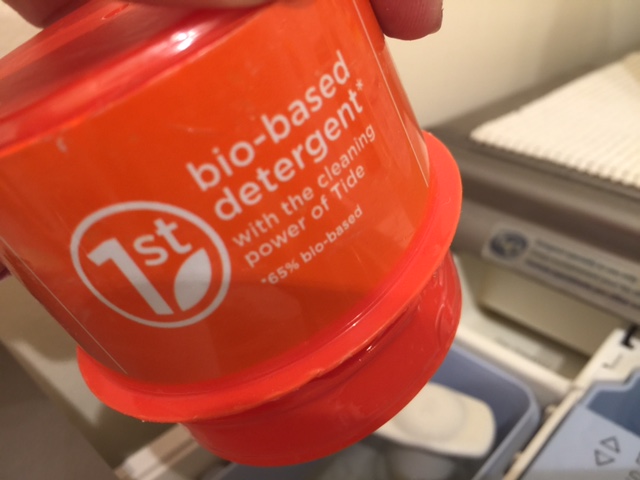 …I started the machine…
and waited…
When I approached the washer to check on if the Tide had actually removed the tomato stains, I was nervous…I really was. I  found the T-Shirt and lo & behold…NO TOMATO STAINS!
This shirt is still wet because it didn't dry in time for me to publish my post LOL!
I was so happy because Tide purclean just passed more than the 'easy laundry' test. So the verdict is that this 65% bio-based detergent truly does have the cleaning power of Tide 🙂
That being said, as most of my readers know I am not usually satisfied with a short-term test, which is why I will continue to wash with Tide purclean over the next few weeks and write to you again to let you know how I feel after a longer trail period 😉
In the meantime, if you've noticed it at the store ( it became available but have hesitated because you've been wondering if it's worth a try, allow me to tell you that YES IT IS!
If you haven't noticed Tide purclean at your local stores yet, you can ask.  It became available at retailers across Canada this past September 🙂
Let me know if you try it & what you think!
Happy Washing!
Tanya