My morning has been consumed with happiness, relief, and that feeling you get when you find something after almost conceding that you might have lost it forever…but still holding onto that shred of hope.
I woke up with the song 'It's a wonderful world" in my head…with adjusted lyrics (will share below).
It's no secret that I am a proud to live in Montreal, Quebec, Canada and that I want it to stay that way: Montreal, Quebec, Canada.
I thought I'd put together a quick post of observations, reactions & thoughts this AM: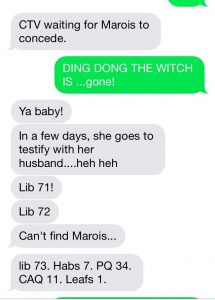 I couldn't help but notice how many of us felt the need to break into the Wizard of Oz "Ding Dong the witch is ….GONE!", like I did in this awesome text message between my hubby & I last night (yes, I was at a meeting!)
Also…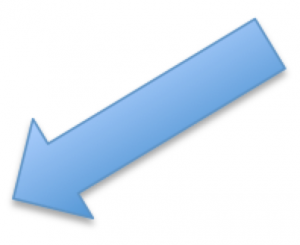 I particularly loved the HABS vs Leafs thing going on simultaneously 😉
Some great lines this morning from my kids were:
And as for that song…it's still stuck in my head:
I see grass turning green…….. less snow that's white
Feel blessed today….after last night
And I think to myself…. what a wonderful world.
I see skies of blue….. I feel good, too
Spring has arrived….Adieu PQ!
And I think to myself …..what a wonderful world.
The colours of the people….so pretty …on the street
Hijabs, kippahs, turbans… on people that we meet
I see friends shaking hands…..sayin… Salut!
They're really sayin……I love you.
I hear babies cry…… We'll watch them grow
In the best place…they'll ever know
And I think to myself …..what a wonderful world
And on that positive note…I leave you all to live a full & happy day.
Onwards & upwards! … or as we say in Quebec:
SUIVANT…NEXT!!!
Salut les Amis 🙂
Tanya