Earlier this season I was asked if I'd be interested in trying out a pair of Kamik boots. I decided on the Seattle in Dark Brown.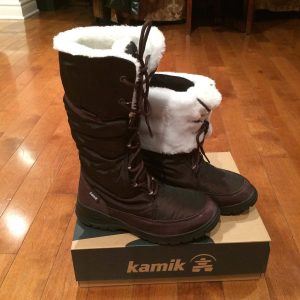 I liked the fact that you can wear the fur folded down for a more casual, ankle-boot look and that they could be worn high for a sleeker look and should I need to keep a greater part of my leg warm!
I wondered if the laces would be an issue – I'm usually a zip-up boot kind of girl, but I really liked the look and so I went for it.  As it turns out- it's not an issue at all, and if it takes me 30 seconds to tie my boots, then it's 30 seconds I am giving to myself 😉
Although I received them over a month ago I wanted to give them a proper trial before posting about them.
I can now tell you that I have worn these boots on the coldest of our winter days (including yesterday's -36 degree with windchill!). My feet have remained warm and dry.  I wore these boots snowshoeing on an EXTREMELY cold day and again, my feet stayed warm & dry.
I get compliments all the time and when I let people know how warm these boots are, they are sometimes surprised as their own boots seem to be lacking in that department.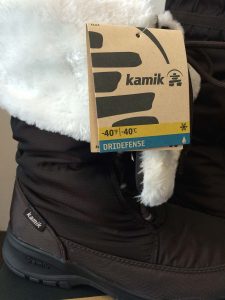 These boots are:
Waterproof
Warm (rated to -40 degrees!)
Stylish
Affordable
These boots were made for winter & I LOVE them!
You can visit the Kamik website to learn more about their different styles for both adults & children 🙂
Wishing you a warm & waterproof day where you're still stylin' !
Tanya
Disclosure: Even when I receive product free-of-charge for the purpose of conducting a review, I will only ever share with you products and/or services that I believe in. All opinions contained within are my own and cannot be bought