November is a busy month for fundraising events.  What a great way to spend  a Date Night or Mommies' Night Out!
For the cost of a ticket, you get:
a lovely evening out, all dressed up with somewhere to go- other than dinner and a movie!
the chance to support a worthy cause,and
possibly, a tax receipt for at least a portion of your ticket.
Here are some of the night-time goings on in Montreal this month. Have fun choosing!
"Who's got Talent" fundraiser for Just For Kids Foundation at Bâton Rouge (West Island), featuring a talent competition and door prizes. Come and join us for a fun filled evening! Our guests will be treated to a delectable five-course meal with open bar.  Ticket price for this all inclusive evening is $135. Contact Wendy at Justwed@primus.ca for details
MONDAY, NOVEMBER 14
10th Annual All That Glitters Gala in support of The Crohns and Colitis Foundation of Canada.  Guests will be treated to a guided tour of the new Claire and Marc Bourgie pavilion. Please click on the link to view photos of the venue. For more information please contact Daniela Santinelli at 514-342-0666 (1-800-461-4683) or email her at dsantinelli@ccfc.ca
The Event, Mazon 2011 Celebrities Step Up To The Plate! An evening of delectable nibbles, an auction of plates decorated and designed by celebrities and an amazing performance art by En masse… and you. This is not your regular gala. This is The EVENT, MAZON 2011.    MAZON Canada raises critical funds for frontline organizations fighting hunger across Canada. Based on the tradition of tikkun olam (healing the world), MAZON Canada raises awareness of poverty and hunger and links it with the mitzvah of tzedakah. Funds raised by MAZON Canada are allocated, non-denominationally, to grassroots organizations working to relieve hunger across Canada. Info: 514-483-6234 or mazonmontreal@bellnet.ca
WEDNESDAY, NOVEMBER 23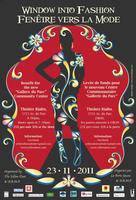 Window into Fashion in support of The Yellow Door at the Rialto Theatre (www.theatrerialto.ca) 5723 Avenue du Parc, Montreal. 8 PM (doors open at 7:30PM ) A special Fundraiser to finance both equipment purchases and program expenses for newly rented space in "Galaries du Parc". Funds will go to help the Yellow Door to grow as an organization, and to help more people while offering a bigger variety of activities. Collaborating with 7 Montreal-based designers,  Karine Breton, Ramonalisa, Khala Sithole, Mylaine Design, Sugaristik, Andy Hoan Nguyen, Debora Tavares. Jewelry by Josée Gagnon, Hats by Margarita Millinery, Music by D.J. Affable. 25$ in advance. You can also get your tickets at the Yellow Door (3625 Aylmer Street) and at the Rialto Theater
FRIDAY, NOVEMBER 25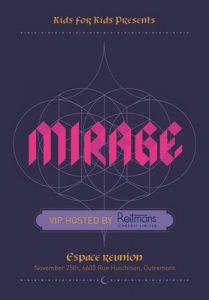 "Mirage" Kids For Kids Gala 2011 This year, the Sarah Cook Fun will be celebrating its 10 year anniversary. Come and join over 800 party goers for this well-known event! With so much to celebrate, this year's Kids for Kids Gala promises to be the best year yet! Tickets to the Kids for Kids Gala can be purchased HERE, or on the evening of the event, Friday, November 25, 2011, at Espace Réunion, 6600 rue Hutchison, Outremont, H2V 4E1, Kids for Kids Gala Party Tickets are $40/person. Kids for Kids Gala Party, VIP (includes cocktail and main event) are $150/person (in advance only) Call The Cedars Cancer Institute at (514) 934-1934 ext. 71207; Download the Ticket Reservation Form; Email the Event Coordinator, Casey Tabah: sarahcookfund@muhc.mcgill.ca;or Fax at (514) 931-5696.
MONDAY, NOVEMBER 28
Ort Montreal's 28th Annual Benefit Gala featuring Kenny Loggins at Place Des Arts.  Salle Wilfred Pelletier. 6PM.  Concert-only tickets start at $50. Cocktail & Concert tickets start at $175.  Contact Carolyn at 514-481-2787 or carolynj@ortmontreal.org for further information.
ORT is the largest non-governmental educational and training network of vocational and technological schools in the world. For 130 years, ORT has been helping individuals in 50 countries to achieve their dreams of building a successful future for themselves and for their families. each year, some 300,000 students are enrolled in an ORT program somewhere in the world. ORT's 800 plus schools and projects can be found from Bulgaria to Brazil, from India to Italy and Israel.  ORT graduates receive the most precious gift: the education and skills necessary for a productive life and a sustainable livelihood in today's rapidly-changing, technology-intense world. Your support will hhelp students achieve their full potential and become productive and self-reliant members of their societies.
Will you be attending one of these events?  Which one? Tell us what made you decide to go!
Have a meaningful Monday,
Tanya