This week, I was invited by a friend to visit the just-opened menchie's on St. Jean Boulevard in the west island. She told me I just HAD to have a real menchie's experience…and what an experience it is!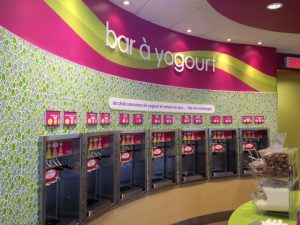 It's essentially a self-serve frozen yogurt buffet where you can choose as few or as many flavours as you'd like.  And when I say flavour I don't just mean chocolate & vanilla.  There are flavours like Green Apple Tart, Hot Chocolate, Red Velvet Cake and more.  Flavours change regularly, so there's always something new! You can also see in the photo that they the flavours are paired off- if you'd like a twist of the paired-off flavours, that's yet another option!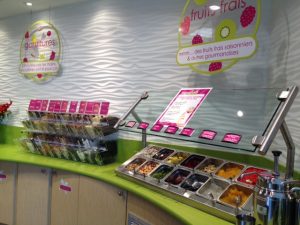 Once you've swirled in your frozen yogurt, you move over to the topping bar where you choose from a variety of toppings ranging from graham crumbs to gummy worms to whole Oreos to diced fruit.
The possibilities are endless!
You then come to the cash & pay by weight. No doubt if you load up, it can get a little pricey, but the bowls are huge and about $5 will fill it up.
In addition to the whole yogurt experience, kids get a little gift and yes, they even have something special for those under 3…just to be on the safe side 🙂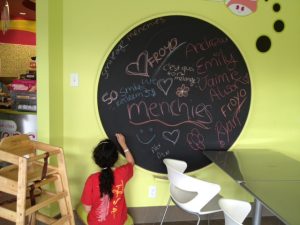 There's a fun chalkboard where the kids can colour. They can also admire pics of Taylor Swift, Selena Gomez and Justin Bieber enjoying menchie's.  It's the Frozen Yogurt of the stars 😉
You can register online to earn menchie's "smiles".  You'll get 25 upon registration and then one "smile" for every dollar spent.  50 smiles can be redeemed for $5 in menchie's money!
menchie's is also committed to contributing to the community, so for all of you PTA moms: Click here for further details on how your school can benefit.
BONUS: For those who need to know, almost everything at menchie's is KOSHER and clearly labelled as such. There are also VEGAN NON-DAIRY, GLUTEN-FREE, LOW-FAT, NON-FAT  and NO-SUGAR-ADDED options
In case you're wondering about taste: It passed the 4-kid test…Need I say more?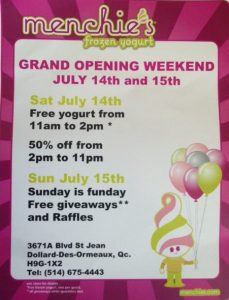 Last but not least: menchie's is celebrating its grand opening with a fun-filled weekend that includes FREE frozen yogurt from 11-2 on Saturday, and yes, you will be able to choose for yourself, because the folks at menschie's want you to really get a taste of what menchie's is all about! Your kids will also get a chance to meet "menchie "in the flesh!  See picture at right for details:
So stop by this weekend and meet manager Jay Blumenstein & owner David Lipper (Montrealer- turned-Hollywood-Actor who you may recognize him from his days on Full House). You can find menchie's in the Blue Haven strip mall on St. Jean.
Please let me know how you liked it!
Wishing you a fab & flavourful weekend!
Tanya