I was really happy to be able to attend Tuesday night's showing of The Apprenticeship of Duddy Kravitz- The Musical at the Segal Centre.  I was excited about seeing it for a few reasons.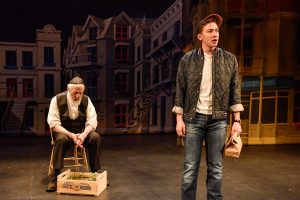 First of all, the pre-opening buzz caught my attention.  There was lots of excitement about the music being by Alan Menken.  While truth-be-told, I had never before heard of Mr. Menken, it turned out that I am a huge fan of his work, in partcular his scores produced by the Walt Disney Animation Studios for The Little Mermaid, Beauty and the Beast, Aladdin, Pocahontas and Tangled.
I was also interested to finally know the story of Duddy Kravitz. Written by the talented Mordecai Richler, it was one of those books that I felt that everyone else had read but me. I was pretty sure there had been a film by the same name, but somehow I never got to the point of seeing it.  That said, the recognition of such a well-known title sparked my interest.
To be honest though, I did wonder if I would be disappointed but nevertheless was intrigued enough that I decided to go see it.
Am I ever happy that I did!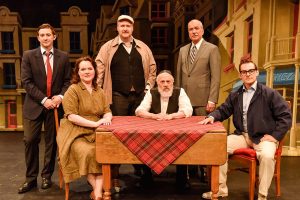 Although I found things were a touch 'slow' to get moving at first, I quickly became immersed in the story of young Duddy trying to make a name for himself in the world, in the shadow of his med-school bound older brother.  I also happen to be a sucker for references to Montreal and being that this is the story of a Montreal family living on St. Urbain street definitely appealed to me.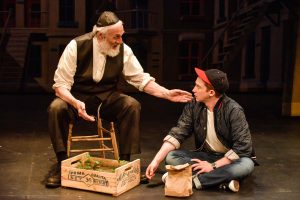 The story even featured some romance & humour peppered in for good measure, as well as references to my own Jewish culture, which also resonated. It's worth mentioning that you don't have to be Jewish to love this play, although if you are, you will appreciate some of the banter and Yiddish remarks.
Finally, something I would not have expected as I did not know the story prior to seeing the play: as an entrepreneur myself, I found myself enjoying Duddy's entrepreneurial spirit, vision & passion!The music was outstanding, from the score to the lyrics, to the singing.  I think that my favourite number was "Art & commerce can be friends", although I found myself (along with the rest of the audience) with pent-up applause just waiting to burst out at the end of almost every musical scene.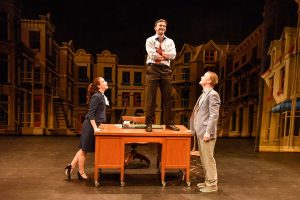 Each & every one of the actors were terrific in their roles, but I am highlighting only a few:
Sam Rosenthal was out of this world! As Mr. Cohen, he played somewhat of a mentor to Duddy.  He was true-to-life and reminded me of some real-life "Mr. Cohen"s that would behave similarly and say the same kinds of things :).  At the end of the play, I personally felt he deserved the same level of applause that was reserved for the final two bows (Duddy & Yvette)
Marie-Pierre De Brienne has the voice of an angel and played an authentic French-Canadian Yvette. Her character was also a balance and moral compass to Duddy.  I found myself feeling for Yvette, rooting for Yvette and grateful that Yvette was in Duddy's life (Seriously Tanya?  You know this is only a play, right???)
Besides doing a phenomenal job in his role as Duddy, Ken James Stewart has some serious stamina…I am pretty sure that he was in every scene, if not almost every scene, and this was a LONG play.  In fact if there was any negative about the play at all it was that it was 3 hours long.  That said, I stayed awake & enjoyed it right through to the end, despite the fact that I was up at 5am and hadn't stopped all day until I sat down at the theatre 🙂
Kristian Truelsen as Peter John Friar had the audience laughing as he played role as an over-the-top, eccentric "artsy" film-maker  and professor who may or may not have been too successful in his past life.
David Coomber played the perfect Virgil. I will say no more- if you see the play, you'll understand 🙂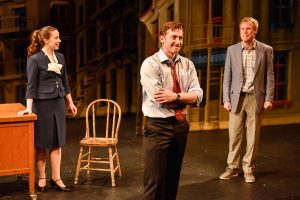 So whether it's for the phenomenal musical score, the Montreal references, the Jewish banter or just watching an incredible cast of characters come together in an engaging storyline, I recommend you make time to go see The Apprenticeship of Duddy Kravitz – The Musical at The Segal while it's still playing….and the good news is that they have just added dates!  The show is now playing through July 5th!  I suspect that now that the word is out tickets are selling fast and it became apparent that adding shows would be a wise move 🙂
The show can appeal to just about anyone & lends itself to date night, a night out with a friend or even a night out with Mom or Dad.
Just to make your life easier, I am including a link to the Segal Centre Website so that you can BUY YOUR TICKETS NOW!
#DuddyMusical…it's a Montreal "DO!"
Wishing you a day with only the right kind of drama 😉
Tanya