Disclosure: I am a P&Gmom/mamanP&G. As part of my affiliation with this group I receive products and special access to P&G events and opportunities. As always, all opinions on this blog are my own and can never be bought 🙂
It's funny how the little things our Moms do for us and teach us stick with us.
I remember being away at university and calling my Mom to ask about how to deal with laundry stains, cleaning conundrums and issues with ingredients while cooking.
Have you seen the latest #ThankYouMom video from P&G?  In it, Olympic medalist Brianne Theisen-Eaton thanks her Mom Kim for tips, advice & support. Kim reflects on Brianne's journey as well.
Have a look right here:
In the part of the video where Brianne's Mom talks about not cutting corners in certain places, I could almost hear my own Mom's voice.
My Mom always fresh & healthy ingredients – I grew up with my mom cooking with lots of fresh veggies and I have continued in the same tradition. The fruits & veggie portion of the grocery order is no place to cut corners.
As for cleaning products? My Mom also taught me that sometimes being brand loyal was worth it. The first example that comes to my mind is Bounty. My mom loves her Bounty until today and let me tell you: SO.DO.I!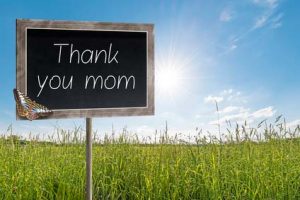 Every once in a while, a non-bounty roll makes its way into my life (it may be at a rental cottage or at the office, for example), and each time I use a non-Bounty roll, I have the same thought (and sometimes express it aloud for other to hear) :  "I miss my Bounty!!" Not only does it absorb better than the other brands, but I have become so accustomed to select-a-size that ripping off the huge sheet seems like such a waste that it drives me crazy!
Mr. Clean has always been my Mom's favourite all-purpose cleaner back then and it continues to be mine today. Over the years, I have tried different products, but nothing does it quite like Mr. Clean, which is why that is what you will still find in my home today.
When I was a kid, once my mom started using Tide, that was it & that was all.  Nothing else would do…and my clothes were CLEAN 🙂
Even cosmetic products… Those of you who have commented on my shiny hair? It's Pantene. I stopped using it for awhile and you know what? Nothing works quite like it for my hair – so I went back. Even if I saved a few cents over the course of a month by using an alternative, I'd be spending time & money trying to get my hair to look as shiny as it does when I use my Pantene.
When a brand is superior and is still affordable, brand loyalty often makes more sense than to spend time & money trying on alternatives that don't do the job as well.
That being said, there is no question that my Mom also taught me to be budget-conscious. Growing up, we had a storage room filled with staples that my Mom would buy when they were on sale. Bulk-ordering when a favourite brand is on special continues to be great way for my own family to save money. Another bonus to this tip that I realized when I became a mom: it saves TIME – the most precious commodity of all!  It's so much easier to go to the storage cupboard for another bottle of Dawn or roll of Bounty than it is to have to run out to the store 🙂
For all the tips & tricks that I learned from you that I continue to use today in the kitchen & at home: #ThankYouMom!
What Mom Tips & Advice do you still use today?
Wishing you a day where you are conscious of and smile when you realize you just used some good Mom advice 🙂
Tanya