Looking for a gift that's thoughtful, practical, personal and won't break the bank?  Fabulous as baby gifts, hostess gifts or teacher's gifts, these note cards are exceptionally easy & fun to make and are always loved by their recipients.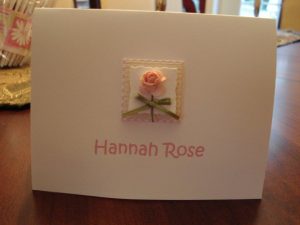 Here's what you'll need:
A package of 4 1/4″ x 5 1/2″ note cards (can be white or cream)- these are readily available at Bureau en Gros (Staples) as well as at Walmart.  House brands will be cheaper than Avery.  Make sure to buy ink jet or laser as appropriate for your printer
Small fabric, plastic or wooden animals, flowers, etc. or appliqués available in the crafts section of the dollar store or crafts supplies store
If the  animal, flower, etc does not have a sticky backing, you will want double-sided sticky dots or squares
A computer & printer
a roll of cellophane (Dollar store)
Some ribbon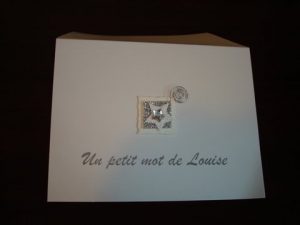 Here's how to do it:
Set up a Word document as labels (In options choose Avery 8315 or other setting for Note Card WIDE 4.25″ x 5.5″)
On the bottom half of the page, skip a few lines then type the name in a font, colour and size that coordinates nicely with the little design you'll be sticking on. ( I often use a 36 point font)
Make sure you leave room for where you will place your appliqué
Repeat same on the other card
Print a tester sheet to make sure you print on the outside, bottom of the card so that when you fold it, the name will be where it need to be.  Also check that there is enough room for the appliqué
Once everything works, save your document and print as many sheets as you'll be needing (remember that there are 2 note cards per sheet)
Separate & Fold the cards
Place appliqués in desired location
Wrap, together with envelopes in cellophane & tie with ribbon.  You can get creative using gift boxes, if you wish.
That's all there is to it!
Do you have any easy-to-make handmade gifts?  Please share!
Wishing you a crafty day 😉
Tanya