I haven't posted about Friday's events in Newtown because I simply have no words other to say that I am heartbroken. Thoughts have been swirling in my mind and I am sure the words will come, but for now, I am simply heartbroken.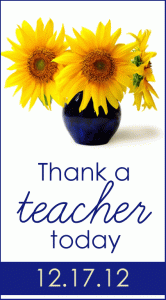 That said, fellow blogger Julie Myers Pron of Julieverse has created "Thank a Teacher Day", in loving memory of those who lost their lives in Newtown, CT and in honour of the hundreds of thousands of teachers who would do that tomorrow for your child.
As she correctly states: In our rushed world, we rarely have an opportunity to show our appreciation for those who spend 6 hours a day with our children. Those who give of their time and brilliant minds to help our own children to stay safe, comfortable, loved and to help them grow.
She asks us to post about a teacher that made a difference for us or for our kids.
I can think of so many, but today I will choose one that stands out in my mind for my children and another that stands out who made a difference for me.
I will start with Ellen Shapiro at the Hebrew Foundation School. There are SO many outstanding teachers at HFS, but there's a reason that Ellen Shapiro was the first name I thought about when I saw Julie's post about Thank a Teacher day.
It's the ABOVE & BEYOND. We don't usually expect calls from teachers when everything is going well as we know how busy the teachers are. That said, over the years, we have noticed that when Mrs. Shapiro is teaching our kids, we will sometimes get a call to let us know that everything is going well.
This is top-of-mind because just last week she left a message about how she was blown away by our son's book report and how much she learned about Greek mythology from him (my son is a MAJOR Rick Riordan fan). It's good to get positive phone calls. THANK YOU ELLEN SHAPIRO. In addition to stimulating, teaching & caring for our children, your occasional phone calls change our day & lift our spirits.
My second thank you goes to a teacher who, unfortunately, is no longer with us. Martin Richstone, may he rest in peace, taught me linear algebra at the CEGEP level. Let's just say that math was NOT my strong suit, but "Marty" as we called him, took time out during class, after class, to make sure I (and all of us) understood the concepts.
When I applied to McGill Management I was originally refused, based on my calculus marks. When McGill received my transcripts and saw the turnaround in linear algebra, I got a letter letting me know that I was now accepted. THANK YOU MARTY, for all of your time & dedication in helping me, and so many others, to better understand and as a result, to succeed.
In honour of  Thank-a-Teacher-Day-2012, I have created a wall where any of you can post your thanks to any of the special teachers in your lives.  You can see it here .  All you have to do is click anywhere on the page (that looks like a notepad) & a box will open up where you can place your note.  It's a space where you can publicly express your thanks and I encourage you to do so!
At this unsettling time, let us take personal moments of gratitude and also moments to show our gratitude to others.  Thank a Teacher Day is the PERFECT opportunity to do so.
Wishing us all a day of gratitude & comfort,
Tanya