The question of whether or not to provide our teens with cell phones or smartphones is not easily answered.
On the one hand, it's a safety issue. In a dangerous situation, a cell phone can be a lifeline. That's no small argument in favour of the cell phone, especially for our generation of helicopter parents.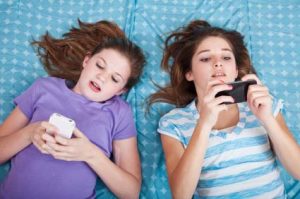 On the other hand, it's also a safety issue. We know that many of today's teens don't remember the phone numbers of their loved ones because all they do is hit a button to dial out. (DIAL, really? what are we DIALing?)
Most of today's teens would not know the 1st thing to do if their phone were lost or stolen. To them a "pay phone" is a song, nothing more. They have no sense of direction as they've learned to rely on GPS. These are the less-discussed safety issues related to cell phone use.
Then there are the social issues. All the kids are communicating via text, so if your teen doesn't have that capability, then like it or not, your teen is often left out.
On the other hand, there are the social issues. OMG…(as they might text)…They don't talk. They text! Have you ever seen a teenage couple out on a date?  They don't. even. look. up.
All that said, the choice of whether or not to go the cell phone route is a personal choice & not one I'll be able to resolve for you today. What I can offer is this:
If you have decided to go ahead and get a smartphone for your teen, you, as a parent, NEED to lay down the law. Without question, a "digital contract" with your child clearly outlining the terms of cell phone use is in order (as it is with the use of any digital device).
You NEED to teach them about responsible smartphone usage. Not doing so will yield negative consequences in any or all of the following areas: security, academic, social & financial.
The good news is There's an App For That!
It's called FamZee and it allows you to monitor and control various aspects of your teen's smartphone use.
Don't want your teen using their smartphone during school hours or when they should be sleeping?  You can program the phone to actually turn OFF during those times.
Want to know when your child has left school?  You can be notified via text to your cell phone.
Want to restrict the number of minutes or texts that your child can use?  All customizable via FamZee.
Concerned that your limitations will limit your child in the event of an emergency?  There's an override for just those situations.
If you're considering cell phone use for your child or have already embarked upon that ship, this App is worthy of your attention.
There is so much more to this issue and we'll address it again in the coming months, but for those of you with teens venturing behind the wheel…texting and driving is a SERIOUS and DEADLY problem.
Teach them from the get-go. Set parameters & guidelines & stay on top of them. Getting help from an app that makes your life easier to do this is a great idea, but remember that there is no substitute for your follow-up and guidance.
Like every aspect of parenting your child, it's a time-consuming process, but responsible smartphone use is a life-skill just as looking both ways before you cross the street. Start young. Start now.
To learn more about FamZee, you can visit their website at http://www.famzee.com. The video is informative and worth a watch.
Note: FamZee is expected to be available for Blackberry April 2013 (excludes BB10). If you're a Blackberry family, you may want to Like FamZee on Facebook to  get the latest info.  Alternatively, check in with their website periodically.
Wishing you a safe day 🙂
Tanya