It's that time of year again, and one of the things many of us struggle with is what to give the teachers. We are so grateful for all they do for our kids but yet with multiple teachers, and often multiple kids..teachers gifts can represent a big chunk of the gifting budget.  So we try to find thoughtful, yet affordable gifts… Here are some ideas that I thought I'd share.  They go in a variety of price ranges to accommodate for different budgets.  They also fit the criteria of easy-to transport, which is important as our kids backpacks are heavy enough as is! Finally, most can be purchased online (huge time-saver) and ready to gift in time for the holidays.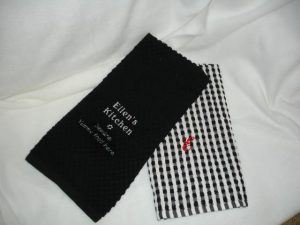 (1) Anything Personalized: What's great is that you can get different items in different price ranges.  Something new that I saw that I just love is this personalized tea towel set form Stitched with Love.com, a Montreal-based company. a personalized tea towel is $7.99. To order contact Laurence: info@stitchedwithlove.com or -514-696-7596: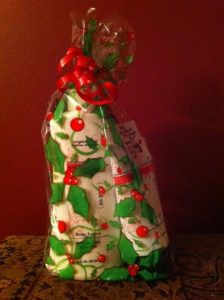 (2) Something from a company you regularly order from.  For example, we order Melaleuca cleaning products.  They also sell bath & body products.  I saved a ton of time this year by ordering body lotion & hand cream for the teachers.  They fit my budget and were delivered right to my door!  We wrapped in holiday-themed cellophane bags (25/$1 from Dollarama) and labeled using gift stickers.  The gift of something I've tried & enjoyed, ordered online & delivered to my door!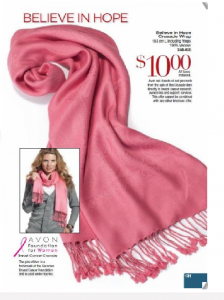 (3) A company you may or may not have ordered from before, e.g. Avon. Check out this fab wrap, for just $10! (Bonus, proceeds will go to support breast cancer research & awareness) Looking for an Avon rep? Call Jill Dascal at 514-944-0381 or click here to check out the the daily Avon deals she posts on Facebook!
(4) A Gift Card to anywhere: Chapters, Renaud Bray, Winners, Starbucks, Second Cup, (choose your amount!)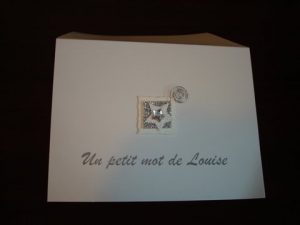 (5) DIY Personalized Note Cards: An easy, inexpensive craft and one that can be done with older school-age kids, these note cards make a beautiful gift and are a hit every time.  Easy-to-shop-for and inexpensive supplies mean you can create a beautiful set of cards for approximately $10. Click here for the how-to!
(6) Something Sustainable: Checkout the eCause Canada website for affordable ideas.  Bonus: For each gift purchased, eCause will tell you how much of the proceeds will be donated to the Montreal Children's Hospital.
Do you have any fab Teacher's'gift ideas?  Please share!
Happy Gifting!
Tanya