As the weather improves, the idea of spending time outdoors is extremely appealing.  How about spending time outdoors for a great cause?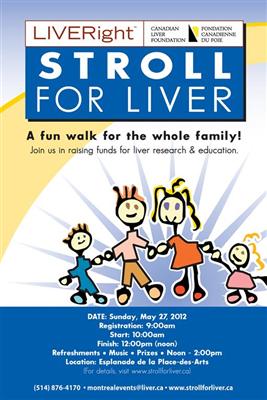 More than a walk, STROLL for LIVER™ unites communities in the fight against liver disease and the campaign for all Canadians to have a healthy liver.
Liver disease can affect every age group from newborns to children, teenagers to adults.
A LIVERight initiative by the Canadian Liver Foundation, Montreal's first walk will take place at Place des Arts' Esplanade.
Join the LIVERight movement and get healthy!
LOCATION : Place des Arts on the Esplanade
DATE: Sunday, May 27, 2012
REGISTRATION: 9:00 am
Walk starts: 10:00 am · · · Walk ends: 12:00 pm (noon)
PICNIC & ENTERTAINMENT: Noon to 2:00 pm
In addition to the walk, picnic & entertainment, there will be some contests with great prizes, including:
Pimp my stroller! The public will vote for the best stroller.The winner will receive certification with a gift of $ 1,000 for a photo session with Photography by Melanie.
Get a Dry-Fit Sports T-Shirt All fundraisers who raise $100.00 or more will receive a dry-fit sports T-shirt embossed by The Canadian Liver Foundation.
The top fundraiser award! The fundraiser who raises the most funds will receive an amazing piece of furniture, valued at $ 1,500 courtesy of Poplaw's furniture.
JOIN a Stroll team! Any team of 2 people or more that raises over $150.00 will receive a $250.00 GIFT CERTIFICATE for Photograpy by Melanie.
Sign up for FREE and start fundraising to earn rewards! You are encouraged to raise at least $ 100 in donations. If you collect $ 100 or more, you will receive an official t-shirt of the STROLL FOR LIVER the day of the event.
If you can't join STROLL FOR LIVER in Montreal, create a VIRTUAL WALK in your backyard, gardens, parks, regions, etc..
· For more information, please contact or to learn more about the STROLL FOR LIVER event in Montreal: montrealevents@liver.ca or (514) 876-4170
·To Become a Volunteer or Sponsor, contact Betty Esperanza, besperanza@liver.ca or (514) 876-4170
Don't forget to sign up and SHARE your page with your friends and family.
Have fun! LIVERight!
Has anyone you know been affected by liver diease?  Please share your story & inspire others to partiipate in Stroll for Liver 2012!
Tanya