Our kids love Taco Night and as long as I have time to do the prep, I do, too.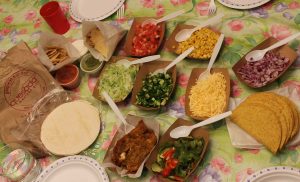 It's not like taco prep is difficult, but it definitely involves chopping time – tomatoes, peppers, lettuce, olives…. Also, I use frozen corn niblets so I'm usually bringing a pot to a boil while I chop.
Of course I pull out the salsa and taco sauce and will whip up a quick guacamole if we have some on hand.
Sound familiar?
Imagine Taco Night without the prep…
Much to my family's content, we had the opportunity to try out Quesada's HOME EDITION this week…and they loved it!
First off we had to choose which version of the  HOME EDITION that we wanted: Tacos or Burritos.
We chose Tacos …to be specific- It's a "Build Your Own Tacos Kit" 🙂
Then we had the option of 2 meats from among several choices, or veggies or fish.
We chose one fish (at a slight additional charge) and one tray of grilled veggies.
The Quesada staff then prep it all for you.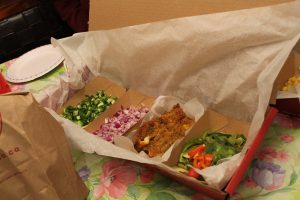 We got home with 8 trays, including:
chili-lime tilapia,
grilled veggies,
diced tomatoes,
corn niblets,
chopped red onion,
chopped jalapeños,
shredded lettuce, and
shredded cheese.
We also got
7 soft taco shells
7 hard taco shells
sour cream
mild salsa
medium salsa (verde)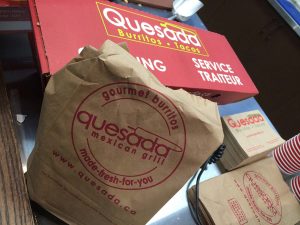 It was all packed up beautifully and once at the table, I just unpacked all the little trays and we were good to go!
The kids loved being able to assemble their own tacos with their own choice of ingredients.
I loved that we were able to pick up a whole bunch of FRESH ingredients ready-to-go.  Different than what we normally think of as takeout.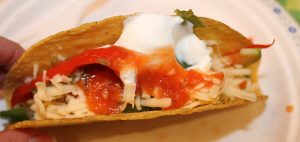 I was admittedly apprehensive about the fish – takeout fish is not really my thing (and tilapia is not my favourite fish to begin with) but everyone loved it!
I tried a hard shell first, and then a soft shell.
It was all super- yummy and we finished it all up.
For a family of 4 or even 5, this would be perfect, there might even be some leftover.  For the 6 of us: we devoured it. We were ok, but we could have used a little bit more, so if I went back I might add a Taco Salad or a burrito to the mix 🙂
Overall, I think that the Quesada Home Edition is a great, time-saving takeout idea for the family.  I did not feel like my family was consuming junk, to the contrary , it alleviated much of the guilt I would normally associated with takeout, as I felt I was feeding them fresh ingredients.
From a value perspective, $29.95 (plus a small surcharge for the fish) is beyond reasonable to feed a family, especially when you consider that they are getting great, fresh ingredients.
We will definitely be adding the Quesada Home Edition Build-Your-Own Taco Kit to out limited repertoire of takeout choices, and we will be enjoying it again!
Feel like trying it for yourself?  Find a location near you on the Quesada website's store locator!
I am so excited to share the news about the Quesada Home Edition that I will be joining the #QuesadaHomeEdition Twitter Party hosted by @AskMamaMOE and moderating with @PositivlyPatty!  It's on Wednesday November 26th at 9:00 PM.  Make sure to Join us!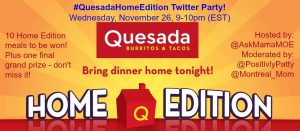 Wishing you a wonderful & EASY week,
Tanya
As with all sponsored posts, I will only ever share with you products and/or services I believe in. All opinions contained within are my own and cannot be bought