If you have ever seen Sugar Sammy live or online, then I likely don't need to tell you how funny he is, or how you'll find yourself laughing so hard that you may be at the point of tears.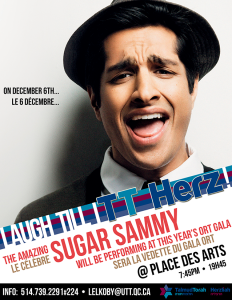 His particular sense of humour also tends to resonate even more with us Montrealers, because he's one of us.
He knows the social fabric of our incredible city so well and find ways to tug at exactly the right threads to get us all unravelled..in fits of laughter.
When I heard that Sugar Sammy would be performing at this year's ORT Gala at Place des Arts, an event that my husband & I attend annually, I was THRILLED!
I also wanted to share this event with you, my readers, as I think it presents the PERFECT opportunity for a Date Night or Mommies' Night Out … For a cause!
(You can read more about all of the good that ORT does at the bottom of this post)
Tickets start at $50 and can be purchased through Herzliah High School by contacting Limor at 514-739-2291 extension 224.  You can also contact her via email at lelkoby@utt.qc.ca – Please include "SUGAR SAMMY TICKETS" in the subject line. (She'll be happy to go over the various ticket  options with you, including those that include a pre-show dinner buffet)
My hubby and I will be there so if you're attending – drop me a line, a comment or a tweet and maybe we'll have a chance to say hi IRL on December 6th 😉
Until then I wish you a fabulous week of Laughter & Love!
Tanya
A little about ORT: 
ORT was founded in St. Petersburg, Russia in 1880 and has activities in more than 100 countries past and present with current operations in Israel, the CIS and Baltic States, Latin America, Western Europe, North America, Africa, Asia and the Pacific. More than 300,000 students worldwide benefit from an ORT education annually.
ORT has been providing non-sectarian humanitarian support to disadvantaged people in Africa, Eastern Europe, Latin America and Asia since 1960. ORT IC projects, which are financed by multilateral development institutions, bilateral donor agencies, private companies and foundations, have benefited more than 2 million people in 92 countries.

ORT provides technical assistance, training and capacity building services in a wide variety of sectors, including: technical and vocation education and training, skills development, ICT, health and nutrition, mother and child care, agriculture and rural development, good governance and democracy building, and transportation.
ORT is the largest Jewish non-profit, non-governmental education and training organization in the world, providing the skills and knowledge that empower students to become contributing members of society.