After deciding on a colour, it was time to place the order.
In order to do that I had to first take some rough measurements of my countertops, which I did.
As part of the ordering process, I also had to sign a checklist agreeing to do several things in preparation for 'Template day' (Measuring Day).
Basically, I had to agree to properly prepare my kitchen for Template Day so that the measurements would be as accurate as possible.
Some of the things to be aware of before going in to make your order:
Your sink & faucets must be on site for Template Day: NOTE that depending on the sink or faucet you are choosing, it may take several weeks until they are delivered. If I had the process to do over again, I think I would have started by selecting my sink & faucets first & moved to the counter second!
If you are replacing your current backsplash, it will need to be removed PRIOR to Template day.  It's a good idea to make arrangements for this prior to making your order, so that when you are called about Template Day, you will know by which day your backsplash will be removed.
Walls can get damaged during backsplash removal, make sure to build in some time before Template Day to repair any damage that could alter the measurements on Template Day. In other words, if in pulling off your existing backsplash, huge chunks of gyprock are missing, these repairs should happen before measurements are taken.
That said, keep in mind that walls may get damaged to an extent during the counter installation process, so schedule all tiling, wallpapering, and any 'finishing touches' to take place AFTER

installation

day.
If you are making any adjustments to your cabinetry, this will have to be completed BEFORE Template Day.  It's a good idea to have arrangements made or an idea of what you will be doing & the timing when you are placing your counter order so that when you are called to make your Template Day appointment, you will know when you will be ready.
If you currently have a laminate counter with a moulded backsplash, you do NOT have to remove the entire counter & backsplash for the purpose of templating. The need to keep the kitchen functioning for as long as possible is respected & the measuring professional knows how to account for that portion of the backsplash.  Therefore, you need not schedule counter removal prior to template day (unless, like I did, you make adjustments to certain portions of the cabinetry which could change the counter measurements – I will share details in a future post)
Think about if you need a seam, where you would like it to be.
Of course you should also have an idea of what colour, edges and corners you would like (a kitchen expert at Home Depot can definitely guide you!)- You can also watch the clip I did on Choosing a Colour for Your Counters for some guidance as well!
I brought my measurements to Catherine at Home Depot.  We went over all of the things I had to do to prepare and then she was able to provide me with an estimate.
We discussed all of the things that I had to do in preparation of template day.
She informed me that some colours come in "Jumbo slabs" while others do not…If seamless is super-important to you, then you may consider having several colour options ready, in case one affords you the luxury of going completely seamless while another does not. (I was lucky- only 1 seam need on my super-long counter! and none required on the others, even in the corner "L" shape !!!
In order to place the order I left a $125 deposit that would be applied to my full order once complete.
Catherine actually could have taken me online to choose my own slab, but I had to leave for another commitment.  I cam back on a different day & met with Caitlin. Watch this little clip of how and why we chose the slab that we did:
Once your slab is chosen, a sample from your actual slab will be sent to you, to make sure that you still like it!
Here's a photo of mine: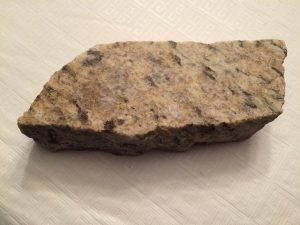 After your order is processed, you will receive a phone call within 24-48 business hours to schedule Template Day. Early AM and late afternoon appointments are available in order to minimize hours away from work.
Make sure to schedule Template Day for a time when you know that you will have your sink(s) and faucet(s) on hand.  Otherwise, the templating will not be possible.
Until next time, I wish you a day where you can set the wheels in motion on a project that is special to you!
Tanya
As with all sponsored posts, I will only ever share with you products and/or services I believe in. All opinions contained within are my own and cannot be bought