In the world of inspiring Canadian symbols, I think we can all agree that the Stanley Cup® is very close to, if not at, the top of the list.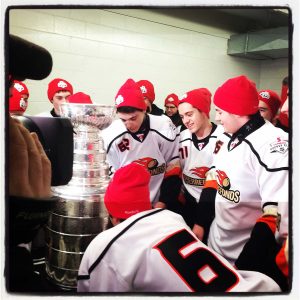 Tonight, I had the pleasure of watching the Scotiabank Hockey Club surprise the Pierrefonds Vicomtes Midget A hockey team with the Stanley Cup® at the Pierrefonds Sportsplexe!
Only 10 teams across the country will be the beneficiaries of Stanley Cup ® surprises and it was a thrill to see the faces of these young people when they walked into the room.
"It is quite an honour to touch the Stanley Cup…and to share this with my team" said goalie Dylan Buvat when I asked him how he felt when he walked into the room and saw the Cup.
I had a chance to speak with Tracey Barrett, Branch Manager at Scotiabank in DDO.  She explained that the idea behind the Stanley Cup ® Delight – Surprise is to inspire the team players and to really give them a memorable evening. 
Scotiabank has been sponsoring hockey teams since 2007.  Depending on the year, they may provide  jerseys, hats, scarves and funds. Tonight what seemed most obvious to me was that they truly provide inspiration 🙂
I cannot tell a lie, right before leaving for the event tonight, I asked my husband to bring the kids by. Knowing that the Stanley Cup ® was less than 10 minutes away from my kids…I couldn't help myself.
I didn't expect them to get a chance to be photographed with the cup -I was just hoping they could catch a glimpse – but once the team left to start their game, the gracious Scotiabank team not only let us take photos but gave us a few minutes to get a variety of shots and even took a few shots for us!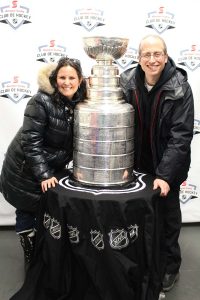 And this is the part where I say that in life we can be rich with money but we can also be rich with memories…And I think that every kid that had a chance to be in that room (including my own) goes to bed tonight with the kind of memory that makes you feel #RicherThanYouThink 🙂
Wishing you a fabulous night and an inspiring day tomorrow 🙂
Tanya