After posting the recipe & YouTube Video for Apple Cinnamon Challah, I received many requests for the recipe that I use to make my  challah dough.  I have been making challah in the bread machine for over 15 years and I love the results.  This recipe is available at https://montrealmom.com/recipes/bread_machine_challah.pdf.
More recently, however, I experimented with making the dough in a stand mixer equipped with a dough hook and was extremely pleased.  Of course, the tip on how to adjust a bread machine recipe for the stand mixer came from my hero, Norene Gilletz, in her book Norene's Healthy Kitchen.  ( Worth checking out, along with all her others, which is why I provided you with the link!)
So…without further ado, here it is: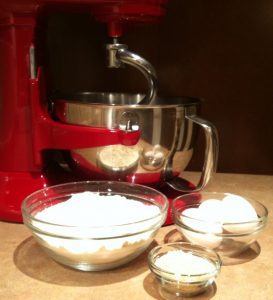 Stand Mixer Challah Dough
1 1/4 tsp instant yeast
2 1/2  c. flour
1 tsp salt
3 Tbsp sugar
3 Tbsp canola oil
1 egg, beaten
3/4 c. water
For the 'glaze'
1 egg yolk
1-2 Tbsp water
Sesame Seeds
Place yeast, flour, salt & sugar (in that order) into bowl of stand mixer fitted with dough hook
Mix all together on low speed for two minutes
Add remaining ingredients ( except those for the glaze) and mix on low speed for an additional two minutes
Increase to medium speed (if using a Kitchen Aid stand mixer, use speed #2 – consult your machine's guide as to maximum speed for yeast dough)
Mix for another 6-8 minutes, until dough is smooth & elastic
Form into a dough ball and place into a large, greased bowl.
Cover and allow to rise in a warm place until doubled in volume (approx. 1.5 – 2 hours)
To make challah:
Punch down & shape as desired.
Cover with a tea towel and allow to rise 20-30 minutes
Mix egg & water for glaze
Brush top of dough with glaze
Sprinkle with sesame seeds ( optional)
Bake in a preheated 350 degree oven
Enjoy!
Do you have an easy recipe for challah dough?  Please share!
Happy baking!
Tanya