As a Montreal Mom, I am eternally grateful to the Montreal Children's Hospital for being there for our children. I know I am not alone. That's why whenever I know of anything going on that can potentially benefit the MCH, I try to share it with you, especially when it's an event that packs in a lot of fun at the same time!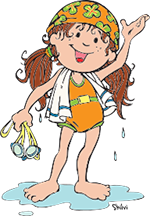 You may recall last year's post about Splash & Dash.  Well, it's that time of year again and Saturday, November 3rd will be filled with lots of fun relays & races.  As always, the Family Fun Expo will be open to all from 9AM-4:30 PM,  omplete with an inflatable obstacle course, face painting, DJ, mascots, great snacks, yoga for kids, prizes and much more!
Relay participants enter for FREE and the minimum entrance donation for supporters is $10 per person or $20 for the entire family. A bargain & all for a good cause.
Wondering what the cause is, exactly? Well, the event benefits The Sarah Cook Fund & this year's objective is to raise money to go toward nursing education at The Children's, so that they can continue to give the best care possible to the patients in the hematology/oncology ward, known as Sarah's Floor.
If you haven't heard about The Sarah Cook Fund, then you need only click on the link to last year's post to read more about how as an 8 year old battling cancer, Sarah decided to raise finds so that all the kids in the oncology ward could have new pillows.
You can visit the Splash & Dash website to get all the info that you need about the day of the event or to simply make a donation of your choice online.
It's a great way to spend part of your day and to support a worthy cause all at the same time.  So mark your calendars & be there THIS WEEKEND on Saturday, November 3rd!
Wishing you a wonderful week to be topped off with a Splash & Dash Weekend 🙂 ,
Tanya