As a HUGE fan of Puffins original cereal by Barbara's, I was absolutely in when I was asked by Barbara's to participate in a Review Panel!
Our family tried out the Snackimals Cinnamon Crunch as well as the Vanilla Blast for a couple of breakfasts over the course of a week.  I like my kids to try things more than once to ensure that when they like it it's not just the 'novelty factor'.
The results are in & Snackimals has been given the thumbs up – especially the Cinnamon Crunch flavour!
Here's what they loved about Snackimals:
The taste, of course 🙂
The texture…they liked how they are sort of puffy, yet crunchy
The fact that the Snackimals did not seem to get soggy in milk – in fact this was repeated to me by several of my kids.  It seems this really impressed them!
My youngest liked the fact that they are shaped like "cute little animals"
As mentioned above, the Snackimals Cinnamon Crunch were the clear winner in our home (even among the adults).  The kids were divided on the Vanilla Blast- 2 of them liked it, but said they still preferred the Cinnamon Crunch, and the other two found it a bit sweet for their taste, and truthfully, I did as well.  That being said- for those who prefer a little sweeter taste, the Vanilla Crunch might be an excellent option, especially given that fact that there are only 7g of sugar per serving, which is quite low compared to many other cereals.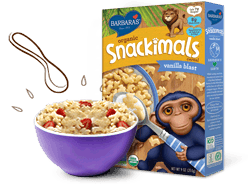 It's good to mention that while we are definitely not a "cereal for breakfast" every morning family, I will say that cereal mornings are easier for set up & clean up, and in this case what made serving the Snackimals for breakfast even easier was that everyone loved them – So we only needed to have the one box at the table.  I should mention that the family did finish an ENTIRE box of the Cinnamon Crunch on Day 1…Do you think the kids liked it???
As for taking the Snackimals as a snack without milk, my youngest loved the idea. I can tell you that one night while I was working late, the Snackimals were definitely my snack of choice!
I also have to give honourable mention to the EARTH RANGERS which is a Kids' Conservation Organization that seeks to educate & empower kids to "Bring back the wild".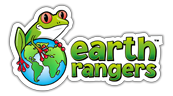 My son is very interested in this program and I believe he will be exploring his interest further 🙂  Makes me feel way better as a mMm when he asks me questions like: "Does this really help the animals?" when reading his cereal box as opposed to saying "Mommy- we HAVE to enter to win a___fill in your choice of tech device here____!!!!" (as seen on other boxes of cereal).
A portion of the proceeds of every box of Puffins & Snackimals Cereal sold will support earth Rangers animal ambassadors and conservation education programs across Canada (up to a maximum of $15,000).
Finally, in case you don't know this already- Both Snackimals & Puffins are organic & Non-GMO…just another reason to love them 🙂
Look for them in the health food section of your local grocery store…It's a cereal you can feel good about 🙂
Wishing you a day with a little crunch and a lot of taste 🙂
Tanya