My hubby and I were invited to see the Montreal premiere of Bess Wohl's Small Mouth Sounds at the Segal Centre, and to be honest we did not know quite what to expect.
When we walked into the theatre, even before sitting down, what we found was also unexpected.  The theatre was transformed by a set is quite simple, yet beautiful. The audience seating was on either side of the stage which is hardly traditional but lent itself to this very intimate setting and we were literally brought into the realm of the retreat centre where this story takes place.
The play is about six individuals who embark upon a 5-day silent retreat in the woods. Led only by an unseen guru, these strangers attempt to abandon technology and observe a vow of silence, which proves more difficult than one might think. Watching the characters interact in non-verbal ways with each other (and even with themselves) kept me personally, engaged, because the story was not being told through words (for the most part) and I had to pay attention if I was to understand what was going on.
Each of the actors did a tremendous job of showing their personality in (mostly) nonverbal ways. This is not easy to do and I applaud them for their performances. I also found myself paying closer attention to details that I normally do not notice.  The costumes were not anything lavish- to the contrary, the characters were dressed in 'everyday' clothing.  That said,  I actually noticed, quite early on in the show, how appropriately each of the characters was dressed to match his/her personality. In retrospect, perhaps their personalities became evident to the audience not only as a result of their talented performances but also because we tend to make assumptions about personality based on how people dress and Costume Designer Sophie El-Assaad did a brilliant job at dressing the actors to fit the stereotypical 'images' of the characters they portrayed.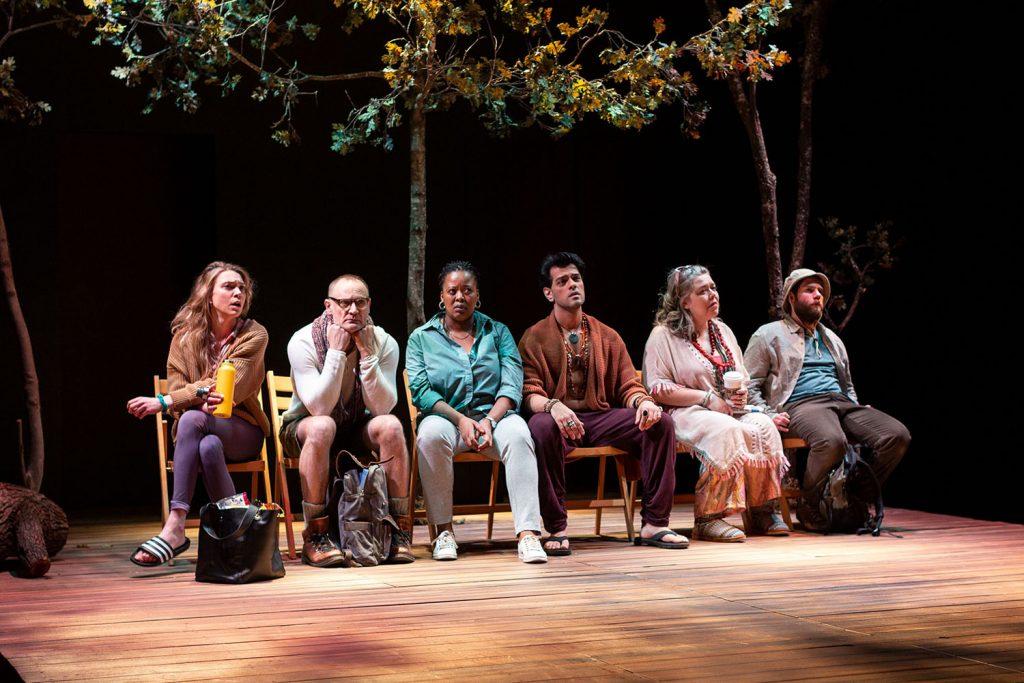 Its worthy of note of how often we laughed as an audience. The cast succeeded in making us laugh with facial expressions, gestures and non-verbal cues. I will also mention that there were also times where certain individuals in the audience laughed while others did not. The few times this happened to me, I was left wondering what I had missed.  There was one particular scene that had everyone laughing but I realized that different people were laughing for different reasons because there were literally three different scenarios going on at the same time, and it was impossible (at least for me) to focus on all three simultaneously. Another discovery of watching a 'silent' play.
I must go back to the set for a moment: The simple wooden deck adorned by some trees to the side is designed to transform itself into another area of the retreat centre entirely…and because I don't want to share too much I won't say how it is done. What I will say is that it was an ingenious little 'surprise' that impressed both my husband and I and Set Designer Bruno-Pierre Houle gets my 'Bravo!' for this 🙂
At the end of our show, someone described it as a 'quirky little play', and that is exactly what it is …a quirky little play that is fun and funny, extremely unique and I will even add thought-provoking.
If you have a night out available and are looking for something different and entertaining that won't take up your entire night (it's not a super-long production), then consider taking it in.
Bess Wohl's Small Mouth Sounds will be in the Segal Centre Studio from February 9 to March 1, 2020. You can click here for additional information and to purchase tickets.
Note: Within the link above you will also find some 'parental guidance' but imho this is not a play suited for young children. 
Wishing you a great day and a little time to disconnect this upcoming weekend.
Tanya